How to Promote Your Etsy Shop on Pinterest & Make More Money
Finding ways to promote your Etsy shop on Pinterest? Glad that you thought of it because it is a great strategy that separates you from the millions of other Etsy sellers out there.
This article will share everything you need to know about making more money with your Etsy shop using Pinterest.
Let's get started.
What is Pinterest?
Pinterest is a visual discovery search engine where people can share "Pins" about different new ideas like recipes, wedding ideas, tattoos, DIY crafts, and more. 
What are Pins, you ask?
Pins can be images or videos that people use as bookmarks to save content they love on Pinterest. 
Since Pinterest is a search engine, users can search for Pins on the search bar by typing certain keywords. They can then save the ones they like and click on a Pin to learn more. 
Once you have created an account on Pinterest, you can start sharing Pins that link back to your Etsy shop.
Why Should You Promote Your Etsy Shop on Pinterest?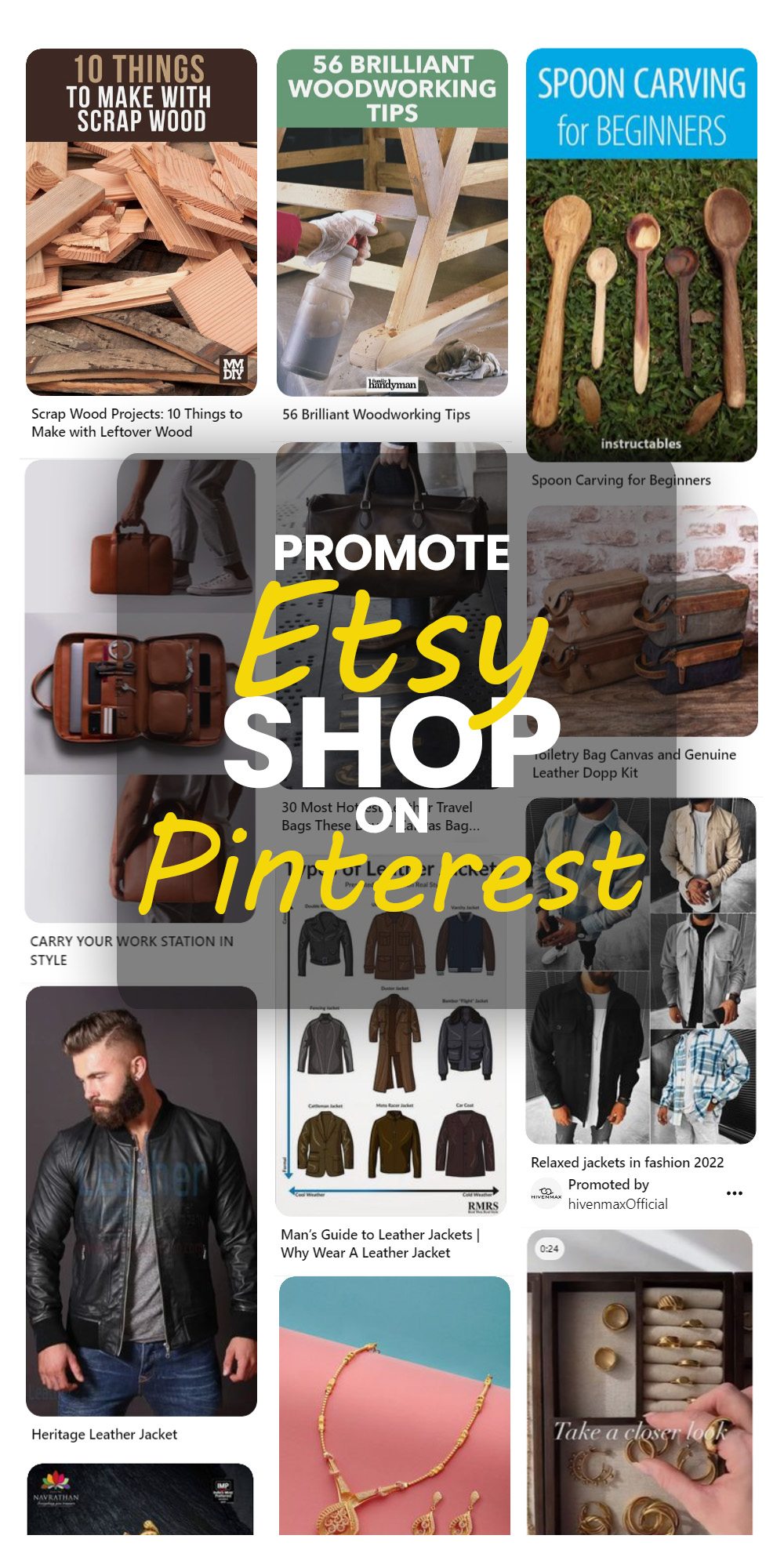 There are many good reasons why you should include Pinterest in your overall Etsy business plan.
Pinterest has over 440 million monthly users (as of the third quarter of 2022) or "Pinners."
7 out of 10 Pinners say that Pinterest is where they go to find new products, ideas, services, or inspirations – most Pinners use the platform to shop for new products.
As of January 2022, 76.7% of Pinterest audiences are women. Meanwhile, 70% of Etsy's core customers (your target audience) are women!
As of September 2022, Pinterest is the second most visited social media website in the United States.
Pinterest is more than a social media platform for recipes, DIYs, and wedding ideas, it is also a search engine. And unlike Google, Pinterest is less saturated with digital marketers and online businesses, so you get a higher chance of ranking in search results.
Pinterest helps your Etsy business get found in Google searches and connect with a wider audience.
People who use Pinterest weekly are 2.2x more likely to say that it is the most influential platform in their purchase journey vs. other social media platforms.
Pinterest is an image-based and keyword-based platform similar to Etsy.
Pinterest allows Etsy sellers to include your Etsy shop URL in their profile. It also allows adding links on pins to your Etsy product listing for quick and easy purchases.
The Rich Pins feature on Pinterest is automatically enabled for all Etsy products, displaying the title, cost, and product description from your original Etsy listing. If you update any data in your listing, they are also automatically updated on Pinterest as well.
Pinterest helps you build your brand and potential customers for your Etsy shop.
Pinterest is a 100% free-to-use platform for both the average users and businesses. 
And now, let's talk about how to promote Etsy shop on Pinterest, drive more traffic to your business, and generate more sales!
Best Pinterest Strategies for Etsy Shop Owners
1. Use captivating and attractive pins
Pinterest is an image-based and keyword-based platform similar to Etsy.
Hence, you must use good photos of your Etsy products to make them highly "clickable" on Pinterest.
For starters, the images you use for your Pins should be able to immediately capture the eye and interest of the potential customers who are scrolling down on their Pinterest feed.
It also helps to use images that show interesting angles of your products, what makes them unique, or how they are meant to be used in real life.
According to visual analytics and marketing platform Curalate, below are some of the notable characteristics of highly-clickable Pins:
Pins containing red, orange, and brown images receive roughly twice as many repins than pins with blue images.
Images with a vertical "portrait" style (vertical images) with 2.3 to 4.5 aspect ratios are more likely to be repinned over long or wide images.
Pins with images that contain red colors perform better on Pinterest.
Images with multiple dominant colors have 3.25 times more repins per image than single-color images.
Pins and brand images without faces receive 23% more repins than images with faces.
Pins containing images of medium lightness are repinned 20x higher than very dark images.
Pins that contain less than 10% background (e.g. whitespace) are repinned 2 to 4 times more than images with more than 40% background.
Images with smooth textures are repinned up to 17 times more than images with rough textures.
Pro Tip: The image you use is the first and most crucial factor that dictates whether your Pin goes viral or gets buried on Pinterest. 
2. Optimize your Pins for SEO
Besides using high-quality images, you must also optimize your pins for relevant keywords.
Pinterest keywords are basically like Google keywords; you want to use Pinterest keywords in your pins and boards so that people can find your content more easily within the platform.
This involves doing manual keyword research to find the popular keywords that users are looking for in your niche, which we will discuss more below.
3. Link to your Etsy store sections
This Pinterest strategy is perfect for Etsy sellers who don't have a blog or website. Here's why:
Imagine putting a ton of work and effort into creating Pins for every single product on your Etsy shop. But what happens when you stop selling some of them?
All your efforts will be in vain because while you have a viral Pin that ranks on searches, it doesn't benefit you because you're not selling those specific items anymore.
So instead of linking to a single product, link to a section of your Etsy store that contains similar items. 
Let's say your Etsy shop is all about leather goods.
Instead of adding a link for every belt, use a link redirecting to your entire leather belt section or category. 
This way, even if you stop selling a specific leather belt, people will still land on a page with different belts that are related to their original query.
Moreover, this strategy also allows your potential buyers to find more of your Etsy products and allows them to buy from your store.
4. Create multiple Pins
One of the most successful Pinterest strategies used by Etsy sellers is creating multiple pins for products and categories.
Creating multiple pins will help you get maximum exposure for your content.
And don't worry about Pinterest penalizing you for duplicate content. As we already discussed above, Pinterest is a visual search engine. 
Hence, even if your Pins redirect to the same page and have the same content and keywords, as long as you use a different image, Pinterest will consider it as fresh content.
So, if you want to be found in the "More like this" section of Pinterest, you will need to have multiple Pins for every product 
5. Enable Rich Pins
Rich Pins are Pinterest Pins that automatically sync information from your website or store.
Hence, if you change any details about your pin on the original website or store (like price or sizes), the rich Pin automatically updates to reflect that change.
This feature is very useful to keep your customers updated on any changes you make to your Etsy products.
You can enable Pinterest Rich Pins by creating a Pinterest business account which we will discuss more below.
The Downsides of Promoting your Etsy Shop on Pinterest
Using Pinterest to promote your Etsy shop opens new opportunities for your online business.
However, there are also some downsides that you need to be aware of when it comes to spending time promoting your Etsy shop on Pinterest. 
Promoting your Etsy shop on Pinterest is like advertising to your competitors which of your products are doing well (based on Pin impressions, comments, etc), which they might copy and add to their own inventory.
Creating new pins regularly can be tedious, requiring dedication, time, and effort. Pinning is an extra job on top of managing your actual Etsy store.
Like Google, the Pinterest algorithm is constantly evolving. New features get introduced regularly, while others might get removed. For example, claiming your Etsy shop is no longer available on Pinterest (will be discussed more below). Hence, you must be prepared to adjust and adapt quickly to stay relevant within the platform.
Like other social media accounts, you might get your Pinterest account suspended or banned if you aren't too keen on following the platform's best practices.
Besides the things we shared above, another downside of promoting your Etsy shop on Pinterest is the cost of Pinterest Ads.
Pinterest Ads
Pinterest Ads can take your brand awareness and sales to the next level.
Thanks to Pinterest Ads, your Pins (Promoted Pins) will be shown to users who are most likely to be interested in your products, even if they are not following you.
Furthermore, even if they don't click on your Promoted Pins, this exposure will lead users to remember your brand if they see it again later, which highly increases the chance of them engaging with your Pins in the future.
Now, you might be thinking:
"How much does Pinterest advertising cost?"
You can expect to pay between $2 to $5 per thousand impressions (CPM) if you're trying to build brand awareness for your Etsy shop. Meanwhile, boosting online engagement will cost you anywhere between $0.10 and $1.50 per engagement.
And as we shared in our article about How To Make Money On Etsy, selling on Etsy has some corresponding costs.
So, if you plan to use Pinterest Ads to boost traffic to your Etsy store, you must consider how much the advertising cost impacts your overall profitability.
How to Promote Your Etsy Shop on Pinterest
Here's a step-by-step guide on how to promote an Etsy shop on Pinterest.
Step 1: Creating a Pinterest Business Account for Your Etsy Shop
Creating a Pinterest account is the first step to promoting your Etsy shop on Pinterest. It is highly recommended that you set up a Business account instead of a personal account for this process. Why? 
The Pinterest Business Account comes with useful tools for business owners and marketers, including the Pinterest Business Hub, Pinterest Analytics (where you can review your Pins' performance), the option to run Ads, and more.
Moreover, the Pinterest Business Account allows you to create all forms of Pins (eg Rich Pins), while a Personal Account only allows the creation of static and Idea Pins. 
It is free to create a new Pinterest Business Account, and you will only need a valid email that hasn't already been used on an existing Pinterest account.
Here's how:
Click Sign up from the top-right of your Pinterest home page.
Click Create a business account.
Enter a valid email, create a password, and enter your age.
Click Create an account.
Fill out the fields to Build your profile, then click Next.
Fill out the fields to Describe your business, then click Next.
Select if you want to run ads, then click Next.
Select where you'd like to start or click the "X" icon to access your new Pinterest business account.
But what if you already used your email for a Pinterest Personal Account? Well, don't fret. 
You can convert your Pinterest Personal Account into a Business Account here.
Should you use your Personal name or Business name for your Pinterest account?
Now, here's the deal.
Whether you use your personal name or business name for your Pinterest business account is up to you.
However, if you're trying to promote your Etsy store more than yourself, we highly recommend using your Etsy business name.
Ensure your Pinterest name is the same as your Etsy shop to avoid confusion between your customers.
Here are some of the names of the most popular Etsy Shops:
Kinda Cute Shop (Craft Supplies)
Stitches & Giggles 4U (Sewing Supplies)
Party Props & Treasures (Party Supplies)
Sugar House Swaddles (Baby Clothing and Accessories)
Constant Trade (Custom Clothing)
Sunglass Museum (Fashion Accessories)
Twinkle Personalized (Jewelry)
The Rockin Jeweler (Gems and Crystals)
Maddie May Store (Beads)
Another option would be to use the formula successful Etsy Sellers use to name their Pinterest Business Profile:
"Your business name/your personal name/blog/website + main keywords you want to rank for"
(Eg. Stasher's Leatherwear Collection)
Optimize your Pinterest Profile for SEO and Etsy
Account profiles will be searchable on Pinterest. Hence, your profile is the first place you want to optimize for Pinterest SEO.
Add relevant keywords to your bio and profile descriptions that tell other Pinterest users who you are, what you do, what content and type of Pins they can expect from you, etc.
Make sure to upload a profile picture (a photo of yourself or a logo of your business), and don't forget to put a link to your Etsy shop.
You should also add relevant keywords to your board descriptions to make them more relatable to your target Pinterest audience.
Create Multiple Pinterest Boards
Can you guess what is one of the best ways to increase your Etsy traffic on Pinterest? By creating multiple boards.
Pinterest boards are virtual bulletin boards that help you categorize different pins for various categories and topics.
By creating multiple Pinterest boards, you'll be able to attract more traffic to your Pinterest account, which will then be redirected to your Etsy listings.
Now, it is crucial that you name your boards using the keywords that are relevant to your Etsy products.
Below is an example of the multiple Pinterest boards by OhSheCreates, one of the most popular Etsy shop owners today.
How many boards should you create?
Veteran Etsy sellers suggest you create at least five boards for each store section and category.
Claim Your Etsy Shop on Pinterest
In the past, the "Claim" option for your Etsy store used to be available under the Pinterest account settings tab.
But as of February 2022, the claim your account feature on Pinterest is no longer available for Etsy, Instagram, or YouTube. 
That being said, you still have the option to claim your website or blog on Pinterest.
What if you are unable to claim Your Etsy Shop?
Even though you can't claim your Etsy on Pinterest anymore, you can still promote your products as you'd like.
You can still add your Etsy link on your Pinterest profile and pins to send traffic to your Etsy shop.
Step 2: Creating Pins to Promote your Etsy Shop
Creating pins for your Etsy products can be done using a mix of Illustrator and Photoshop tools. 
But if you don't want to spend anything extra at this stage, you can make pins for free by creating an account with Canva.com.
Canva is an image editor with ready-to-use Pinterest templates you can easily customize.
Different Types of Pins to Create
During the publication of this guide, you can create six different types of Pins on Pinterest.
| | |
| --- | --- |
| Standard Pins | Standard Pins (also known as Static Pins) are the most common type of pins you can find on Pinterest. They are vertical pins that feature only one image with or without added text. |
| Idea Pins | Idea Pins are a multi-page pin format that allows up to 20 pages of content. You can use a combination of photos and videos and customize each page with things such as text, stickers, voice-overs, music, and more. |
| Video Pins | Video Pins feature a single video that automatically plays when they appear in your home feed. Video Pins are only available for Pinterest Business Account owners. |
| Rich Pins | A Rich Pin is a type of Pin that automatically syncs information from your website to your Pins. Like Video Pins, Rich Pins are only available for business accounts. |
| Product Pins | Product Pins feature products that are available to buy from the merchants and sellers listed in the Pin. |
| Collections Pins  | Collections Pins are Product Pins that have been grouped in a collection. When someone clicks on a Pin in the collection, they can also shop for similar products. |
Pinterest Viral Pins checklist
Below are the important things that you must include in your Pinterest Pins.
Use captivating and high-quality images on your Pins.
Use a 2:3 aspect ratio (e.g. 1,000 x 1,500 pixels) for your Pins. Other ratios may cause your Pin to get truncated on some devices.
Add your business logo on every Pin that you make, but keep it subtle. Also, avoid placing your logo at the lower-right corner of your pin, as that spot gets covered up by product icons.
Use keywords and make sure to optimize your Pin titles and descriptions for Pinterest SEO.
If your Pin includes a link, check that the link is active and loads quickly. Furthermore, make sure that the link destination matches your topic and imagery.
And last but not least, personalize your Pins to make your brand recognizable when people are viewing them. 
For example, below are the Pins for Ecotero.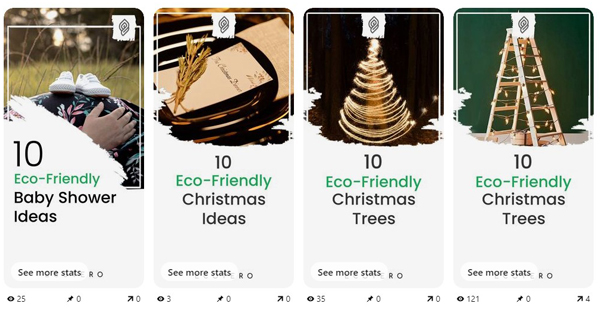 Notice how the Pin carries the brand logo, and the Pins have a distinct font style and color scheme, making them easily recognizable among others.
Step 3: Publishing your Pins
Optimize Pins for relevant keywords
As we have briefly discussed above, before you publish your Pins, ensure that you have added relevant keywords and hashtags within their titles and descriptions to help them rank for search queries.
You can use up to 100 characters for your Pin title and up to 500 characters for your Pin description.
Now, you might be wondering:
"Where do I find keywords for my Pinterest pins?"
Well, right inside the Pinterest platform, of course. There are two ways to find highly relevant keywords for your Etsy store on Pinterest.
Let's say you are selling leather goods.
In the Pinterest search bar, type leather goods. 
Now, what will happen if you type a particular term on the Pinterest search bar is that a bunch of auto-suggest keywords related to your query will appear.
Please refer to the image below.
Another way to get keyword ideas from Pinterest is by the colored boxes.
Once you type a query of interest on the search bar, say "leather goods," Pinterest will show you different keywords that are related to your original search phrase on colored boxes.
You can use these keywords to optimize your Pins and boards.
Moreover, your Pins should also contain at least two hashtags with relevant keywords to your target audience.
How to write Pin descriptions
Your pin description message should be clear and concise and sound like a natural conversation. It should also contain 2-3 relevant keywords and have a call to action at the end. (And don't forget those hashtags)
How frequently should you post pins?
There isn't an exact number of how many times you should publish new pins every day.
Some source suggests that you should post 1 to 4 times per day, others between 4 and 10 times per day, some says it's 25 pins per day, while others claim it should be at least 30 pins per day!
It really is up to you and how much time you can dedicate to creating new pins.
However, the most important thing you must remember is that Pinterest wants consistency.
So, even if you're just pinning 1 or 2 new pins, as long as you're doing it consistently every single day, it is A-okay.
When is the best time to publish new Pins?
According to the date from CoSchedule, the best time to publish new pins is at
12:00 p.m.
6.17 p.m.
8:02 p.m.
And when it comes to the day of the week, the top 3 days to post on Pinterest for engagement purposes are Friday, Tuesday, and Thursday.
Where to add links on Pins?
You can add links to your Pins on the space that says "Add a destination link."
How to Schedule Pins
Before, you will need a third-party app like Tailwind to schedule your pins. But today, Pinterest already has a pin scheduling feature on its platform.
As you can see in the image below, a section at the bottom of the Pin Builder page says, "Publish at a later date."
Tick that option. Then, select the date and time to schedule when your new pins will be published.
The Bottom Line
Pinterest is a great platform that every Etsy store owner can utilize to drive more organic traffic for their businesses.
Once you have created an account on Pinterest, you can simply follow the guide we have shared above and start publishing Pins that link back to your Etsy shop to generate more sales!
FAQ
Does Pinterest really help with Etsy sales?
Pinterest is one of the best social media accounts you can use to drive traffic to your Etsy shop. Not only does Pinterest help you get found in Google searches, but it also allows you to build a following of potential customers who are ready to buy your products.
How much traffic does Etsy get from Pinterest?
Some successful Etsy Sellers revealed that over 30% of their traffic comes from Pinterest. This huge traffic reference makes Pinterest an important platform for marketing your Etsy shops.
Why can't I claim Etsy on Pinterest?
In February 2022, Pinterest removed the option to claim your Etsy shop. It now only allows you to claim your own website.