How To Make Money On Etsy: A Straightforward Guide
One of the popular side hustles these days is becoming an Etsy seller. Selling things such as handmade, vintage, and even digital products on Etsy can be a great way to make a lot of money.
One of the best things about Etsy is that it is run by independent sellers and not dominated by large corporations.
As a result, anyone with an interest and drive can open an Etsy store, start selling, and build a profitable business there.
You can do the same too. However, you may be thinking about how to make extra money on Etsy.
Making money on Etsy starts with checking and confirming your Etsy ideas and then calculating your costs. Then you set up your Etsy store before promoting it to drive traffic. As you become profitable, keep up with traffic, demand, and trends to ensure your business survives long term.
This in-depth article will discuss how you can make money on Etsy. It first looks at the earning potential in Etsy before discussing what you can sell on Etsy. Then it details the steps you can take to sell on Etsy.
How to Make Money on Etsy?
To start making money from Etsy, there are some simple steps you can take. The key is to start and then take your time as you work through the steps. In no time, you should have a pumping Etsy store with orders coming in every day.
1. Validate Your Etsy Idea
For a start, spend some time on market research and consider what you want to sell on Etsy. This may require you to do some serious brainstorming, so it may be a good idea to sit down and do this.
Here's a list of Etsy shop ideas in case you need it.
You can start by listing anything that pops into your head, no matter how silly.
This allows you to list down all your creative ideas without worrying about trying to filter them.
After that, cross away any ideas that do not make sense, then narrow them down to about 5 to 10 ideas. 
Next, you can go to Etsy and verify that your ideas have a demand.
To do this, search the keyword of your idea and then look at the first 10 items.
If you see many sales, then chances are there is a demand for the product. 
You can determine the number of sales by looking at the number right beside the star ratings.
That number may not be a perfect indicator of sales. Still, it should give you enough idea to decide if your product idea has a target market.
2. Assess Profitability
Suppose you have decided that your product idea has demand. A great idea now is to do some math to ensure your product remains competitive in the marketplace.
Look at the first 10 best sellers of the products you intend to sell on the Etsy search results. Then average the price. You can use this price as your final sale price and then work backward from there. 
For example, let's say you intend to sell some dog wall art, and your calculation averages out at $45.
Now you can go source for products. Depending on the product you intend to sell, you can create it yourself, source it from suppliers, or hire graphic designers to help you design it. Calculate your cost, and finalize it as the cost of goods. 
For example, you purchased pictures of dogs from 123RF and then got a local printer to print out the art for $21.
And depending on how you would like to package your sold item, it will cost an average of $2.50 per package box.
After determining your costs, you can now calculate the additional costs. These costs include transaction fees, listing fees, payment processing fees, and shipping.
The calculation may be hard work. Still, you will be able to quickly tell if you can be competitive in the pricing against the other sellers.
This prevents you from ending up offering products that are overpriced and simply cannot sell well. 
Items
Price
Potential Sale Price
$45.00
123RF (Assuming the potential of 100 sales)
Initial Cost = $6.60
Cost per Sale = $0.60
($0.60)
Printer
($21.00)
Packaging
($2.50)
Etsy Listing Fee (per 4 months)
($0.20)
Transaction Fee (6.5% of Sale Price)
($2.92)
Payment Processing Fee (3% + $0.25)
($1.60)
Shipping
($9.00)
Potential Profit
$7.18
Example
Transaction Fee: Assuming you intend to sell the art piece at $45, the transaction fee will be $2.92 (6.5%).
Payment Processing Fee: Your payment processing fee should be $1.60 ( 3% + $0.25).
Listing Fees: The Etsy Listing fee is $0.20 per listing, which lasts for 4 months, at which the renewal of the listing will cost the same. If you have multiple quantities for the same item, you will be charged $0.20 for every quantity sold.
Shipping Fees: Assuming shipping is $9, your total cost would be $35.32 (See the above calculation for the breakdown). The calculation involves taking Etsy's free shipping over $35 for better results on search engines.
If the potential profit is acceptable for you, then you can proceed to the next step, otherwise, look for other products to sell.
3. Set Up Your Etsy Store
Once you have determined that your product is sellable and profitable, you can move ahead and set up your Etsy store.
Setting up your Etsy account involves several major steps.
The first is to register for an Etsy account.
Start by clicking 'Sell On Etsy' on the website, and then enter your email address, password, and name. Then select settings such as your location, language, and desired currency.
4. Decide on a Shop Name and Logo
We recommend having a shop name that resonates with what you are selling. For example, if you sell dog art, you could have a name like "Dogtistry."
Do not spend too much time on this, as you can always change your shop name with no limits if your shop is not open yet. But when it does open, you still have the option to change it (up to 5 times).
As for the logo, there is no limit, you can change it as often as you want, so do not fret about this.
You can always leverage tools like Canva and Photopea to customize your logo if you are on a budget.
But, if you have trouble coming up with a logo design, you can always hire someone on Fiverr or Upwork to do it for you.
But we assume that as Etsy store owners, we are a creative bunch, so we shouldn't have a problem with this.
5. Upload Products to Your Store
Now you can start uploading products to your store. Start by uploading one product, and then focus on getting it right.
This is because you must take the best pictures of your products. You must also write the best product description possible.
Our advice is to get into your customers' minds and determine the factors that would convince them to buy your products.
People searching for products on Etsy already intend to buy, so all you need to do is satisfy their needs, and you will have the sale.
For example, as a customer, I want to buy a wooden rabbit, but I want it in a specific size that fits a small bookshelf, and I want it made in a particular type of wood.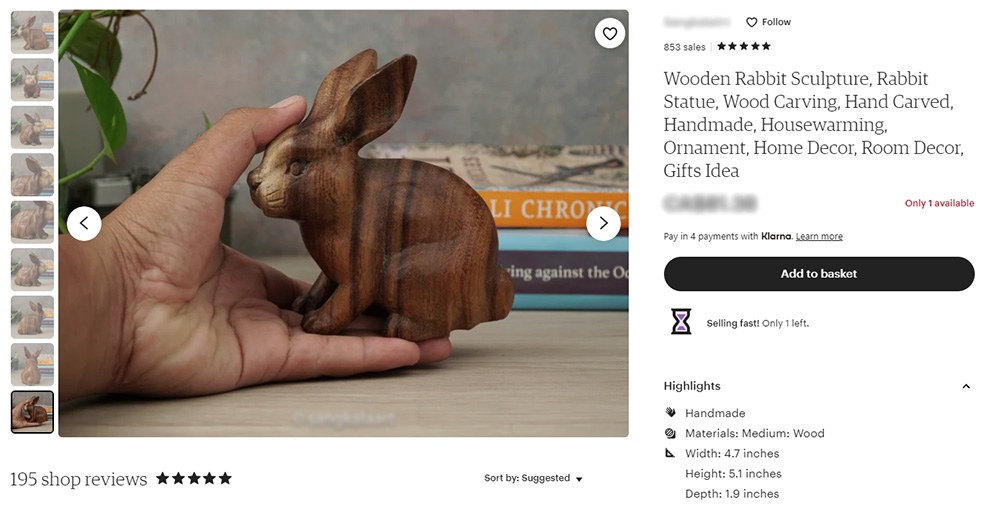 So, as a seller, you should include the dimensions, materials, and high-quality images. Probably images of the wooden rabbit on a bookshelf or wherever you think your customers may want it to be.
Note this is just one of the many customer personas for your business, but your product images and descriptions have to cater to a multitude of your customer personas.
6. Set up Payment Processing for your Etsy Shop
When you are done uploading the first product, you can now proceed and choose a payment method.
You need to connect your bank account to your Etsy shop to get paid on Etsy. If you are in the U.S., you can add your bank details using a third-party service by Plaid.
And if you are out of the U.S., you must verify your bank account and add either debit or credit card details.
And for accepting payments from your customers, you should start with using Etsy's payment system, as it allows your store to collect payments through the following options (more details here):
Credit Cards
Debit/bank Cards
Etsy Gift cards and Credits
Paypal
Apple Pay
Google Pay
Klarna Instalment payments (Australia, Spain, United Kingdom, United States, Canada)
Klarna Invoice (Germany)
iDEAL (the Netherlands)
Sofort (Austria and Germany)
With this, you can start collecting payments as your products start to sell.
7. Finalize Packaging
Alright, how will you package the item when you get your first customer? Do you just put some bubble wrap and chuck it in an envelope? Or would you spend some extra money and effort to put it in a nice box with branding and prestige?
All these factors have to be determined before you receive your first sale.
Depending on how much effort you want to put into increasing your brand value, it should cost approximately (on the high-end):
$1 for a folding carton;
$2 to $3 for a fully printed labeled corrugated box;
$4 to $5 for a rigid set-up box.
So, depending on your preference and factoring in the costs, this should guide you to find the right packaging for your sold items.
You can also do your research and contact supplies on Alibaba or other wholesale packaging companies.
8. Determine Your Courier Service Provider
Depending on where you are located, there may be many courier services charging different rates, so you have to do your research to keep your courier charges low to increase your profit margin.
First, you have to determine the size and weight of your finalized packed item; from there, courier service providers will offer a price chart for comparison.
Obviously, if you are in the U.S. selling products to your countrymen, the delivery cost will be much lower than if you are selling from overseas.
So, due diligence is important as it directly impacts your profit margin. Nobody wants to make a loss getting into an Etsy business.
If it would help, you may use this shipping rate calculator from Easyship.
9. Promoting Your Etsy Store
Now that you have your store and everything ready, the next step is to promote your own Etsy shop.
There are several best ways to approach this, depending on your preference.
Initial sales are important as they create a benchmark for good feedback and ratings for your listing items before the Etsy search engine favors them. Hence, a good promotion needs to be in order.
Free Shipping Offer: Start by taking the opportunity to leverage Etsy's offer here. All you need to do is offer free shipping for sales above $35, and Etsy will help to push your items further up the search results. 
This may be the most basic promotion you can do since it is technically free. You only pay for the shipping fee when you make a sale, and if you calculate it properly, you will pay for the shipping from your profit margins.
Etsy & Google Shopping Ads: If you intend to be more aggressive with selling your products, consider spending some money to run Etsy and Google Shopping ads.
When you run these ads, it will push your item offerings onto the top of the Etsy search results and the Shopping section on any Google search.
The key is to ensure your ad spending actually helps to generate good returns.
This may require you to spend time testing your ads and performing a constant calculation to ensure you do not spend more than your profit. You also need to have a clear target audience to run ads to.
Social Media: If you have talent on social media, you can always look to promote your products on social media platforms.
Instagram Reels, Pinterest, and TikTok are great options for free marketing.
Create videos that educate, cultivate interest, and elicit sales. For example, if you sell wooden rabbit sculptures, then record yourself curving the sculpture. Showing how the finished product is done.
People will either want to buy your finished product or want to learn how to do what you do, so if you want to make more money, you can sell a sculpting course.
YouTube is probably another good platform to promote your Etsy store but you have to find an angle to create videos that people will be interested in. Here's a guide to help you find success on YouTube.
So, the sky is the limit, and there are no restrictions on how you wish to promote your Etsy store.
Search Engine Optimization (SEO): If you want business sustainability, SEO should help you gain consistent traffic and sales over time.
SEO work is usually done by adding the right keywords to your product descriptions or on the images and item titles. If you need help with how to do this, consider getting professional services such as eRank or Marmalead.
Good luck in your endeavor, and we hope you succeed with your Etsy shop. If you have more questions about how to start an Etsy shop, let's visit them now.
What Should You Sell To Make Money On Etsy?
Etsy is a surprisingly popular place for artsy, hipster-like items and products. Many handmade art and craft works may not be owned by anyone else. As a result, many smaller, artsy items could sell well on Etsy.
For more Etsy Shop Ideas, visit this page.
Jewelry
If not the most, handmade jewelry is one of the best-selling items on Etsy. Etsy shoppers generally love to shop for one-off creations, limited edition jewelry pieces.
Some also love to support artisans, meaning they buy nothing but handcrafted jewelry.
If you have the skills, consider selling handcrafted units, as they may sell for a much higher price.
If not, consider importing jewelry in bulk. You may also source jewelry with precious stones at a low price, which may sell for a larger profit.
The key is to find a niche or a theme for your jewelry to sell well. Themes such as the sun, moon, and certain flowers may be a good place to start. 
Facemasks
Facemasks are one of the newest products that exploded in demand, thanks to Covid. Nobody was selling in early 2020. 
However, by August, homemade cloth face masks sold over $346 million and became the third best-selling item on Etsy. A lot of people are buying facemasks for sure, even now. 
The best part about facemasks is that the demand may stay around for a long time, which means you can still enter this product niche and do well.
The key is to identify the emerging trends and try to produce masks related to them.
Toys
Toys are also a lucrative niche to enter. This is because babies and children will never have enough of it and will always want to play with newer, nicer toys. 
There are, however, several things to take note of if you intend to do well here.
One is to pick a niche and focus on toys within that niche. For example, you can focus on educational toys but focus on letter recognition. You then source or make toys that teach the alphabet. 
Another is to ensure the toys you sell on Etsy are safe for children. This is particularly so if you make your own toys or import them elsewhere.
Spend some time to check out safety certifications for children's toys, and make sure your products adhere to them.
Wedding 
Kevin O'Leary, or Mr. Wonderful, always talks about his favorite events – babies, weddings, and funerals. The reason? People spend without thinking rationally during these events.
Many tend to overspend as they think these are very special occasions. 
Which means you stand to do well if you enter this niche. One thing about weddings is that people decorate their weddings and use props.
There are also demands such as door gifts, wedding cards, and many more.
One thing to note is that customers may be very pedantic and specific with customization requests for products of these events.
This means you do want to be prepared to deal with these. 
Wall Art
Wall art is also a profitable niche you can consider entering Etsy. You may need to invest a little upfront, as you must purchase some canvas and frames to be used as a medium. 
Depending on your options, you may either draw the art yourself. You can also use graphic software like Canva and Photopea to create your own graphics.  
You can also purchase graphics or photography to be printed on the canvas or hire graphic designers on places such as Fiverr or 99 Designs to help you create custom graphics and art. 
People love to buy art like this, as they are considered more modern, and if the art piece is hand drawn, it may appeal even more. 
Printables
You can also consider producing printables and selling them on Etsy.
Digital downloads are much easier to handle since they do not require physical items, and you do not need to worry about handling and shipping costs. 
Printables include planners, some graphic organizers, and a good place to start.
If a design differs from your thing, you can contact graphic designers online and get help. Consider a theme for your products, such as religion, color, or characters. 
Vintage Items
Vintage items are also one very popular niche within Etsy. The thing about vintage items is their collectability and limited numbers.
If you can get some of these vintage items in your hands, you can make pretty good money selling them.
The key is to source these vintages. You may need to find them on eBay or Craigslist.
If you are adventurous, you can always visit the countryside and ask houses if they have any old vintage things to sell. 
Another is to have a focused area. You can focus on vintage leather jackets, boots, china, or even things as odd as vintage toys or signs.
How Much Does The Average Person Make On Etsy?
It can be rather difficult to determine how much money you can make on Etsy. This is because many important factors may affect your possible sales and earnings. 
However, as a start, do understand that Etsy recorded over $13 billion in sales in 2021 alone. If you put some effort into your Etsy business, you will likely earn a piece of that.
There have been success stories where successful Etsy shop owners could reach over $1 million in sales over Etsy, selling only basic, simple jewelry. This may be an upside you can look for when selling on Etsy. 
On the lowest end? You may not even make a cent if you only put a half-hearted effort into your Etsy business. 
However, it may be safe to assume that with some effort and proper Etsy strategy, you should be able to build a side business and make some side income. You may be able to rake in hundreds per month. 
Suppose you are committed to it and build something solid and great on Etsy. In that case, you could turn your own Etsy store into a full-time job.
This means you want to learn how to sell on Etsy and develop a proper strategy before embarking on the journey. This is to ensure you avoid making mistakes that may result in your business failing to launch.
What Are The Pros Of Selling On Etsy?
The nice thing about selling on Etsy is that you have many things figured out. You do not need to worry too much about tech and promoting your business, as Etsy has that simplified for you.
Easy To Set Up & Run
One really strong reason you sell on Etsy is the ease of setting up your business there. The setup process only takes several steps, and you should have your store ready. You also do not need very good computer skills to set up an Etsy store. 
However, this does not mean you do not need to do anything to set up your store. You should spend some time on photography to ensure you get the best image for your product. You also want to put some effort into writing the product descriptions to ensure you can convince your potential customers to make orders.
Another plus side of Etsy is the ease of maintenance. Etsy has automated many processes, which helps you run the store's maintenance easily. You also get reminders about things such as orders and to respond to customers. It may feel like you have an assistant working for you sometimes.
Low Listing Fees
Many small business owners love Etsy for its low listing fees. When you list a new product on Etsy, you have to pay $0.20 per item to list it on Etsy for four months. 
You may balk at paying Etsy listing fees when websites like Amazon do not charge for listing. However, looking further, you may get a better deal at Etsy. This is because despite charging $0.20 to list an item, Etsy only takes a 6.5% cut from your sales. 
This is compared to Amazon, which may not charge you any listing fees, but may take between 8% to 15% referral fee for items sold. eBay also does not charge listing fees but may charge as high as 15% seller fees for every dollar you make. 
Free Shipping For Higher Search Results
If you need help promoting your store and gaining the skills and knowledge to run digital marketing on your own, then you will love this feature from Etsy. 
Beginning July 30th, 2019, Etsy started encouraging sellers to offer free shipping to orders about $35. If sellers do that, Etsy will place their listing higher in the search result. If you offer the same offer, you will likely benefit from the higher search result and may even make sales when you just launched your store. 
It may cost you a little bit to cover the shipping fee, but the good thing is that you can always consider that as an advertising fee. In fact, spending on advertising may not guarantee you any sales, but you only pay for the shipping fee when you make sales. 
If you do your cost calculations properly, you should be fine with having to foot the shipping fee. Successful shops tend to leverage this offer.
Trustworthy Payment System
One of the biggest pains of running an online business is sorting out the payment system. Sure, you may be able to quickly name out reliable payment systems such as Paypal, Stripe, or Venmo, but setting them up for your online store may be a pain. 
When Etsy, you can think about this sparingly. You use their payment system, which has processed billions of dollars from day one. This means you can focus on your product listing and let Etsy handle the payment processing and invoicing. 
Etsy's payment system handles payments from a credit card and many other payment methods. 
Leverage On Etsy's Popularity And Traffic
The biggest advantage of selling on Etsy is leveraging Etsy's popularity and traffic. Many immediately think of Etsy when looking for crafts, arts, or vintage goods. If you sell on Etsy, you may find it easier to contact these potential buyers.
Etsy is also a proven online platform. It has over 88 million users who bought over $13 billion in 2021 alone. This means you have a proven market to sell your products. The key is to sell the right products, offer a great deal, and promote them well.
What Are The Cons Of Selling On Etsy?
Despite Etsy being a great platform for your online business, selling on Etsy may have its own downsides. 
Brand Loyalty Issues
When you sell on Etsy, you make your sales to an Etsy visitor. This means you may be unable to build brand loyalty from your customers. 
This is because they may mainly remember their purchase as buying from Etsy rather than from your Etsy store. As a result, when they come back to look for more products, they may buy from another seller on Etsy, not you. 
This differs from building your own online shop using Shopify and then selling from there. If you do it this way, you are more likely to encourage customer loyalty.
Recurring Listing Fees
One good thing about Etsy is its low listing fee, $0.20, to list a product for four months. However, if you intend to sell many products in your Etsy store, this may add up to a high cost over time. 
This may not be an issue if you sell on other platforms, such as Amazon or eBay, since they do not charge listing fees. 
Etsy Owns You Now
As you launch your store, make sales, and develop customer lists and contacts on Etsy, it may reach a stage where you may become very reliant on Etsy. This is because you have established a good reputation on the site, collected many good testimonials, and have great ratings. 
If you are to leave Etsy now, it will hurt you really bad as you may lose many customers. You will become a new seller with no reputation and positive reviews.
Etsy realizes this, which means you may still stay with the platform when they decide to raise fees to take a larger cut from your sales. 
Price War
One of the biggest disadvantages of selling on platforms such as Etsy is that many other sellers, like you, also sell similar products. This means the competition will be fierce. 
Many sellers usually resort to selling at a low price to try to beat out the other competition, which may mean engaging in a price war. In a price war, the customer and Etsy win since customers can buy cheaply, and Etsy earns referral fees. 
However, sellers like you will lose out. As a result, if you intend to start selling on Etsy, you want to ensure you can at least engage in a price war or make products so that no one competes with you.
Does Etsy Charge A Lot For Sellers To Sell On Their Platform?
If you have missed the information above, let's discuss it now.
One good thing about Etsy is that you can spend a maximum of a cent to open a store. This means you can save a lot of money by opening a store on Etsy than on, say, Shopify.
When listing items, you will have to pay $0.20 per item. This is likely done to ensure sellers do not randomly list items but only quality ones that can sell. Once paid, your item is online for 4 months.
You only pay the listing fees until you make a sale. Etsy may take its share of the transaction in several ways when you make a sale. 
First is the transaction fee. It charges a flat rate of 6.5% on all sales. It applies to any upsells you offer, such as customization or gift wrapping. The delivery and packaging costs are also included in the transaction fee.
If you have listed your item with multiple quantities, on top of the $0.20 initial listing fee, you will be charged $0.20 for every inventory sold.
On top of that, if you use Etsy's payment processing service, you will also be charged a payment processing fee. The payment processing fee varies between countries, but the fee is usually in percentage and then a small fee. 
In the US, you are looking at 3% + $0.25 for the payment processing fee. The small token sum ensures that Etsy still gets paid an acceptable sum of the payment processing fee if the transaction amount is small. 
With these fees now clear, you may use them to calculate and determine the right selling price for your products. This ensures that you are profitable in your business operations and confirms that you can do well inside Etsy.
What is Etsy?
Etsy is a popular online marketplace where people buy and sell handmade, vintage, craft supplies or personal accessories. Sellers can list their goods at $0.20 per item. Etsy was launched in 2005 and is now one of the best e-commerce platforms in the U.S., with over 4.3 million sellers.
Some of Etsy's more popular unique products include:
jewelry
bags
clothing
home decor items
furniture
toys
craft supplies, and
tools
Vintage items (at least 20 years old)
No idea what type of Etsy store to start? Here are some ideas for you.
Etsy simulates the experience of open craft fairs, where sellers can run their own personal storefronts. Sellers can then list their goods for sale at $0.20 per item. 
Etsy's website was launched in 2005 after two and a half months of building. Etsy was, at the time, a small company owned by Robert Kalin, Chris Maguire, and Haim Schoppik.
The site was given the name Etsy by Kalin, who wanted a 'nonsense word' so he could build the brand from scratch.
He was watching some Italian TV series during his brainstorming session and heard the characters mentioning the word etsi a lot.
The word means 'oh, yes.' The name stuck with him, and he eventually came out with Etsy.
Etsy is one of the biggest eCommerce sites globally, with 4.3 million active sellers on the platform.
62% of the Etsy store owners are from the United States
13% of sellers are from the UK
the remaining are from the rest of the world
Etsy's main competitors include Amazon Handmade, Craigslist, and eBay. Outside the US, Etsy may compete with regional brands such as Zibbet in Australia, Hello Pretty in South Africa, and Apple Creek Lane in Canada.
Is it worth it to sell on Etsy?
You may want to start an online business selling handmade or craft products on Etsy. But when you visit the website, you notice so many people already selling there.
That makes you wonder if it is still worth selling on Etsy now.
In general, it is still worth it to sell on Etsy. This is because Etsy is the fastest, easiest way to start an online store. When you launch your online store using Etsy, you do not need to build your own online store. 
This means you spare yourself the problem and expenses of buying a domain, hosting, setting up your website, and promoting your products.
You do not need to worry about the technical aspects and the cost of running an online store of your own through, for example, Shopify or Woocommerce. 
On top of that, you also get to leverage Etsy's payment and invoicing system. This means people are more likely to trust the payment process because it is from Etsy. As a result, your prospective customers are more likely to purchase your products.
Aside from that, you also do not need to spend money and effort to set up payment systems such as Paypal, Venmo, or Stripe. Setting up these payments and invoicing systems can be a pain, and this may be really difficult if you are not tech-savvy.
Launching your online store on Etsy is also a good way to test your products and adjust them to suit market demand. When your product is well received, and you have to build your list of clientele, you can always launch your own online store.
Anyway, we hope this guide can propel you to start a successful Etsy store. If you have any questions, please leave them in the comments.