30 Incredibly Simple Etsy Shop Ideas to Start Today
Etsy is becoming more popular as a way to start some side hustle and make extra money. It is one of the largest internet marketplaces in the US, with billions in sales and about 100 million users. 
If you are also thinking about starting an online business on Etsy, you may be thinking about what to sell. What are good Etsy shop ideas?
In general, handmade, customized products tend to do well on Etsy. Digital art and printables are also popular with customers. Many Etsy customers also look for home and party supplies, such as for the kitchen, weddings, Halloween, etc.
This article explores some of the best ideas for Etsy shops. For every idea, we try to show one example of an Etsy store that did well selling the same idea.
You may also be interested in knowing that many Etsy shop owners rely heavily on Pinterest to become successful.
Ready? Let's go.
What Are The Best Ideas For An Etsy Store?
If you are unsure what to sell on Etsy, the good news is that there are many best-selling items that you can use to support your Etsy business ideas. 
Generally, many successful Etsy shops sell craft-related items. This could be the crafted items or the supplies needed to perform the craft.
For example, you may see some Etsy stores selling crochet items and doing quite well, with hundreds and thousands of sales. At the same time, you may also see stores selling crocheting-related supplies, such as tools and consumables. 
Digital products are also becoming popular, with planners, organizers, or activity books popular with Etsy customers. However, you may also consider your hobbies, which can be your best Etsy shop ideas.
We list here the 30 easy Etsy store ideas for your inspiration, together with example stores that sell the great items we mention.
1. Craft Supplies
Etsy is a popular place for art and craft-based products, so it naturally becomes a popular place to source art and craft supplies. In fact, it may be one of the most profitable stores you can open on Etsy. 
Shoppers love to shop for things such as:
paint
brush
yarn
glue
molds
cutouts, and other supplies.
You may also notice a spike in sales, especially during school breaks and holidays, when children and adults may have more free time on their hands. It may be a good idea to offer sales during these periods to maximize sales.
Example Etsy Store: Kinda Cute Shop
2. Sewing Supplies
Sewing is a very popular pastime for many. If you are considering starting an Etsy store, sewing supplies may be a good idea.
You stand to have more advantage if you are in the hobby yourself since you would know more about products to stock. 
Consider offering products such as sewing:
patterns
fabrics
guides, or
notions
that can be used to create or sew clothes. You can also create all-in-one packs for simple DIY projects, such as tote bags.
Example Etsy Store: Stitches & Giggles 4U
3. Party Supplies
Parties are fun and enjoyable special occasions. If you love or have the knowledge of throwing parties, you may have a clear idea of how to set up one and what is needed.
Why not turn that knowledge into an Etsy store?
Party supplies may be as simple as the props, such as:
hats
decorations, and
stickers
You can also sell supplies with themes such as:
Halloween
Christmas
Thanksgiving, or
birthday parties
If you have experience throwing parties, write down a guide to throwing parties in an eBook, and offer it for sale on Etsy.
Example Etsy Store: Party Props & Treasures
4. Baby Clothing and Accessories
Baby clothes and accessories are consistently one of the top-selling items on Etsy. When you think of baby items, like:
mini-shoes
mittens
rompers
hats
How can you resist them?
People love to dress their babies and toddlers in cute, special outfits and take pictures and videos. They also like to decorate their babies and toddlers with ribbons, bows, wings, and all sorts of accessories as well. 
Suppose you can crochet or sew these clothing and accessories. In that case, you can consider offering your products on sale on Etsy and generate good sales.
You can always source some from wholesalers if you cannot hand-make these products.
Example Etsy Store: Sugar House Swaddles
5. Custom Clothing
Custom clothing can also be a great item category on Etsy. This is because people always need clothes.
If you can customize clothing, you can make things as simple as a t-shirt to sell well, especially if you can tap into your potential customers' love and support of something. 
You can also opt to build your own fashion brand here, although it may take a lot of work.
However, if you make it, you are looking at potential long-term sales and unrivaled customer loyalty.
Aside from t-shirts, you can also offer to customize:
hats
socks
jackets, and many more.
You may need to invest in sublimation equipment if you intend to go this route, so make sure you calculate your costs correctly before you start.
Example Etsy Store: Constant Trade
6. Crochets
Have crocheting skills? Why not share your talent on Etsy? Make sweaters, purse bags, plush toys, and many other items you can crochet up and sell on Etsy.
Etsy is a place where customers are looking for customized, handmade items. Crotches are commonly associated with comfort and sincerity, making them a great gift idea. 
If you are going this route, consider taking custom orders, where you crotchet up items or clothes based on your customer's order.
This should be able to help you generate extra income since you can charge for a customized product.
Example Etsy Store: Krawka
7. Fashion Accessories
Etsy is a popular place for many buyers who want to keep up with the latest trends but want to avoid splashing big bucks on designer brands.
These accessories include things such as:
hats
hair clips
belts
sunglasses
wristbands
wallets
etc. 
Suppose you can either hand-make these items or source them from wholesalers or manufacturers. In that case, you can consider offering them on Etsy.
You can also offer to customize these accessories to make them personal, such as by engraving or embroidering them with names or messages.
Example Etsy Store: Sunglass Museum
8. Jewelry
If you enjoy jewelry, consider opening an Etsy store. This is because jewelry is known to be one of the top-selling items on Etsy and can help you to rake in a lot of money.
It is no surprise that some of the top sellers on Etsy are jewelry sellers.
The most important thing is to source your inventory. You have two options:
source for jewelry in bulk from overseas and compete on price with other Etsy sellers. Or,
if you are blessed with skills to hand-make jewelry, then offer that service, and sell them at a premium price.
People tend to love custom jewelry, as it has a personalized feel. They also make great gifts for special events such as anniversaries, birthdays, mother's day, etc. 
Example Etsy Store: Twinkle Personalized
9. Gems and Crystals
Gems and crystals are beautiful pieces of rock that can instantly add shine and luster to anything.
Jewelry becomes instantly more beautiful with gems, while things as simple as phone cases and watch bands may also be spruced up with crystals. 
This means if you can source tiny tumbled stones, you should be able to sell to, not just Etsy customers, but other Etsy store owners who need these special stones to decorate their handmade products. 
If you are worried about costs, you can always start by selling imitation stones that look like:
ruby
sapphire, or
emerald
Example Etsy Store: The Rockin Jeweler
10. Embroidery/Patches
Embroidery and iron-on patches are among the more popular items that are regularly one of the best-selling Etsy products. This is because it allows potential customers to easily customize their items. 
The most common way people do this is to iron patches on countries they have visited on their backpacks or causes they support on their hats or jackets. 
The best thing about these items is that you do not need to do much customization work for your customers. They buy and then either sew or iron the patches to their items. This makes embroidery and patches one of the most creative Etsy shop ideas.
If you intend to sell embroidery and patches, you should consider designing and embroidering these patches. This means you may need to hire graphic designers.
Make sure you calculate your cost to save money on the sale. 
Example Etsy Store: Sophie Patch
11. Phone Cases
One of the most customizable and popular places for people to make a statement is using their phone cases.
People also realize that their smartphones are expensive, and it is a good idea to invest in a phone case to protect it as well.
Phone cases are as customizable as t-shirts and hats.
You can pretty much print anything on it and have it sold to anyone interested.
You can also offer customized printing, which allows your customers to print anything they like on their phone cases. 
Take opportunities on the latest happenings and events and create premade phone cases related to the happenings to sell them.
Example Etsy Store: Quico Studio
12. Leatherwear
Leatherwear is one of the most luxurious materials you can use to make many things.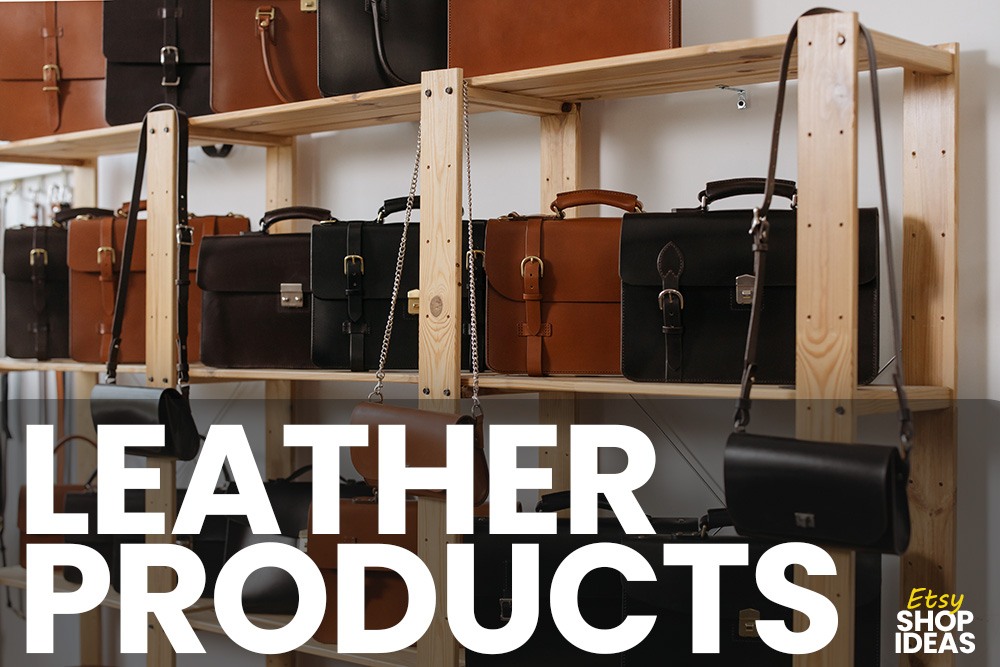 People are coming to Etsy to look for high-quality leatherwear without overspending on luxury brands, from cases to personal accessories, such as:
Similar to jewelry, you can approach this in two ways.
1. Mass-produce Generic Leather Products
You can consider mass-produced leather products with some customization, which means you import finished products and sell them.
This approach may be a little difficult since you have to compete on price.
2. Hand-made (bespoke)
Or you can go the more premium route – handmade, bespoke leather goods sold at a premium price.
This approach may require you to have some leather-making skills.
But if you can do it, you can command a much more premium price for your work.
3. Customized Leather products
You can also consider offering customization, such as stamping the customer's own name or messages on the leather goods for your customers.
This may also help to generate more revenue for your business.
Example Etsy Store: Central Crafts Co.
13. Baking and Cooking Supplies
If there is one place where super-specialized tools and appliances are required, it's the kitchen. This means you can make a killing selling baking and cooking supplies on Etsy.
Many Etsy visitors seek the right tools and equipment to help make desserts or food.
Think about:
fun food molds
decorating tools
special cake stickers
edible decorations
etc.
You can also make chutney, spice blends, and sauces to sell on Etsy as well.
If possible, offer high-quality, handmade kitchen tools, such as:
pots
pans
chopping boards
utensil sets
etc.
Knives are a specific product that sells well on Etsy, so you may want to check that out too.
Example Etsy Store: Calicutts Spice Co.
14. Ribbons and Bows
Bows may look like a rather unnecessary thing. Still, when you look around, they are used to decorate a myriad of things, from presents to gift baskets to pets and babies. 
Despite its popularity, bows are rather hard to make and may not be easily done by anyone. This means people may also come to Etsy to look for bows and ribbons. 
Consider making ribbons for sale while at the same time also stocking up on ribbons and offering them for sale. You can also create a course or offer video call coaching to teach people how to tie a bow well.
Example Etsy Store: Beautiful Ribbons
15. Beads
Beads are the raw materials and cornerstone of many arts and crafts. Think about accessories such as:
bracelets
necklaces
glasses
chains, and more.
If you are making this handicraft, consider stocking up on these beads and offering them for sale in your store.
If you are not a fan of jewelry making, you can always stock up on these beads and offer them for sale.
Your potential buyers may range from hobbyist jewelry makers all the way to master crafters looking for supplies to complete the handmade jewelry.
Example Etsy Store: Maddie May Store
16. Planners and Journals
You may think that Etsy is a place that thrives on arts and crafts, such as the above-mentioned. But do not be surprised that organizational items sell well here. These include things such as planners and journals. 
People may come to Etsy to look for themes or customizable journals and planners, which is something you can try to offer if you plan to sell them.
Start with themed journals, with quotes about certain philosophies or focusing on things such as religion and spirituality.
Example Etsy Store: The Gift Studio Company
17. Planner Inserts
If you are looking at selling planners and journals, you can also create customized planner inserts. These items could be inserted into the planner for more customized planning. 
For example, suppose you may have customers that want to track water intake.
In this case, you can create a special planner insert with images of water glasses.
Your customer can then cross or circle these images every time they finish a glass of water.
You could also create inserts for things such as:
meditation
calorie trackers, and many more
Example Etsy Store: The Savvy Couple
18. Wedding Printables
There is a good reason why Kevin O'Leary (Mr. Wonderful) loves weddings – people spend with their emotions instead of their logic.
This means they usually overbuy what they need, insisting on the best quality items to improve their special day.
This may explain why wedding printables like wedding cards are one of Etsy's best-selling items.
As a result, many Etsy sellers create personalized wedding printables, such as:
invitations
favors
signs
games
name cards, and more.
You could also do the same by packaging these printables as a pack to sell. 
Example Etsy Store: Paper Innocence
19. School/Office/Home Printables
There are many visitors on Etsy looking for ways to organize their homes, school, and office.
These could range from:
labels
stickers
to-do lists
planners, and many more.
As a result, printables are surprisingly one of the best-selling products on Etsy.
Aside from that, you could also create printables for specific tasks, such as:
a homework list
a step-by-step guide to doing something, such as:

washing hands, and
door signs
The possibilities are endless here, and your customers may even request you to create specific printables.
The best thing about these printables is you only design them once.
Still, you get to sell them repeatedly without any additional work, which means an opportunity for passive income.
However, you also want to watermark your work to ensure they are not being sold by other people. 
Example Etsy Store: Bellamy Store
20. Games and Entertainment Printables
Many parents are on Etsy, looking for things for their children to do, which means opportunity when targeting these parents. Sneaky huh!
Think activity sheets and printables!
It could range from:
educational activities
handwriting practice, or
coloring books
You could also offer puzzles and activities during long-distance drives, such as counting the number of cows or colors of cars they see.
Once your customers have purchased them, they can download and print them out. 
The best thing about printables is, again, you only need to do the design work once. You can sell them repeatedly, creating a nice passive income stream for yourself.
Example Etsy Store: Moment Printables
21. Stickers
Stickers are also one of the more popular items you can sell on Etsy. Many people look for stickers for many uses. The stickers could be used for organization, such as labeling folders and jars in the kitchen. 
People also look for fun and cute stickers to decorate their personal items, journals, or planners. These stickers help to turn their items into unique, personalized ones.
Feel free to design, print, and cut stickers out to sell to people on Etsy.
As a start, decide on a particular theme that you believe is underserved in Etsy, such as beach, sun, space, or specific flowers or animals.
This approach could be the best way to get your sticker shop on the map before expanding to related themes.
We have an in-depth tutorial on selling stickers on Etsy.
Example Etsy Store: Belleame Paper Co
22. Digital Downloads
Digital downloads cover many items, such as:
ebooks
digital prints, and
guides
Many people come to Etsy to look for digital downloads that they can edit from their computer or print themselves. 
These could be:
digital scrapbooking pages
posters
artwork
stickers
pdf guides, and many more.
These works may also present opportunities for passive income since you only need to design them once and sell them again and again.
Example Etsy Store: Ocean Wind Prints
23. Candles
Candles are also one type of artistic product popular on Etsy. Candles can be customized in so many ways.
You can play with the color, material, fragrance, shape, and many more. Candles can also be customized and personalized for occasions, events, and the names of someone. 
You may also branch out into offering related products to candles, such as candle holders or gift sets that can also be customized to your customers' needs. 
Example Etsy Store: The Dancing Wick
24. Soap and Bath Bombs
As people learn about skin sensitivity and more, there is a general trend of no longer using general soap or skincare products from your usual supermarket shelves.
Instead, people are going for chemical-free, handmade soaps with natural ingredients. 
This means if you can hand-make your own soap, you may be able to do well selling them on Etsy.
Even if you can't, you can still buy organic handmade soap from suppliers and cut them up for sale on Etsy. 
Aside from soaps, also explore products such as:
bath bombs
bath salts
scrubs
lotions, and more.
These are likely good products to offer alongside your soaps. 
Example Etsy Shop: My Dream Soap
25. Plush Toys
Who can resist these cute and super-huggable toys?
That is why they sell so well on Etsy. If you intend to sell plush toys, you can choose between sourcing them from a supplier or hand make them yourself. 
You may also think about selling plush toys with a particular theme, like animals or more. It may also help if you can offer plush toys of different sizes and uses, as they can complement each other in sales. 
For example, a small, hangable plushie may be lower in price but sell more. Meanwhile, a large bolster plushie may sell less, but since they are pricier, you stand to make more profit.
Example Etsy Shop: Plushiez Pluss
26. Artwork
People simply love buying artwork to decorate their homes, office, or other spaces.
Original artwork can be in multiple formats, such as:
paintings
photography
wall art
wood carvings
sculptures, and many more. 
If you are an artist looking for ways to sell your artwork, Etsy is a great way to do so.
Many people visit Etsy to look for good art pieces and support independent artists without paying the brokers exorbitant fees. 
When selling artwork on Etsy, the key is to always push your style and personality into the artwork, to make it different from the rest.
It may appeal to prospective customers who may purchase your artwork.
Example Etsy Store: Agostino Veroni
27. Pet Supplies and Accessories
68% of households in the United States have pets, and the number is rising.
Americans also spend over $99 billion on their pets per year, which means this is a potentially large market you can benefit from. 
Like babies and toddlers, many fur moms and fur dads like to dress up their pets in funny clothing and costumes.
On top of that, they are also becoming more aware of their nutritional needs, ensuring they get the best food.
Suppose you intend to open a pet store on Etsy. In that case, it may help to focus on a particular animal, with cats and dogs the more popular option.
Consider stocking up on funny and cute outfits, toys, and training equipment for pet owners.
Example Etsy Shop: Bertie's Pet Boutique
28. Vintage Items
One of the best-selling products on Etsy is vintage items. They are popular since they bring back a lot of nostalgic feelings and add to the rustic charm of any space they decorate. 
Etsy considers anything over 20 years old as vintage. There are many vintage products to offer, from clothing to tools, accessories, and even the oddest things, such as old shops or road signs. 
The key to selling vintage items on Etsy is sourcing the inventory.
You may need to visit many fairs or houses in the countryside to get access to old vintage finds.
However, if you enjoy this job, you may be more motivated to find vintage items because you can now make money from them. 
Example Etsy Shop: Retro Rise
29. Stamps
It's not the postage stamps we are talking about, which could be an idea too.
But what we are referring to are "chops."
Remember how happy you were when your teachers stamped your workbook with cute thank you or well-done stamps?
That's what we are referring to.
So, how about creating these stamps instead as an adult so that children today can enjoy happiness?
Many people also look for special stamps for their work to decorate their art or craftwork.
You can use a Cricut machine to make stamps in many sizes and shapes. 
Aside from stamps, you can also sell peripherals related to stampings, such as:
ink refills
stamp pads, and other related tools.
Example Etsy Store: Glitter Puff
30. Face Masks
Nobody used to care about face masks until the pandemic hit.
Sales were practically non-existent in early 2020; by August, over $346 million worth of facemasks was bought from Etsy. 
You may have missed the initial rush, but the demand remains.
People still buy face masks for the safety of themselves and their loved ones, which means you can still enter this market and do well. 
You may treat face masks similarly to how customized t-shirts are sold. If you can customize it and turn it into a way for potential buyers to express themselves, your store may do very well.
Example Etsy Store: Hannah's Choice
That's all the Etsy Shop Ideas we have, and if you are still wary of starting an Etsy Shop, let's talk about it.
Is Selling On Etsy A Good Idea?
Selling on Etsy is generally a good idea. Sure there are no such things as 100% perfection with Etsy, but the upsides generally outweigh the downsides. 
Easy Set-Up Process
One of the strongest plus points of Etsy is it offers an easy way for new sellers to set up an account. With only a few clicks and no payment, your store is registered, and you now have your own online shop. 
You may need to enter additional information, such as your email, but these would not take too long.
Next, assign an Etsy shop name, upload product pictures, and descriptions, and your own Etsy shop is ready to take customers. 
Low Starting Cost
One of the biggest problems when it comes to starting any business is the initial cost.
Even with things such as starting small businesses online, the costs can be rather high, especially if you are inexperienced. 
For example, starting an online store with Shopify can easily cost hundreds, up to thousands, if you insist on the best options, designs, and functions. This does not include the investment to build up your inventory even.
Fortunately, with Etsy, the cost is almost negligible, making it a good option for small business owners.
Opening a store is free; you only pay a $0.20 listing fee to sell one item.
The fees only come when you make a sale, which means you are paying for the fees not from your own pocket but from the profit margin from selling your products. 
A large Number Of Buying Customers
The other biggest concern for many online businesses is getting customers.
Suppose you open an online store with WooCommerce. Your next step will be getting traffic, which can be troublesome if you need to become more familiar with digital marketing or advertising. 
With Etsy, you do not have to worry about these things, as Etsy is already a popular platform.
There are 88 million Etsy shoppers and millions of active sellers too.
These visitors are also proven buyers, as they have spent over $13 billion buying products from Etsy sellers in 2021 alone.
This means if you open a store on Etsy, you should be able to generate sales. 
Own Payment And Invoicing System
Another pain and problem you need to contend with when selling online are figuring out how to receive payments from your customers online and organizing the invoicing systems. 
You will need to figure out this problem if you are using your own online store.
Even if you use the most popular systems, such as Paypal, Venmo, or Stripe, you still need to scratch your head trying to connect them to your store. 
With Etsy, you spare yourself the trouble, as it comes with its payment and invoicing system. It is free to set up, with fees only when it processes a sale.
Promotion Options Within Etsy
If you are looking to speed up sales and success on your Etsy store, you can leverage some of the promotion methods it offers.
The best things you can do to increase reviews on your listing are Etsy ads and free shipping promotions. 
Etsy ads allow you to target certain keywords. Your listing will appear as one of the earliest whenever someone searches for the keyword on the search bar.
This helps your listing to gain visibility to your target market and compete with other top Etsy sellers.
Another option is to use their free shipping promotions.
Suppose you offer free shipping for sales above $35. In that case, Etsy will prioritize your listing on the search results, meaning it will be seen earlier.
This is a good option, as it is practically free. You only pay shipping fees when you make a sale, which means you use your profit, not your capital.
So, whatever decisions you make, be it starting an Etsy shop or taking other opportunities, we wish you the best in your endeavors.