Scalenut Review: Is This the Best AI Writer for Long-Form and SEO Content?
In this detailed Scalenut review, we'll explore the various features of Scalenut, including its user-friendly interface, powerful keyword research capabilities, and innovative Cruise Mode for long-form content generation.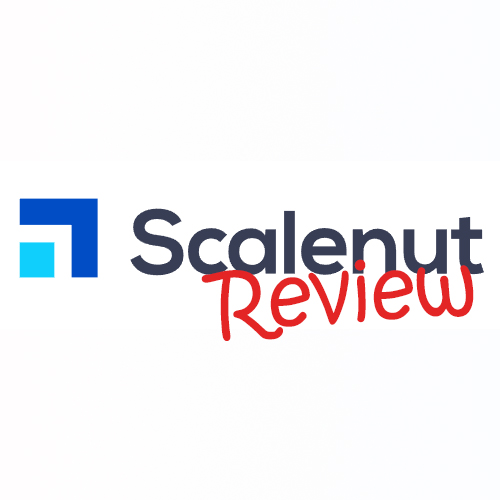 We'll also discuss the platform's built-in SEO optimization tools, which can help ensure that your content ranks higher in search engine results.
Finally, we'll examine the accuracy and authenticity of Scalenut's generated content, as well as its ability to pass AI content detectors.
Overview of Scalenut
Avoid AI Content Detection
Pros and Cons of Using Scalenut
Additional Features
| | |
| --- | --- |
| AI Model | A combination of proprietary AI and NLP models with the GPT-3 model |
| No. of Support Languages | 1 Supported Language (English) |
| Plagiarism Checker | Integration with Copyscape (For Growth Plan and above) |
| AI Paraphrasing and Rewriting Tool | Available |
| Bulk Generation | No |
| Integrations | Semrush, WordPress, and Copyscape |
| Webhooks/API | No |
| Price | Starts at $39 per month |
| Free-trial Availability | 7 days Trial (No Credit Card Required) |
Verdict: Highly Recommended
Who is Scalenut Suitable for?
Scalenut is designed for a wide range of users, including:
Content creators and writers: Scalenut's AI-powered platform allows them to generate high-quality content quickly and efficiently.
Digital marketing agencies: Scalenut's keyword research and SEO optimization tools help agencies create well-targeted and optimized content for their clients.
Bloggers and website owners: Scalenut simplifies the process of creating engaging and informative content that attracts readers and boosts search engine rankings.
Local businesses: With the AI copywriter templates, it allows users to create cost-effective promotional content for their products and services.
E-commerce businesses: Has a range of AI writing templates that allows e-commerce businesses to generate both short-form content and long-form articles, together with the ability to generate customer reviews and response.
Is Scalenut Easy to Use?
One of the most critical factors of an AI writer is if its user interface is intuitive. Just imagine wanting to edit a part of the content, but its user interface prevents you from doing so.
Some AI writers disregard or do not invest enough attention to its user experience, but not Scalenut.
Scalenut generates all outputs quickly, and the user interface is intuitive. For example, if you are having trouble developing an outline and need the AI's help, there is a button to get AI suggestions.
If you find something interesting that should be considered as a reference, as you hover over it, a button allows you to add it as a reference.
Basically, our experience with Scalenut was smooth sailing. There wasn't once we thought something could be improved.
Scalenut's user interface is probably one of the best we have tried, and we have tried many. One of the worst user experiences we had was with Longshot AI.
We don't just say everything is good. We take our critique seriously. Our goal is to help you find a suitable AI writer.
If you have read our Longshot AI review, you will appreciate what Scalenut offers.
Researching Content With Scalenut's Article Writer
Assuming we do not know what to expect from the AI writer, and all we want is just to create a long-form article. Right at the side, you will see a well-organized menu.
And logically, we will click on the "Article Writer" option. As you click on it, it brings you through a logical content creation process. They will start by asking you to provide a couple of primary focus keywords.
As you type out your keywords, just like Google search, a couple of autofill suggestions will appear, and with the country selection, Scalenut will analyze the contents that ranked for the keyword in the country you select.
And within a minute, you are given 3 options:
Create Brief: If you choose this option, you intend to create a brief for your writers or write the article from scratch with AI content writing tools helping you out as you write. The Content Brief is similarly a content research tool.
Open Editor: This editor (or SEO Optimizer) comes with an in-built SEO analysis. Eventually, all output will reach the editor.
Cruise Mode: Scalenut will create the article's first draft for you.
Let's first talk about researching your content with "Create Brief".
We are thoroughly amazed by the level of detail Scalenut provides. They didn't ask you to think about what the content outline should be. They provided you with all the details about the competitors that are ranking for the keyword in the country you have selected.
Competition Overview
The average word count of the top-ranking articles
The number of H Tags and images those top-ranking articles use

Competitors' Outlines
At a glance, it shows you the heading text and tags for each of the top-ranking content so you can easily create an outline.
Questions Around the Web Related to Your Targeted Keyword
Without guessing the search intent for the keyword you are targeting, you will know what people are looking for.
Scalenut scours the web and provides you with highly relevant questions people often ask about your topic. It will present questions from Google searches, the "People also ask" section of Google, Quora, Reddit, and some questions generated by AI.
And as you hover over one of the questions, you can simply insert it as a reference or as an FAQ in your custom outline. That way, Scalenut's AI writer can rely on the references to write more relevant content.
Statistics Used by Your Competitors
Scalenut analyzes your competitors' articles and picks out all the statistics they have used, and provides you with its source as well so you can boost the credibility of our article.
This tremendously reduces your time for research, as Scalenut has done for you.
Citations
One critical SEO best practice is adding external links to credible sources so that search engines will understand more about your content.
If you add external links to low-quality or questionable sites, it may have a negative impact on your article's ranking.
So, with the help of Scalenut, you can now know what your competitors are linking to because chances are those sites they are linking to are high-quality.
Google and other search engines will not rank sites that link to low-quality sites.
And, with a click on the cited site, you will know the anchor text that were used, the citation URL, which are the exact pages the competitors are linking to, and the ranks of competitors who have cited the website.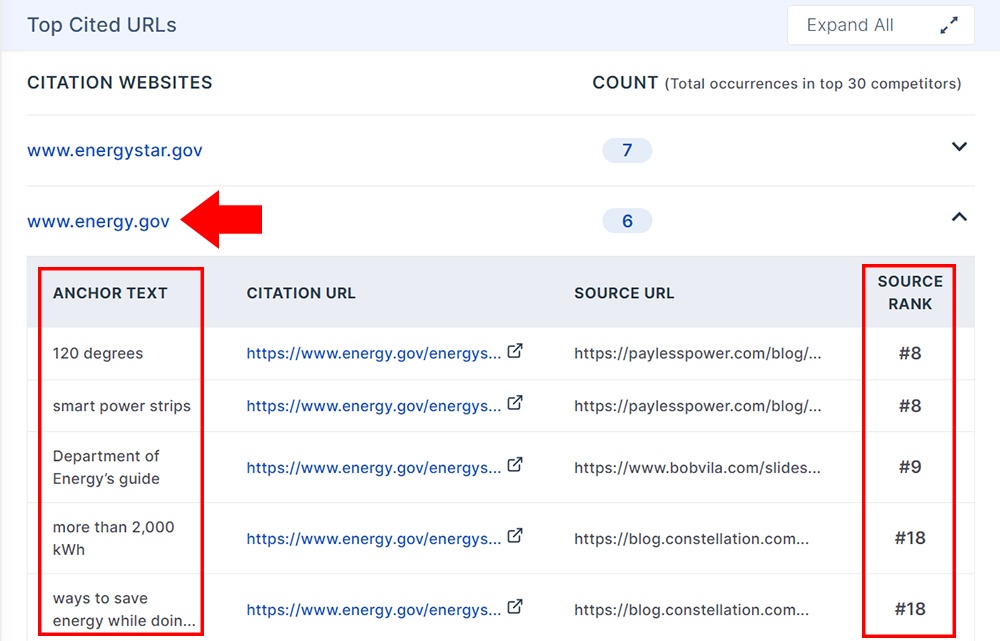 Key Terms Relevancy
And one of the best pieces of information Scalenut provides is the commonly used key terms for the topic and their relevancy based on the frequency used.
This is a feature that most popular SEO tools, like Surfer SEO and Rank IQ, provide.
Hence, using Scalenut saves you money on the other SEO tools you pay for.
Writing Content with Scalenut
There are two options to write content with Scalenut. First is to visit its editor (or content optimizer) and use all the available AI tools, such as the following, to write your content.
Write (with AI)
Instruct
Connectors

The second option is to utilize its cruise mode to write the first draft of an entire article that may be 2,500 words.
Let's first talk about the available AI writing tools.
Write (with AI)
With the "write" feature, if you are ever stuck in writer's block, just click on the button, and Scalenut's AI will start to think and write for you.
Even though some of the generated content may be flagged as "AI written", we will talk about that in a while, but it gives you an idea of what you should write about.
This speeds up the process of writing tremendously.
Instruct
As the name suggests, you give the AI an instruction, and it will write for you. For example, you can type "5 tips to reduce electricity consumption", and as you hit the "instruct" button, it will start writing what you instruct it to do.
This is especially useful when you use it with the cruise mode because the first draft written by the cruise mode may not be what you want, but with the instruct feature, you can edit it to your needs.
Connectors
Some parts of the content may need further justification, a contrasting point of view, more depth, or a summary.
With connectors, you can extend the content to make it complete.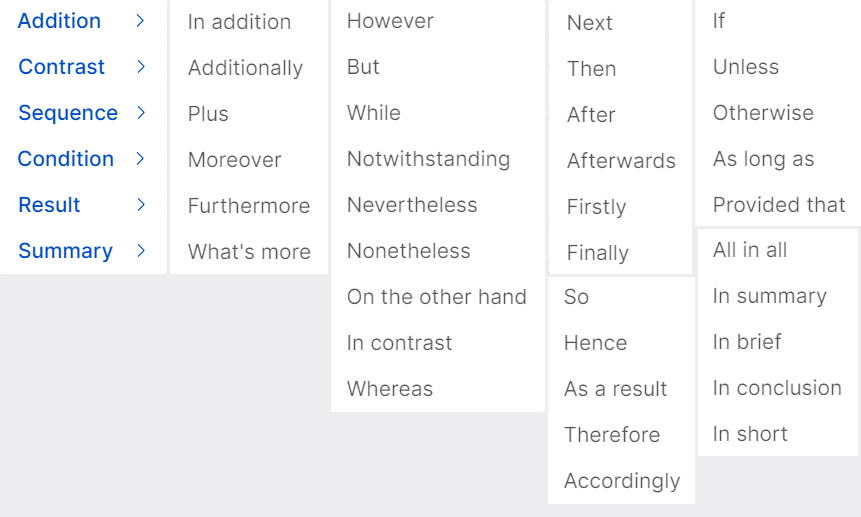 Again, this AI writing feature is a great addition to the cruise mode.
Cruise Mode
Cruise Mode is Scalenut's flagship feature that allows you to create a complete article that is 2,000 words or more. So, if you are looking for an AI writing tool that writes long-form article, this is it.
Of course, the AI-generated content may not seem in-depth enough, but Scalenut could write with relevancy through this process.
Step 1: Context
The first step of the Cruise Mode is the Context. Let us show you one of our topic examples. We want to write an article about "What uses the most energy in your home, and we have added the additional keywords that were researched through the "Create Brief" process.
The next step is to create a title for the article.
Step 2: Title Creation
It will generate a long list of titles, and if you don't see one that you like, you can generate more.
If you think one of the generated titles is good but not up to your standard, you can select it and edit it to your liking. Once this step is done, the next is to create an outline.
Step 3: Create an Outline
Scalenut will generate an adequate outline for you in less than a minute based on what they have researched.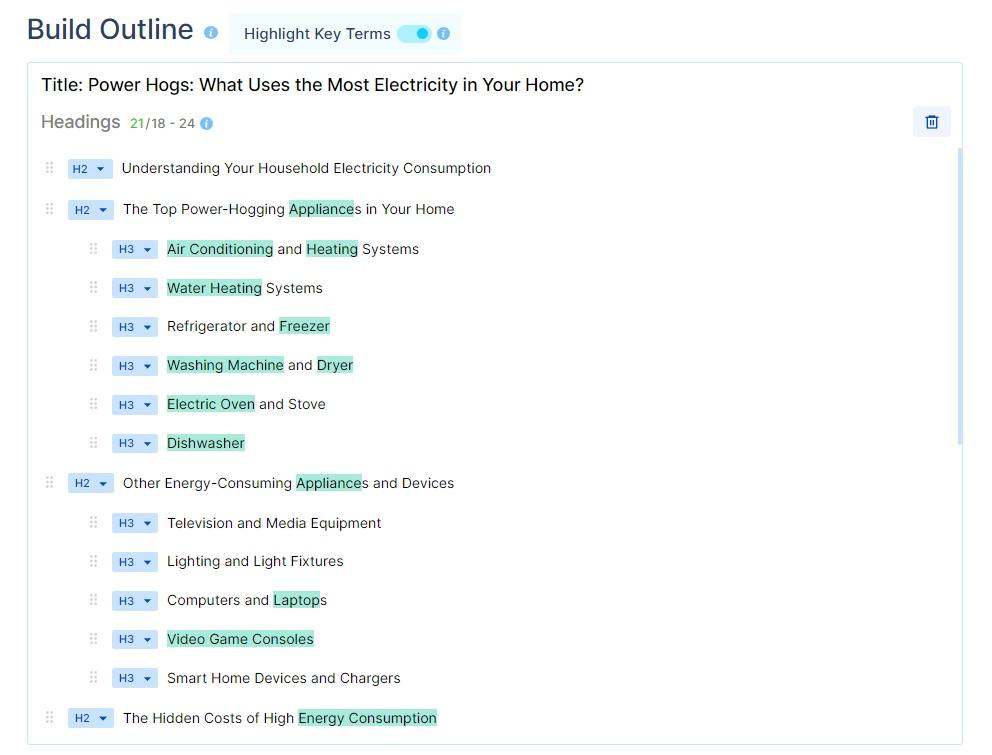 As you can see, the generated outline is logical and accurate. That's because the AI generates the outline based on articles ranking for the same topic.
In fact, this outline seems to be better than most of those top-ranked articles.
And to further allow Scalenut's AI to write with relevancy and accuracy, the next step is to create writing points for each outline.
Step 4: Writing Points
Remember how we mentioned using the "statistics" that are researched by the "Content Brief"? You can now add relevant statistics as writing points so that Scalenut can write more accurately.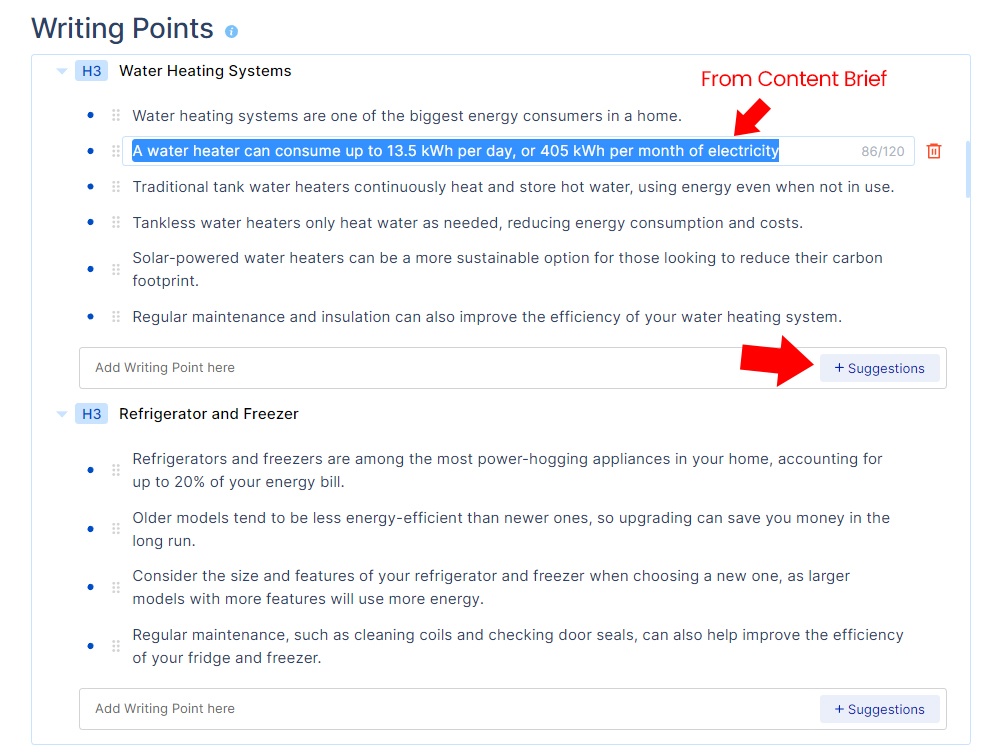 If you don't think a writing point is relevant enough, you can simply delete it, and if you want more suggestions, there is a button for you to request an AI-generated writing point.
And finally, once you have decided on the writing points, Scalenut will start to generate the first draft of your article.
Step 5: First Draft
It took 11 seconds for Scalenut to create this piece of 3,109 words long article. The speed of creation is amazing.
Each outline comes with approximately 100 words, and if you are not happy with either of the generated outputs, you can have it rewritten with a simple click of a button.
Once you are happy with the first draft and ready to put the generated content to the SEO analysis test, you can export it to the editor.
SEO Optimization with Scalenut
As you export the generated content to the editor, you will see an SEO report.
Scalenut's AI analyzes the articles ranked on the same topic and provides suggestions to give your content a better chance of outranking your competitors.
There are 25 SEO checks segregated into nine categories, and it scores your content out of a hundred.
Basically, it has similar SEO checks with a WordPress plugin called Rank Math, so following the suggestions provided, you will know if your content is search engine friendly.
Plus, if you need help writing the meta Title or description, you can always seek the AI's help.

So, as you can see, the user interface of Scalenut's long-form article writer is simple and intuitive. But the big question is, is the generated content plagiarism free and undetectable by AI Content Detectors?
Is Scalenut Plagiarism free?
Scalenut's AI-Generated content is not 100% plagiarism free. We have tested the content against multiple plagiarism checkers and found that the results are consistent at 10% plagiarised content.
Using Grammarly Premium, which checks the generated content against billions of web pages, it found that 10% were plagiarized.
With the free Duplichecker, as it can only check 1,000 words at a time, we ran the test in 4 batches:
Batch One (First 969 words): 4% Plagiarized
Batch Two (918 words): 2% Plagiarized
Batch Three (989 words): 4% Plagiarized
Batch Four (232 words): 0% Plagiarized
And using the plagiarism Detector, we are getting the same results.
Will Scalenut Pass AI Content Detectors?
For this, we will run Scalenut's generated content through the AI content detector by CopyLeaks, as it is one of the most accurate detectors.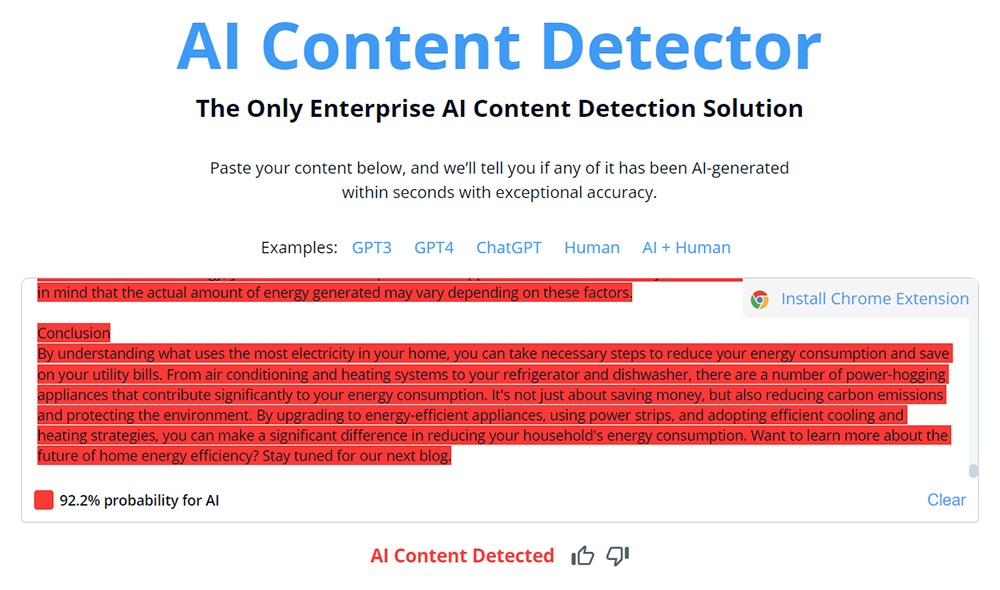 Unfortunately, out of the 3,109 words Scalenut has generated, 1,973 words were detected as AI-written content, which is 63.5% of the content. Of course, this is just one instance, but we have tested it multiple times, and the results are similar.
But, we are not surprised as even the best long-form AI article writers got similar results on their first draft.
You've got to rely on AI paraphrasing tools to overcome detection.
Is the Generated Content Factual and Accurate?
While Scalenut is capable of generating content that appears factual and accurate, it may not always produce the most up-to-date or accurate information, particularly when dealing with rapidly evolving or niche topics.
At the time of writing this review, it hasn't advanced from the GPT-3 model to GPT-4, which means, the Artificial Intelligence is restricted to a small data set.
Even though it uses a combination of its own properietary AI and Natural Language Processing (NLP) models with the GPT-3 model, its generated content is still not as advanced, factual, and accurate the content generated through the GPT-4 model.
We hope scalenut can catch up with its competitors, such as Hypotenuse AI with regards to leveraging on the power of GPT-4.
Keyword Research with Scalenut: Keyword Planner
As a new user, you may not understand the power of the Keyword Planner, but as you get familiarized, you will grow to love this feature.
Say you are running an Eco-Friendly blog and want to create a new blog category containing "Energy Saving Appliances."
So, you plug the keyphrase in for it to find keyword or topic clusters.

How the keyword planner works is that it will find highly relevant topics together with a bunch of keywords related to those topics.
So, in a sense, if you pick either of the topics to write content, you may rank for those keywords in the cluster.
So, if I chose to write a topic about "Energy Efficiency Kitchen Appliances (the cluster on the right of the image)," it recommends using the keywords in the cluster for the content.
As you click on the cluster, it tells you the relevance of each keyword and its search volume. If we write content that answers the search intent of these keywords, we may be able to rank for them and get that search volume.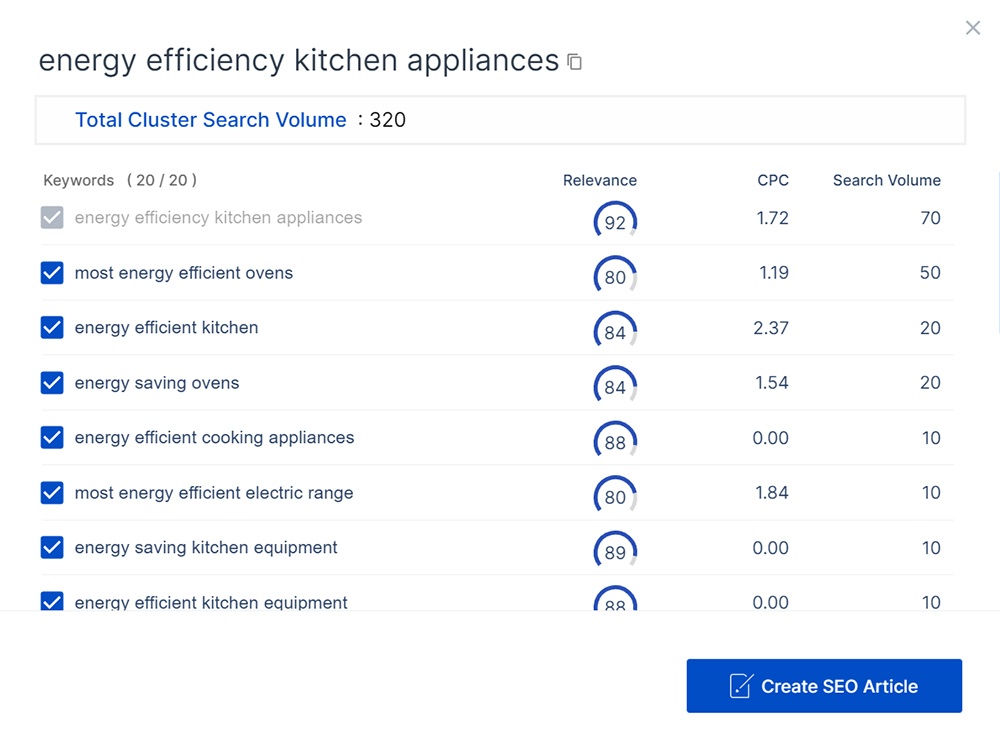 So, with the help of Scalenut, 90% of the keyword research process is done for you, and all you need to do is just to focus on writing the content.
Plus, if you hit that "Create SEO Article" button, it will analyze the web and provide suggestions in its content optimizer, for which you can either start writing with its AI tools or use the cruise mode to create the first draft.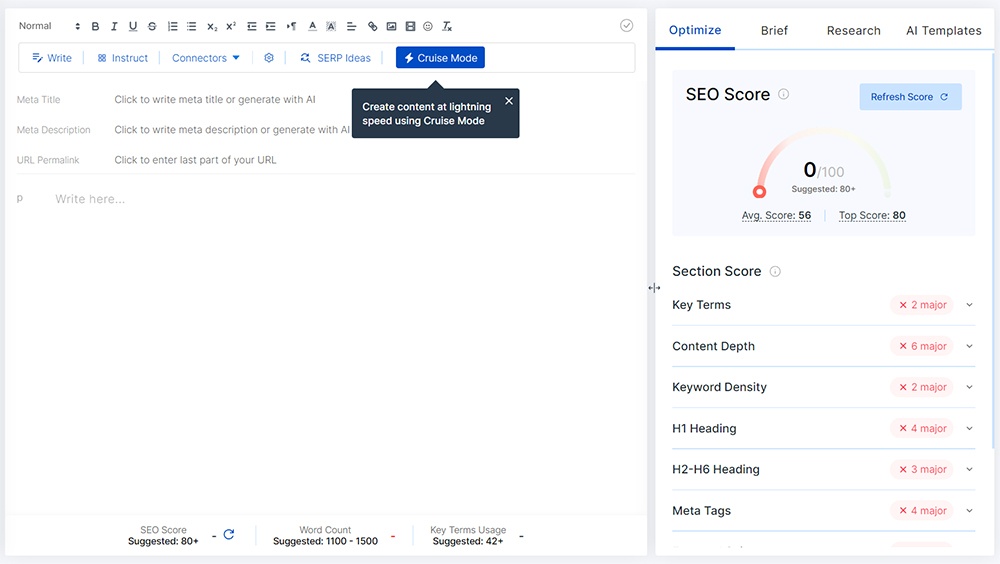 We think the process from Keyword Planner to Article Writer to Content Optimizer is highly intuitive and probably one of the best we have seen.
Its robust keyword suggestions, along with accurate search volume data and competition analysis, make it easy for users to identify and capitalize on high-performing keywords.
Is Scalenut suitable for E-Commerce Stores?
Scalenut offers a variety of AI writing templates specifically tailored to e-commerce store owners.
It has the following writing templates that enable store owners to generate persuasive and high-quality content, be it website content, email copy, or social media ads:
Product Descriptions
Product Feature List
E-commerce Product Description
Customer Review Responder
Online Review Generator
Email Copywriting
Social Ads Writing Templates

With Scalenut's AI-powered content generation, e-commerce store owners can benefit from:
Efficiently creating detailed and engaging product descriptions that capture the attention of potential customers and help improve conversion rates.
Streamlining the process of responding to customer reviews, fostering a positive relationship with customers and maintaining a favorable online reputation.
Crafting compelling email copy and social ads to promote products, special offers, and events, ultimately driving traffic and sales.
Generating a variety of content types for different platforms, ensuring a consistent and effective brand message across all channels.
Scalenut Pricing
The great thing about Scalenut is that it has pricing plans for generating unlimited AI words. Most AI writers do not offer that option.
$39 per month (or $276 per year) Essential plan gives you the ability to generate up to 100,000 words, but lacks the ability to generate keyword clusters, and do not come with integrations.
$79 per month (or $564 per year) Growth plan allows you to generate unlimited AI words and build up to 30 keyword clusters per month.
$149 per month (or $1,068 per year) Pro plan includes everything the Growth plan provides, and allows you to generate up to 75 keyword clusters per month.
Scalenut Review: Final Thoughts
If you're looking for a long-form content generator, Scalenut is definitely a worthy contender.
Its intuitive user interface, in-depth research capabilities, and innovative features like Cruise Mode make it a powerful tool for creating long-form blog posts.
While the generated content may not be 100% plagiarism-free and might not pass AI content detectors, with some editing and AI paraphrasing tools, you can overcome these limitations.
The integration of keyword research and search engine optimization features further adds value to the platform, allowing you to create well-optimized content that targets high-performing keywords
Though Scalenut has not yet advanced to the GPT-4 model, its combination of proprietary AI and NLP models with the GPT-3 model still manages to produce content with a decent level of accuracy and relevance.
Hopefully, we will be seeing GPT-4 use cases in Scalenut soon.