Hypotenuse AI Review: Is it the Best Long-Form AI Writing Tool?
If you are looking for a long-form article-writing assistant, Hypotenuse AI may have caught your attention. It has gained popularity over the past year, and many wonder if it lives up to all the hype.
Hypotenuse is one of the best AI writing tools that generate long-form blog posts, title add descriptions, content outlines, product descriptions, and many others that are plagiarism-free and mostly undetectable by AI content detectors.
If the generated content is ever detected as plagiarized or AI written, there is a rewriting or paraphrasing tool that will repurpose the content to avoid detection.
However, it may not be suitable for everyone. After reading this Hypotenuse AI review, you will know if this AI writing tool is right for you.
Overview of Hypotenuse AI
Essentially, Hypotenuse AI allows you to create engaging, relatable, and high-quality content in the quickest way possible.
Its Artificial Intelligence has been trained with millions of data points and is optimized for e-commerce, social media captions, copywriting, and, most importantly, in-depth and well-researched long-form content creation that is longer than 2,500 words.
Avoid AI Content Detection
Pros and Cons of Using Hypotenuse AI
Additional Features
| | |
| --- | --- |
| AI Model | Unspecified mix of large language models |
| No. of Support Languages | 28 supported languages and counting |
| Plagiarism Checker | Only available for Growth plan and Enterprise plan |
| AI Paraphrasing and Rewriting Tool | Available |
| Bulk Generation | Available |
| E-Commerce Platform Integration | Currently only Shopify integration (WooCommerce, BigCommerce, Amazon, and PIM integration will be added soon) |
| Webhooks/API | Available |
| Price | Starts at $29 per month |
| Free-trial Availability | 7 days Trial (No Credit Card Required) |
Verdict: Highly Recommended
Who is Hypotenuse AI for?
Hypotenuse AI is an advanced language model designed to cater to a wide range of users. You will benefit widely from this AI content generator if you are a:
Digital Marketer
e-Commerce Owner
Website Owners
Small Business Owners
Social Media Managers
Online Entrepreneurs
Copywriter
Affiliate Marketer
Blogger
Digital Agency
Its AI-driven tools and features make it an ideal choice for those looking to generate a constant flow of high-quality, unique, and original content, be it long-form or short-form content, to engage your audience and drive growth while saving time and resources.
Long-form AI Blog Articles Creation: How Does Blog Article Workflow Work?
The blog article workflow is its flagship tool that makes writing long-form content a breeze.
Step 1: Generate Eye-Catchy Titles
First, it helps the user to generate eye-catchy blog titles as you provide a description of a particular topic. If any of the generated titles are good but need refinement, you can easily edit them.
Alternatively, you can write your own title instead. No credits are used at this point.
You are able to add up to 5 keywords so to give more context to the AI for generation, and you can select the following tone of voice:
Conversational
Enthusiastic
Humorous
Professional
Singlish
Describe your own tone – still in its beta mode, but it is great as it generates more unique content with your tone of voice.
Step 2: Create Content Outlines
From here, Hypotenuse AI will generate a draft outline for you. You are able to add or remove headings, and for each heading, you are able to add up to 6 talking points.
Content Detective Feature
Moreover, Hypotenuse AI has an AI research tool called "Content Dectective" where the AI system will research the top web results to suggest talking points for the selected heading.
This is the basis for generating insightful articles that are relevant to your readers.
It even provides you with the sources for the suggested talking points allowing you to know if they are credible.
Currently, this is a free feature, and we hope it remains that way as it is incredibly helpful.
However, be careful of relying heavily on the generated talking points because originality may diminish you cover topics others have talked about.
Anyway, to make the generated content more unique and engaging, you are able to give context to the AI writer so it knows who it is writing for.
Selecting a Point of View
Such intricacies allow content writers to save time in editing the generated content. It allows you to generate original content from a different perspective:
First-person: Further selection of (I) or (we)
Second person: To address your reader directly, write from the "you" perspective
Third person: write from a third-party point of view (they/he/she)

Giving more context
Describe your audience: so that the AI-generated content will be more engaging and targeted to your audience.
Describe your brand: so the AI writer knows how to promote your brand through the generated content.
Describe your product or service: so that the generated article will include your product promotion.
Do note that up to this point, no credits are used. Credits are only used when the content is generated.
And the good thing about Hypotenuse AI is that it will always prompt you before deducting any credits, so you know are not spending credits unknowingly.
Step 3: Generate Article
Here's the trick, the more headings in your content outline, the longer the generated content will be.
By default, Hypotenuse AI generates about 5 to 6 headings in the outline, and most of the time, this will generate between 1,000 to 1,500 words. This uses up about 4 to 5 credits.
To have Hypotenuse to write full-length articles that are longer than 2,500 words, you need to add more headings to the outline. It creates a more complete article with more headings anyway.
It cost about 6 credits to write 2,000 words, and about 7 to 8 credits to write more than 2,500 words.
Right now, let's assess the generated content before talking about the editing, styling, and the "Compose" feature.
Does Hypotenuse AI Pass Plagiarism Check
Hypotenuse AI writer is not perfect. Even a human writer may plagiarize content unknowingly.
With that, we have tested multiple generated content through plagiarism checkers like Dupli Checker, Grammarly Premium, CopyLeaks, and Plagiarism Detector, and we discovered that on average, the generated content is between 1% to 5% plagiarized, which is at an acceptable level.
One of the examples from Dupli Checker:
One of the examples from Grammarly:
Does Hypotenuse AI's Content Pass AI Content Detector?
We have tested multiple Hypotenuse AI-generated content through multiple AI Content Detectors such as Writer.com, Crossplag, and CopyLeaks, and we discovered a minority part of the content was flagged as AI-generated.
We find that the most stringent AI Content Detector is from CopyLeaks, so we have to put more weight on its tests. Here's a summary:
Writer.com: 100% Human-Generated Content
Crossplag: 87% Written by Human
Copyleaks' AI Content Detector: 30% to 40% of the entire generated content was flagged with a probability of 88.4% as AI content (see image below)
However, this could be avoided when we use its "Rewrite Content" feature. We were able to get this:
Are the Generated-Content Factual and Accurate?
Based on our experience, even when we feed Hypotenuse AI with data that we've personally researched, it will still generate content based on its own research.
For example, when we told Hypotenuse AI that the "coffee maker uses 800 – 1,400 watts of electricity", it wrote as "1000 to 1500 watts".
At the time of this Hypotenuse AI review, the Blog Article Workflow still uses a mix of the GPT-3 model and other undisclosed AI models, so the generated content is not always factually correct.
So, it's important not to take the generated content at its face value. Always fact-check its accuracy.
Text Editor & the Compose Feature
The content is generated onto its text editor where you can easily edit, style, add links, bullet points, and images, and finally, paste the content over to your site.
We find that the text editor is great, but it is missing a Heading 4 text style. We use them very often and we wonder why that was not part of the editor.
If you find that the content is not in-depth enough, or not up to your standard yet, or you are having writer's block, you can use the "Compose" feature to complete the sentence or paragraph for you.
It doesn't cost you extra credits to use the compose feature, which is awesome!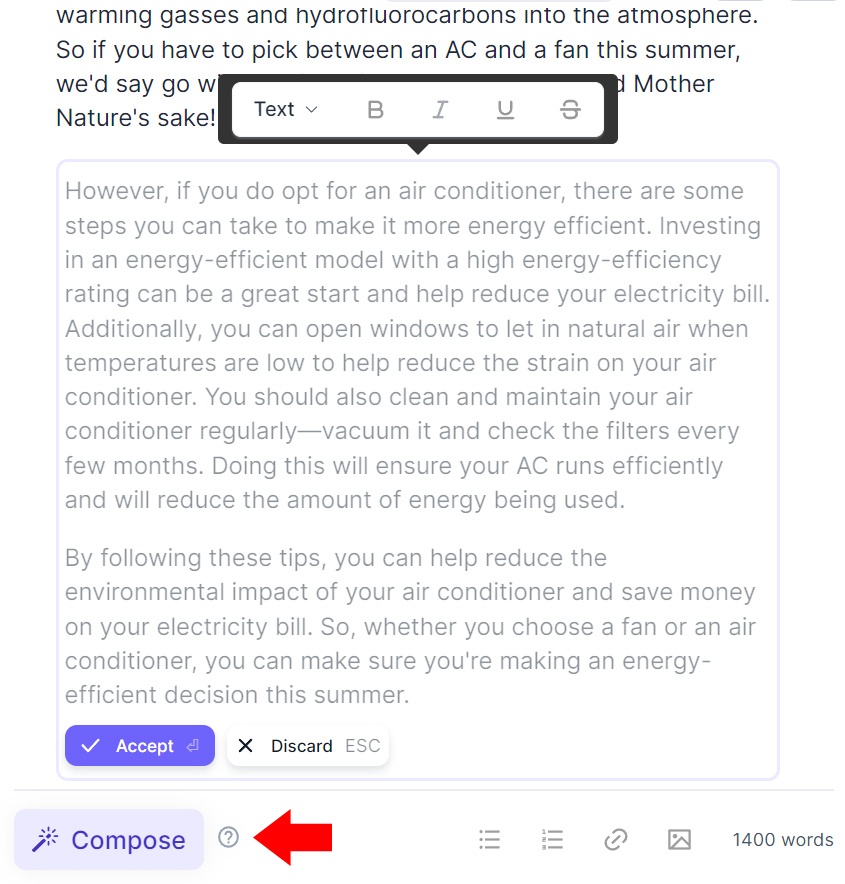 If we can suggest a feature improvement, it is to allow users to guide the AI on what is missing and what should be added before composing.
And if possible, also allow users to critique part of the generated content so that it can be rewritten.
Currently, it is hit or miss, and sometimes the composed content is going in circles because it doesn't have further idea of what to write.
But overall, the compose feature is useful when you are experiencing writer's block.
The Rewrite Content Tool: Does it help avoid AI Content Detection?
After testing out Hypotenuse AI extensively, we are convinced that its content rewrite feature does the job well.
As we have shown you earlier, any bits of content detected as AI-written can be undetected when rewritten by this tool.
The best part is, the rewritten text is original and authentic and can pass any plagiarism checker.
This tool works like one of my favorite AI paraphrasing tools, called Word AI.
However, the only downside is that every rewrite costs 1 credit, while rewrites from most paid AI paraphrasing tools out there are unlimited.
Hypo Chat Feature: More Factually Accurate Content?
Hypo Chat is an AI chatbot that works similarly to Open AI's ChatGPT where you give a set of context and instructions, and it will generate a response.
While the Blog Article Workflow uses the GPT-3 model, this Hypo Chat feature uses the GPT-4 model, so fundamentally, the generated content is more accurate.
It works well with the Blog Article Workflow in a way that if the generated content is not factually right or not up to standard, you can have Hypo Chat write that part of the content in a more accurate way.
At the time of writing this Hypotenuse AI review, this feature is still in its infancy and feedback-collection phase.
The biggest problem with this feature, at this point, is the response time. Depending on what you are tasking the Hypo Chat to do, it might take between 3 to 8 minutes for Hypo Chat to generate a response.
Surely, this feature can be improved, and we will update this review when the time comes.
Hypo Art: Hunt Stock Images No More?
Well, AI art is everywhere, and it is becoming more and more realistic. However, we believe the Hypo Art feature still can't replace stock images.
One of the main challenges is that it tends to generate futuristic-looking images rather than realistic images of everyday objects.
This is because the AI model behind the feature has been trained on a diverse dataset, and sometimes the generated images might lean towards an imaginative or futuristic aesthetic.
On top of that, Hypo Art can sometimes produce unexpected results. You may need to tweak your input or make several attempts to get the desired output.
Pardon us, as we are not experts in AI Artwork, but here's our newbie attempt to create artwork for one of our sites.
Expectation 1: Collage of Appliances
Hypo Art Generated Artwork 1
Expectation 2: Air-Con vs Fan
Hypo Art Generated Artwork 2
So, for our purpose, we still find that Hypo Art generated artwork is not suitable for our cause, this is just our experience.
You may want to try it out to see if it works for you.
With the starter plan, you are able to generate AI Images 50 times and download up to 200 watermark-free images, but with the Growth plan, there is no limit to the generation and downloads.
Ask AI Anything Feature
The "Ask AI Anything" feature is invaluable for fast and accurate answers to complex questions. It is similar to the core feature offered by Jasper AI's boss mode.
You are able to instruct or question the AI using 6,000 characters or less, and you can also add context so that the AI will know what to write about in its response.
It offers the same tone of voice as the Blog Article Workflow.
Every response it creates requires 1 credit.
We have tried asking it to write a couple of paragraphs describing Hypotenuse AI and ran it through Copyleaks, however, the generated content is flagged as AI-generated.
This feature is great, but I will be more thrilled if the generated content is not flagged. We hope this can be improved as it is a great addition to the Blog Article Workflow.
Plagiarism Checker
The Plagiarism Checker is only available for the Growth plan, and you can perform up to 25 checks a month. It's definitely worth the investment, given its other benefits.
Powered by Copyscape, one of the most renowned plagiarism detection software, you'll be able to easily identify which parts of the text have been copied and which parts are original, which will be displayed in a color-coded format.
You can even see which sources have been used so that you can further investigate their relevance.
Hypotenuse AI Copywriting Tools: Suitable for Short-Form Content?
Hypotenuse AI is more than just a long-form content writing tool, it is also one of the best AI copywriting tools.
It leverages natural language generation and machine learning technologies to produce high-quality material that rivals the work of human copywriters.
The AI engine behind Hypotenuse AI understands the importance of tailoring content to specific target markets and marketing strategies.
By utilizing the provided templates, you can streamline your content creation efforts and create a cohesive marketing strategy.
Available Writing Templates:
Social Media copy Templates (such as Instagram captions, Google Ads, Facebook ads, Linkedin Posts, YouTube Titles and Descriptions, Video hooks and introductions)
Website copy Templates (such as Website headlines and slogans, Landing page content, Meta titles and descriptions, Category page descriptions, and Bio Writer)
Newsletters and Communications Templates (such as Email copy and Press Releases)
Hypotenuse AI for E-Commerce Sites
We already know Hypotenuse AI's copywriting tools are useful to many e-commerce use cases, such as writing persuasive copy for ads and landing pages, but there is one specific tool that takes E-Commerce sites to another level of efficiency.
Its product description generator is a valuable tool for generating well-crafted product descriptions that play a crucial role in driving sales and increasing customer satisfaction.
We think this tool is highly useful whether it is to generate new product descriptions, rewrite existing ones, or maybe write them in other languages to cater to international customers.
Instead of telling you how good it is, let me show you what it does. This is what I have input into Hypotenuse AI's product description generator. Each product description generator cost 1 credit:
Add a Single Product
And here is its output. To be honest, these product description variations are written similarly to what a human copywriter would.
Sure, it needs some tweaking, but we would say 90% of the work is done.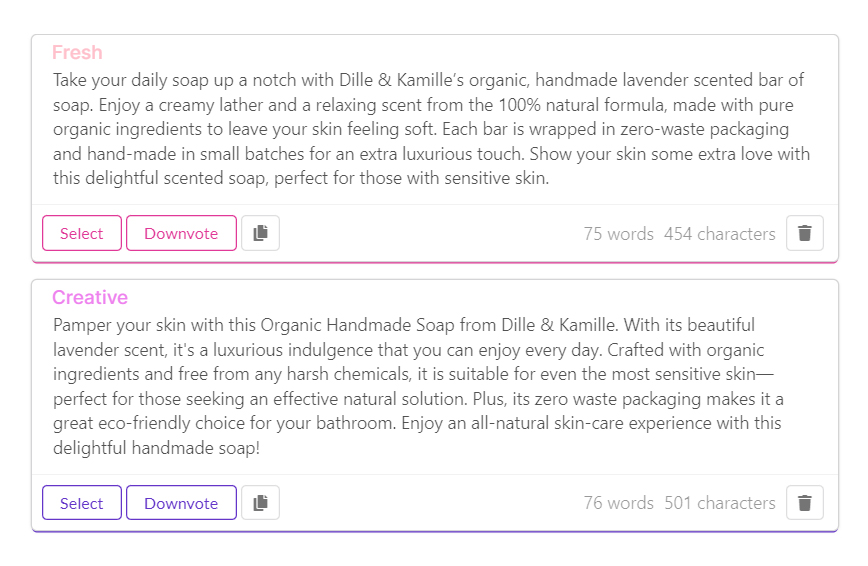 If you need more variations, you can have it regenerate once more for free for two additional versions. Here are other variations:
So, you be the judge of the output. Is the generated product description good? Leave a comment and let us know.
Import Multiple Products
Now, that you know its ability, another advantage of using this product description generator tool is its convenience.
If you run a Bigcommerce, Amazon, WooCommerce, or Shopify store, you are able to integrate Hypotenuse AI with your store and seamlessly import all of your products and their details.
And, if your E-Commerce store is run on other platforms, you can integrate with Hypotenuse AI through PIMs.
At the time of this review, the only integration is with Shopify, but by the time you are reading this, more integration options would have been available. With this, you are able to see what is coming next.
The beauty of integration is that you can have Hypotenuse AI bulk-generate product descriptions for all of your products.
All generated output can be edited, and once you selected a version you like, mark it as done, and you can easily export the product description to your integrated E-Commerce platform.
Hypotenuse AI pricing
Hypotenuse's pricing model is a mix of subscription and credit-based models. You purchase a monthly or yearly subscription and it comes with a set amount of credits. The credits reset every month for monthly plans, while it rolls over for annual plans.
Unfortunately, there is no unlimited credits plan, though we would really love it. Hopefully, there will be one in future upgrades.
Suitable for individuals or small business owners:
$29 per month (or $288 per year) Starter Plan comes with 100 credits that write about 25,000 words and includes 50 AI image generation and up to 200 watermark-free image downloads.
Suitable for freelance writers or copywriters:
$59 per month (or $588 per year) Growth Plan: comes with 350 credits that write about 87,500 words, includes unlimited AI image generation and watermark-free downloads, and up to 25 plagiarism checks.
Suitable for digital marketing agencies and large corporations:
$109 per month (or $1,080 per year) Growth Plan: comes with 700 credits that write about 175,000 words, includes unlimited AI image generation and watermark-free downloads, and up to 25 plagiarism checks.
For large agencies and corporations that need a custom plan, you'll need to contact them for a custom Enterprise plan.
Final Thoughts
Whether you are looking for a long-form AI article Writer, a short-form AI copywriter, or an AI-assisted E-Commerce tool, Hypotenuse has proven itself as versatile and essential.
Sure, Hypotenuse AI has its limitations, but it is still in its early phase.
It will continue to improve with its factuality, accuracy, relevancy, and originality, and we as users, will be able to leverage a powerful tool for our own use case.
Don't let us tell you how good or bad it is, experience it yourself and you will know if it suits your needs. Start 7-day free trial here.