Longshot AI Review: 7 Critical Issues You Need to Know
Read many Longshot AI reviews and most claimed that it is one of the best AII writers for long-form articles, so as bloggers, we had to try it.
Before we found Longshot AI, we had tested Hypotenuse AI, and it had set a really high bar in terms of what to expect from an AI writer that writes long-form articles.
Overview of Longshot AI
After testing Longshot AI, we find that it had some serious issues with its user interface, along with other factors such as the generated content being flagged as written by an AI and others.
At the same time, we think it has the potential to grow into a great AI writing tool.
Message to Longshot AI: If the developers of Longshot AI are reading this, we hope you take this as an opportunity for improvement than criticism.
Now, if you are thinking about using Longshot AI, this in-depth review is going to give you an objective and unbiased perspective so you can decide if this AI writing tool is suitable for you.
Avoid AI Content Detection
(Not an Affiliate Link)
Pros and Cons of Using Hypotenuse AI
Additional Features
AI Model
Mix of GPT-4 and custom AI models
No. of Support Languages
8 supported languages
Plagiarism Checker
Available
AI Paraphrasing Tool
Available
Bulk Generation
Not Available
E-Commerce Platform Integration
Not Available
Webhooks/API
Not Available
Price
Starts at $29 per month
Free-trial Availability
– Basic Plan: Free 50 credits
– Other Plans: 5 day trial for $1
Verdict: Not Recommended
1. User interface issues
Let's start with some user interface issues. We started with the "Blog" template with the intention to write a full-length article. There are a couple of steps:
Research
Headline
Outline
Research: Edited Context doesn't reflect the Change
You'll first add a topic and select a search engine country where Longshot AI will research similar content ranking for the same topic, and suggest some top questions to be added to the context editor.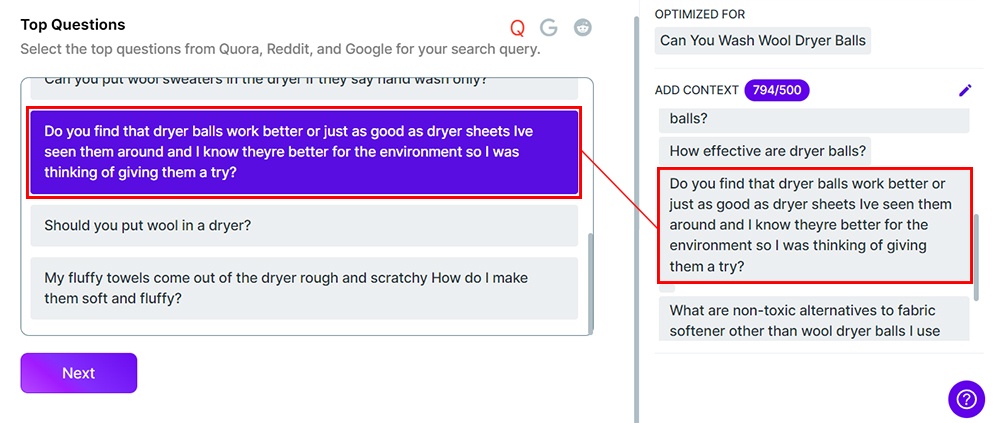 Now, the problem comes when you try to edit the Context.
Note: This is a glitch. It happens when you use Grammarly to correct errors in the context editor.
As you can see, there is a maximum number of 500 characters you can add to the Context editor, but as you try to edit it, you will realize you can only add but you can't remove or amend a context.
We hope this issue can be resolved, but the next problem is the most frustrating.
Unable to change Heading Tags in the Outline Editor
We tried writing another article about "how much electricity does a TV consume", and it has generated some outlines for me.
By the way, depending on the number of outlines you choose, it cost between 2.8 to 4.9 credits, but they fail to inform. You have to keep track of the credits on your own.
If you are not happy with the outlines, you have to spend additional credits to generate more.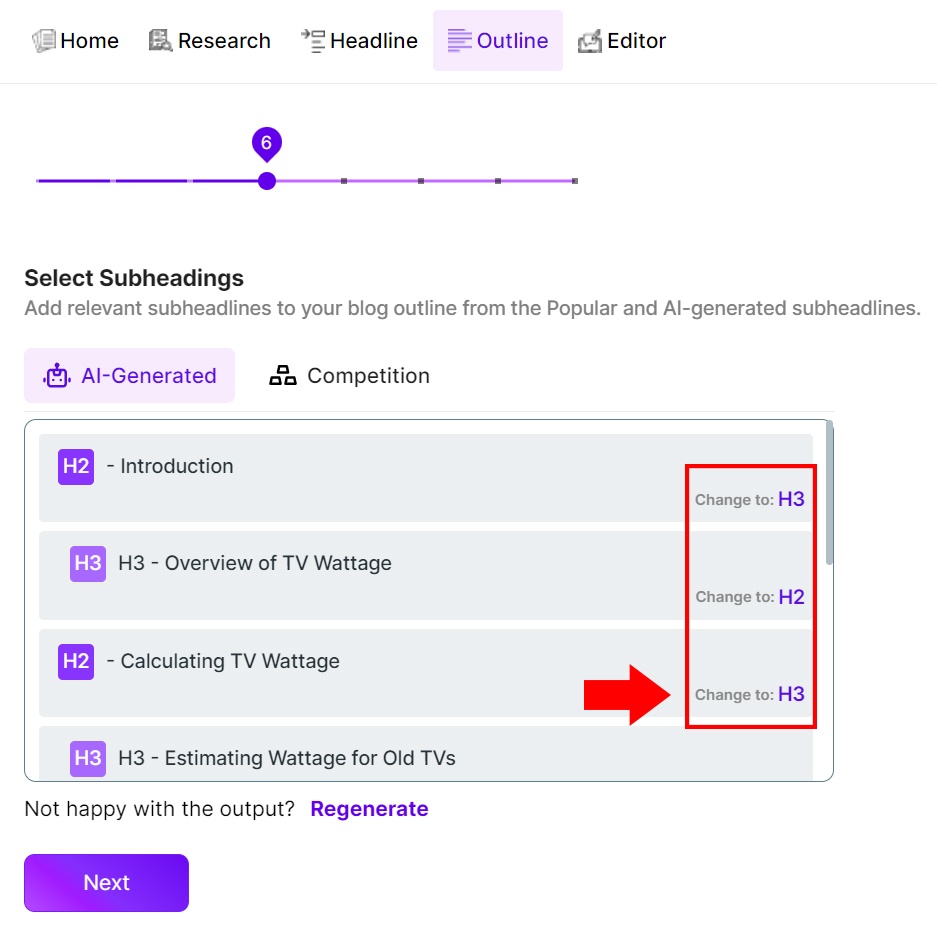 Anyway, you can change the title tag from H2 to H3 or vice versa for the generated outline (refer to the image above), which is essential for an outline, but it doesn't allow text editing. The text editing has to be done on a separate panel (see below).
Doesn't seem like much of an issue at a glance, but it gets frustrating when you want to do actual work. For example, what if we can't decide if one of the generated outlines should be an H2 or an H3 heading tag?
Then, if we selected one of the generated outlines as an H2 heading tag, and decided to change it to H3 later, we can't.
Even if we add a custom outline, we can't change the heading tags in the Outline editor. It's frustrating as we had to select a couple of generated outlines with different heading tags as dummy outlines and edit them thereafter.
Wouldn't it be easier if all the editing are done in one place instead of having us toggling between panels? Don't you think this is not intuitive?
If you have tried Longshot AI, I wonder if this is the same issue you face.
Poor indicator that the AI is working
As you perform any tasks, the only indicator to know if the AI is working is this text saying "Generating text here".
That's not a problem. If Longshot AI generates the content fast, who cares about the indicator, right?
The problem comes when it takes 30 seconds or more to start generating content.
In between, you won't even know if the AI is working or if it is hanged.
And, if you refresh the page thinking that something is not working, the credits are used, but no text were generated.
Can only perform one instruction at a time
We thought we could ask Longshot AI to perform multiple tasks as it didn't restrict us to the the loading screen, so we asked it write paragraphs on different headings.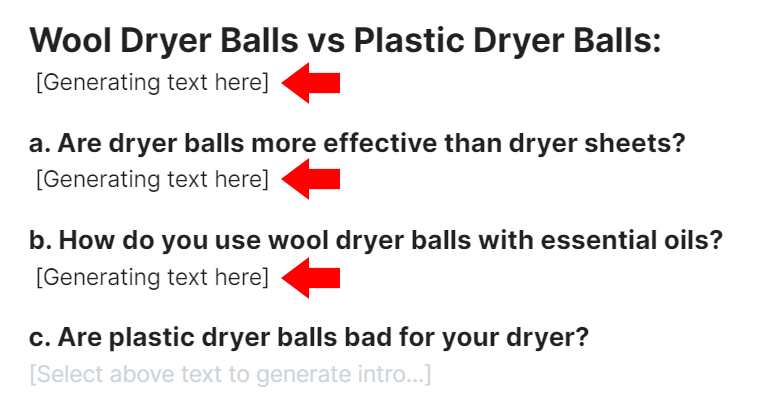 It started out fine:
But, it went haywire when performing the next task: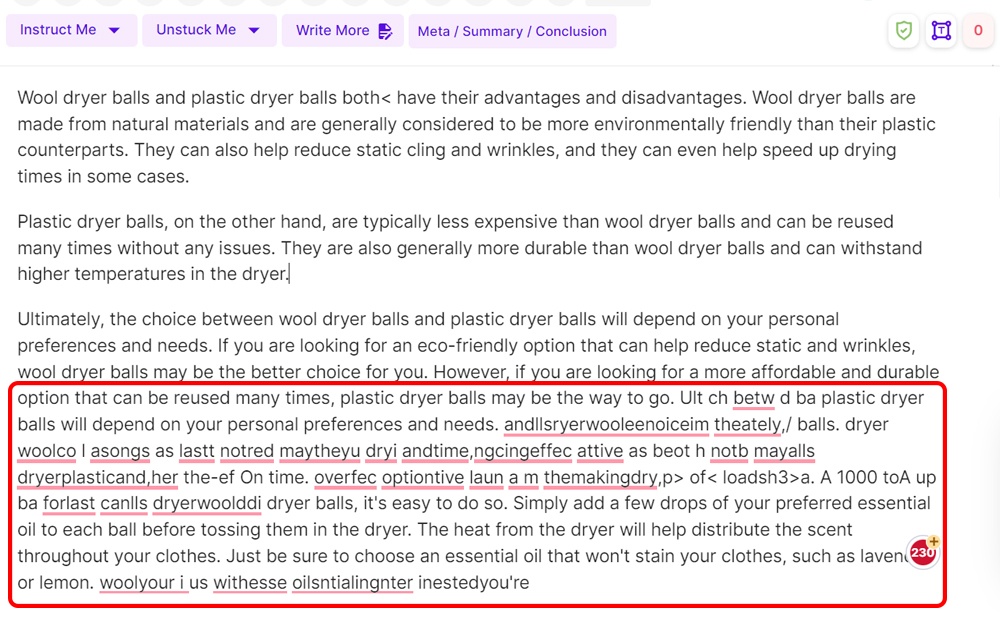 Bottomline, only ask Longshot AI to perform one task at a time.
Progress will not be saved
One thing that frustrates us the most is that at times you will run into errors, and when that happens, if you refresh the page, all the progress will not be saved.
For example, we were working on an article where we utilized credits to generate headlines and outlines, but as we tasked it to generate the draft article, it ran into an error.
So intuitively, we refresh the page, but we can never find the draft progress again, because it didn't hit the "Editor" step.
Only the progress that reaches the "Editor" step will be saved, and you will see them in the "Blog" tab.
Imagine how frustrating it was to run into so many errors and bugs and waste credits along the way.
Fact Check Tool takes a lot of time
Every fact check takes 30 to 90 seconds to load, and most of the time, it runs into an error, which we will discuss in a while.
On top of that, because it takes so much time to load, as we clicked away from the Fact Check panel, the process stops and there is no indication if the Fact Check is still working in the background.
Once you have clicked away, it is as though you did not perform the check in the first place.
So, these are all the user interface issues we have encountered and some are major as it deduct credits without providing any output.
2. The Fact Check Tool is Not Exactly Helpful
As you select a sentence or paragraph the following toolbar will appear, and as you hover over "more", you will see the "Fact Check" tool.
9 out of 10 times, we will experience this:
But as we try again, now we have an analysis saying the sentence is factually accurate, but this statement at the bottom says otherwise, "This looks like a false, subjective, or vague statement."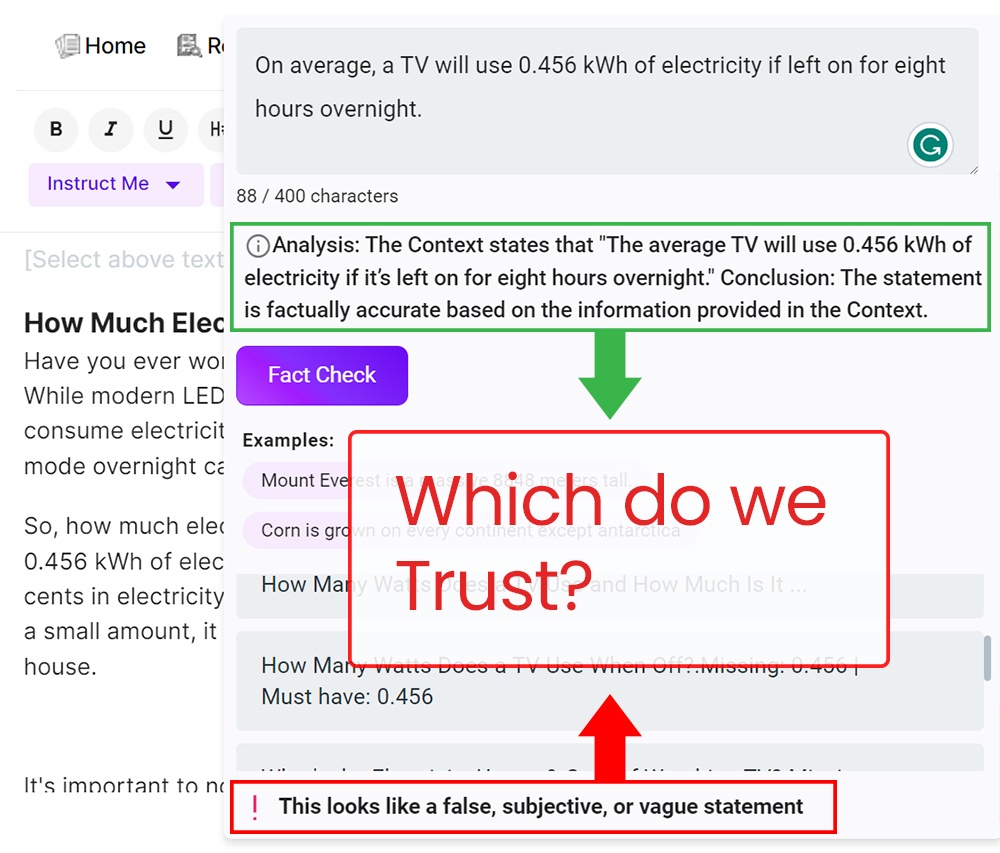 So, which do we trust?
And, when we select another line of text for fact-checking, we thought the tool will be a clean slate, but we see the previous analysis and the same error again.
We feel that all previous fact-check analysis data should be displayed on a separate panel, and when we highlight new text, the previous analysis should not display.
And the error should not occur that often or at all.
The fact-checking tool at this stage is full of errors that need to be fixed, and once it is fixed, this is going to be an incredible tool. It will be even better if the tool can fact-check the entire article in one go.
3. Instruct Me Feature Not Working
8 out of 10 times we try writing with this feature, we will get an error message that says, "Unable to connect to our servers. Please try again."
Our instructions were clear and concise if you are wondering. We simply asked it to "write a couple of paragraphs comparing the electric usage of Air Conditioners and Fans".
Did we use this feature in a wrong way?
4. FactGPT: Not Working
FactGPT is a great addition to the editor as it will generate more accurate and factual response due to the GPT-4 model, but only if it works.
Not sure if we are doing things correctly, but we followed its instructions. We've added a question, and after 30 seconds, it says "Unable to connect to our servers. Please try again."
We tried it 5 times with the same question, and many times with other questions, yet we almost certainly got the same response.
5. Blog Workflow: Does not Generate Full Articles
Now, this does not apply to the other workflows such as the "How To Guide", "Listicle", etc, but we never got them to write full articles as they always run into errors.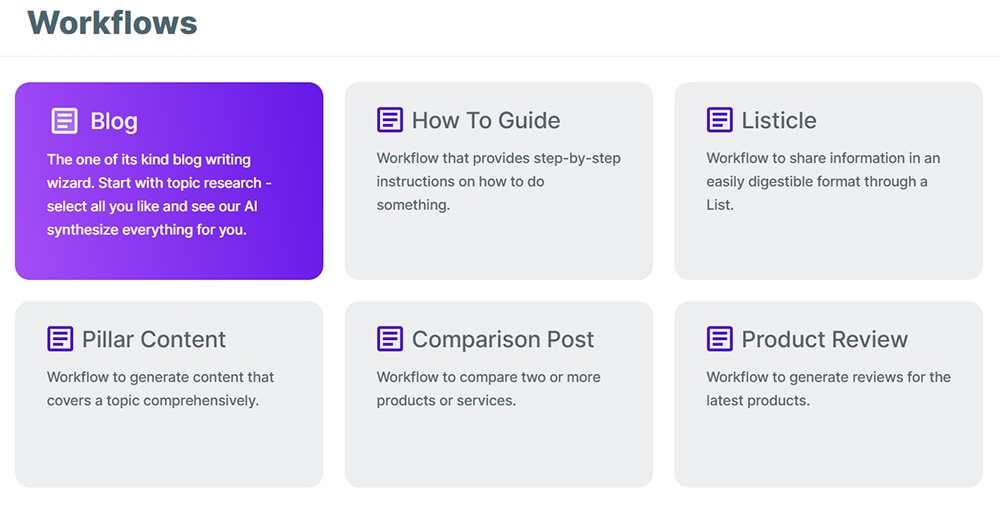 Now, frankly speaking, you would have expected that after all the research, generating headlines and outlines, Longshot AI will write a full article based on what it knows.
Unfortunately, that's not the case.
It brings you to the editor with all the headings and outlines added but without any text.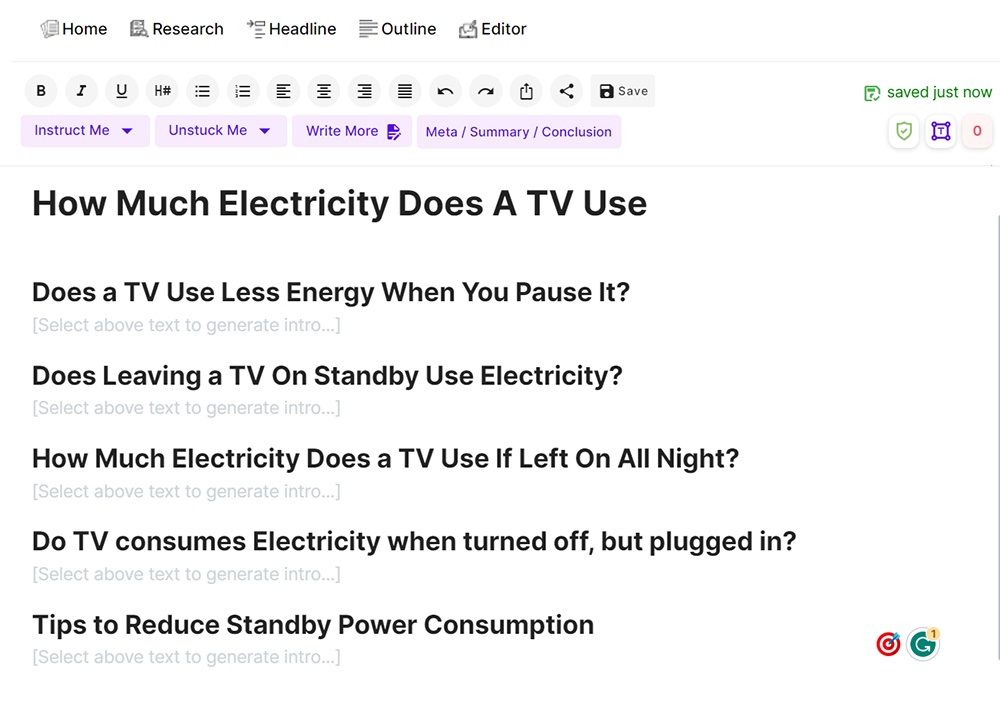 You have to utilize all its other tools such as the "instruct Me", "write more", "meta / summary / conclusion", "expand content", "create FAQs", and "create a list", to write your article.
We wish it would write a full article as a draft instead of us instructing it from scratch. It doesn't necessarily improve our workflow.
Here's what bothers us the most. As you use these tools, they will not tell you how many credits it uses.
6. Uses credits without you knowing
Sure, there are some tools where that tell you how many credits it uses, such as when you hover over the button of the FactGPT tool, it tells you 10 credits will be used, but there are features where credits are used without you knowing.
Credits Used in Writing Tools
For example, the writing tools in the editor such as "Instruct Me", "write more", and those we have mentioned earlier will use credits for every operation.

We had to test it many times to figure out that every 1 credit writes about 280 characters, which is between 40 to 70 words.
This means a 1,500-word article will cost between 21 to 37.5 credits, and a 2,500-word article will cost 35.7 to 62.5 credits.
We have not factored in the amendments and rewrites because Longshot AI writes based on separate instructions as a result the enerated words or meaning may repeat.
Credits used in the Rephrasing Content Tool
If you use the "Rephrasing Content Tool", it cost above 6 to 7 credits to rewrite 600 to 700 characters, which is between 90 to 190 words.
The rephrase content tool takes into account the number of characters it generates, not the number of characters you've selected.
So, if you have selected 1,000 characters for a rewrite, and it generates only 600 characters, the credits will be used on the newly generated characters.
Credits used to Generate Headlines
It cost about 1.7 credits to generate headlines.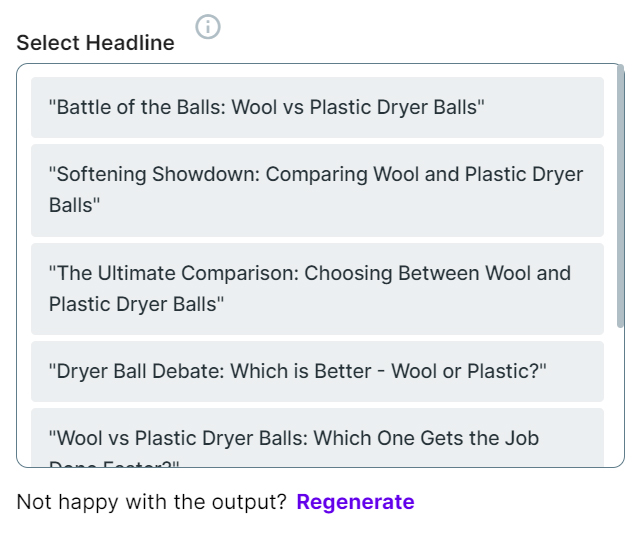 Credits used to Generate Outline
It cost about 6.8 credits to generate 6 to 7 outlines, and sometimes even when you have selected 10 outlines, it generates the entire outline Longshot AI thinks is relevant to the content.
In one instance, it has generated 29 outlines and cost 26.7 credits.
So, it works out to about 1.1 credit per outline.
Honestly, we feel it is better if Longshot AI were to inform us of the number of credits they use per instruction. This way, we don't need to constantly view the account information to manage the credits used.
The worst about everything is that if some process runs into errors, which happens quite often, you will use credits without receiving any output.
Compared to Hypotenuse AI, they will inform you every time they are going to deduct your credits, and if it runs into errors, no credits will be used, plus, they don't charge you on every step, they only charge when most of the output is done.
7. Content Written Flagged as AI Written
This is probably the deciding factor if you should use an AI writer. Sure, you definitely can't have an AI writter that passes all the AI Content Detectors all the time, but you surely do not want an AI writer that gets caught all the time.
This is the case with Longshot AI.
We've used the "write more" feature, and it has generated some text.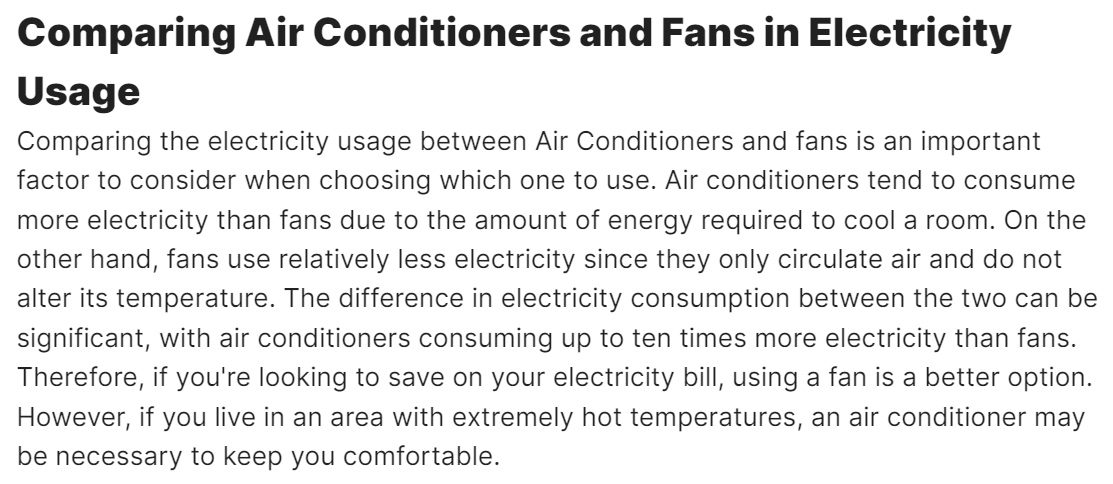 We'll start with testing the generated text on the most stringent AI content detector, CopyLeaks, and this is result (92.6% probability for AI):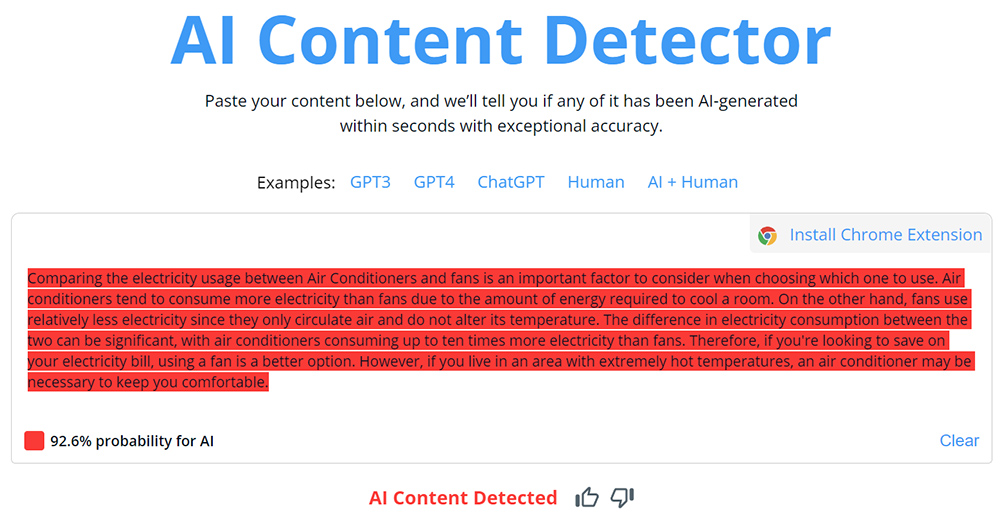 Other AI Content Detector tests we can conducted include:
Note that this is not just one instance, we have used Longshot AI quite extensively and tested all of its output, and we have not seen it pass the CopyLeaks AI Content Detector once.
Longshot AI Review: Final thoughts
We were torn between what we have learned from the Longshot AI reviews we have read, and what we have learned by experiencing it ourselves.
We wonder why are there so many people who highly recommends it when it is full of errors and bugs. Maybe they are just trying to promote the product?
The most frustrating thing about Longshot AI is that most of the features take a long time for task execution, with no proper indictor informing us that it is working.
And just when we thought the AI system is not working and we refresh it, credits were deducted while nothing was produced.
Every step of the process requires credits and can quickly accumulate due to all the faults and errors on the platform.
Sure, Longshot AI has the potential to do great things, but as of right now, it is not ready. We do not recommend using it at all.