15 Best Freelance Websites For Writers Who Needs More Clients
Whether you're a seasoned writer or just starting out, we hope these 15 Best Freelance websites for writers can help you find the writing job you deserve.
Now, we understand that there are probably hundreds of platforms and freelance websites for writers out there.
However, we specifically handpicked 15 sites that will not only provide you with good-paying writing gigs but are also proven and tested by many writers.
Shall we take a look?
1. iWriter
iWriter is a freelance platform specifically made for all kinds of writers. It has been around since 2011, and it claims to have over 110,000 active writers.
It has provided various clients with over 7.8 million custom content and articles (to date).
You can make money by writing about any topic you want and sell it on the platform, or you can respond to a special request from a client. You may also be asked to join a team and complete a project.
Tasks vary from writing articles, blog posts, product descriptions, and more. You can write short articles with just 150 words or very long ones up to 6,000 words.
Who can join – The platform is opened to writers of all levels for free.
Average Income Rates – You will get paid 65% (35% goes to iWriter) of the article price based on your current "writer level" and the length of the article that you write.
Your level is determined by how your former clients rate the quality of the content you've written, 1 star (poor) to 5 stars (excellent).
For example, you may earn $5.36 (65% of $8.25) for a 1000-word article as a "Standard" writer, but the same article could earn you $46.8 (65% of $72) as an "Elite Plus" writer.
Please refer to the image below for your potential income in iWriter during the publication of this article. We've highlighted the one we used as an example above.
And if you receive a "special request" from a client (aka requester) that specifically asks for you to write content for them, you receive an additional 5% (i.e. 70%) earnings per article.
Payment Options – You need to earn at least $20 to request a payout. iWriter pays every Tuesday via PayPal.
iWriter Pros
Once your application is accepted, you can start immediately
Plenty of writing jobs to choose from
Pays on a regular basis via PayPal
iWriter Cons
PayPal is the ONLY payment option for now
Your earning potential as a starting writer is very low
Even if you do a good job, but your clients only give 3-4 stars, it can have a significant impact on your earning potential
While iWriter pays regularly, your article might be rejected by the client, and you will not get paid for that work
2. TextBroker
TextBroker is a freelance website for writers that has started way back in 2005 with clients like Sears, Yoast, eBay, and OTTO.
TextBroker has a lot of similarities with iWriter, and the two are often pitted against each other.
For instance, TextBroker also allows you to make money by writing about any topics you want (OpenOrder), write on request (DirectOrder), or work on a project with a team (TeamOrder). Your star rating will also influence your potential earnings.
But while you only get ratings after completing jobs in iWriter, Textbroker writers (aka authors) go through an initial grading process upon joining, and you will be assigned a corresponding "skill level," from 2-5 stars, which then determines your income potential.
Who can join – During the publication of this article, TextBroker only accepts US citizens and residents as freelancers. However, TextBroker UK accepts writers from the UK, Canada, New Zealand, Australia, and the Republic of Ireland.
Average Income Rates – Much like the company slogan "Each Word Counts," you get paid in TextBroker based on how many words your article has. Meaning the longer the articles you write and the higher your star rating, the more money you can make.
See the image below for reference.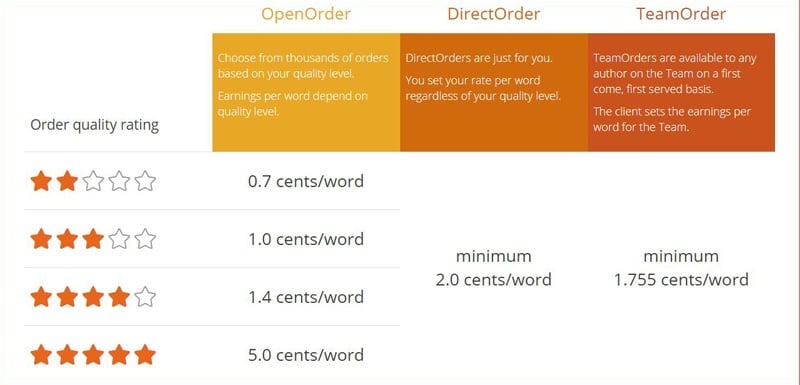 Payment Options – TextBroker process pay-outs twice per week, on Mondays and Thursdays, and the minimum amount to request a payment is $10.
You get paid via Payoneer only.
TextBroker Pros
Free to join with thousands of freelance writing jobs to choose from
Pays twice a week as long as you earn at least $10
Even if you are only 2 stars, but you have no issue writing lengthy articles, you can still make a decent income
TextBroker Cons
Only accepts writers from the US and a few countries
Clients can reject your work, and you won't get paid
Payment is via Payoneer only
3. Constant Content
Constant Content is another popular freelance website for writers whose clients include eBay, Uber, Zulily, The Home Depot, and Walgreens.
When you join, you will be asked to complete a short form, pass a quiz, and submit a 100-250 word writing sample before you can be approved as Constant Content writer.
Like iWriter and TextBroker, you can earn money in Constant Content by selling articles on the site (about various topics) through your catalog, writing for direct client requests, or being a part of a pool of writers.
Who can join – Constant Content employ writers from all around the world, but they give heavy emphasis on proper usage of grammar when you apply.
Average Income Rates – Many writers are inclined to join CC because they have the freedom to set their prices for each article. However, you are only entitled to keep 65% of your income, and Constant Content keeps 35%.
Payment Options – Constant Content pays writers every first week of each month via PayPal. You must earn at least $5 to request a payment.
Constant Content Pros
You can write about any topics you want and sell them on your catalog
You can set your own price per article
Pays on a regular basis and has a low minimum payout threshold ($5)
Constant Content Cons
Impeccable grammar skill is a must to join; sources claim that a vast number of applicants get rejected by CC each month
Payments are only processed via PayPal
You lose 35% of your potential income
4. HireWriters
HireWriters is another popular freelance website that caters to writers of all skill levels.
What I like about HireWriters is that on top of writing articles, you also get the chance to write eBooks, poetry, and Facebook posts – something we don't often see on other freelance websites for writers.
Who can join – Currently, HireWriters are only accepting freelancers from the US, Australia, Canada, United Kingdom, Singapore, and New Zealand.
Average Income Rates – Like many others on this list, your income in HireWriters will depend on your current rank.
After you signup and got approval to join the platform, you will start as a "Beginner" (regardless of your skills) then work your way to "Expert."
You can move up the rank by earning excellent reviews from your clients, completing a certain number of jobs, and how "on time" you are at submitting your work.
Here's the income breakdown as provided on HireWriters' website…
Payment Options – HireWriters pay every Friday, and you can get paid weekly as long as you have more than $10 in your account.
PayPal is currently the only payment method used.
HireWriters Pros
Free to join and provides income opportunities to all freelance writers regardless of your skill level
Provides weekly payments via PayPal
HireWriters Cons
Your potential income highly depends on the ratings given by your previous clients
Beginner and General level writers have a very low income potential
Clients can reject your article, and you will not get paid
Accepts writers from selected countries only
5. dotWriter
dotWriter claims to have over 10,000+ active members that provide content marketing solutions to blogs, websites, and brands.
You can write about any topic you want and sell them on the platform, but the minimum word count per article is 300 words.
There are three ways to make money as a freelance writer for dotWriter – (1) submitting any article you write in the Marketplace pool (you get paid when someone buys your work), (2) Custom Job orders, or (3) Private hire.
Here are some of the latest works of writers on the site…
Who can join – Anyone can join and become a freelance writer on this platform for free.
Average Income Rates – dotWriter will pay your article per word based on your current writer level. These are the three different levels and your income potential:
All new writers will start as a Standard writer, and you will move up the ranks by producing more articles and getting a mich higher approval ratio.
Payment Options – dotWriter pays via PayPal, and you can request a payout as long as your account has a minimum balance of $10.
dotWriter Pros
Accepts all aspiring freelance writers regardless of skill level and demographics
You get paid per word, the longer the article you write, the better your potential income
There are various ways to make money, e.g., you can write a 300-word article about anything and potentially earn money from them
dotWriter Cons
Payments are via PayPal only
Clients might reject your work, and you might not get paid
Sometimes, it will take 5 working days before your article will be approved for sale
6. Online Writing Jobs
Previously known as QualityGal.com, Online Writing Jobs has been in the freelance writing business since 2006. This platform allows writers of all skill levels and experience to write online and work with various clients and brands worldwide.
Who can join – Only US-based writers are eligible to join Online Writing Jobs. Other requirements include…
Completing a 500-plus-word sample article 
 A W9 form and a copy of your valid government-issued photo identification as proof of residency and identity
Average Income Rates – Online Writing Jobs claims to use a per-project, rubric-driven pay scale, and final payment is linked to the grade indicated by the rubric.
However, the average payout for articles ranges between $10 to $27, depending on factors like the type of content, your expertise, the deadline, and the required length of the article.
Payment Options – OWJ pays its writers every Friday and the minimum invoice amount of $15. The preferred payment method is PayPal, but they also pay by check.
Online Writing Jobs Pros
Free to join and accepts writers of all skills levels
Plenty of topics to write about but most are in automotive, medical, travel, science, and education niches
Provides regular payment schedules via PayPal and check
Online Writing Jobs Cons
Only accepts US-residents as freelancers
If your writer's application isn't approved, you have to wait six (6) months from the date your application was rejected before you can apply again
7. Scripted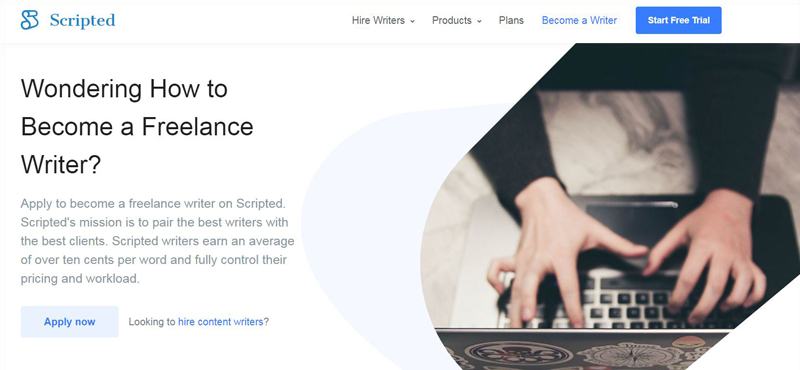 Scripted is a popular freelance writing platform founded in 2006 by Sunil Rajaraman and Ryan Buckley.
It claims to have more than 143,000 writing jobs currently and has over 46,000 customers that include Eventbrite, L'Oreal, LinkedIn, and LoanMe.
It currently accepts and hires online writers from more than 20 countries around the world that include:
When you apply, you will be asked to select an industry that you feel most compatible with your current writing skills and knowledge. You will then be asked to submit a sample article for that industry.
The industries to choose from include business & finance, art and design, Internet, environmental, government and politics, law, travel, lifestyle, health, sports, and entertainment.
Scripted also hire editors, and if that is something within your abilities, you can consider that option as well.
But what we like about Scripted is that if your work got rejected by a client, you still get partial compensation.
Average Income Rates – Scripted claims that writers earn an average of over ten cents per word on its platform. And when you get writing requests from clients, you can choose to set your own prices.
Payment Options – Just recently, Scripted claims to only pay via Stripe, however, on its Terms of Use page, it says that Scripted also pays via PayPal and Bill.com.
Writers get paid every 15th of the month.
Scripted Pros
Accepts online freelance writers from over 20 countries
Pays regularly every month
Sources say that Scripted offers some of the highest rates for online writers
Scripted Cons
You need to pay a one-time $19 application fee
Getting approved might be tricky as based on the company's website, over 92, 000 writers applied in the platform so far, but only about 6,500 are approved
Writers from countries not included in the list above are not eligible to join Scripted
Payment methods aren't clearly specified (during the publication of this article)
8. WriterAccess
WriterAccess was luanched in 2010 by Byron White. The platform claims to work with over 39,000 brands that include Microsoft, SAP, Samsonite, 3M, Canyon Ranch and Polaris.
On its website, WriterAccess claims to have a 99.99% approval rating with over 16,000 screened freelancers.
Who can join – Writers can join this platform for free. However, only the people living in the US, UK, New Zealand, Australia, Canada, South Africa, and the Republic of Ireland are currently accepted as freelancers.
Average Income Rates – Writers who are accepted in the platform receive an initial rating between 3 to 6 stars. WriterAccess that your current rating is determined by the strength of your profile, writing samples, and initial application and test score.
The pay rates then follow as:
3 Star Orders pay 2.8 cents per word
4 Star Orders pay 4.2 cents per word
5 Star Orders pay 5.6 cents per word
6 Star Orders pay 7.0 cents or more per word
WriterAccess keeps 30% of your income as a job fee, so say you earn $100 from a job, you only get to $70.
Payment Options – WriterAccess pays freelancers twice per month via PayPal. The minimum cashout amount is $10.
WriterAccess Pros
Free to join and accept writers on all skill levels
Pays twice a month regularly
WriterAccess Cons
PayPal is the only supported payment method
Only writers from the selected countries above can join
It takes 2 weeks before WriterAccess replies to your application
So, how are you liking this list so far? Haven't found a freelance writing website that you're looking for? Here's more…
9. Upwork
Upwork is one of the most popular freelancing websites today, and one reason for that is it offers plenty of ways for all kinds of writers to make money online.
It was previously known as Odesk and has worked with over 5 million businesses that include giant names like Microsoft, GE, and Airbnb.
Upwork clients will rate your work on a star basis, and the higher your rating is, the more likely you can get high paying writing gigs.
Who can join – Upwork accepts all freelance writers regardless of their demographics.
Average Income Rates – Clients in Upwork usually pay around $10 to $50 an article, while others pay a fixed salary on an hourly, weekly, or monthly basis.
Payment Options – Upwork supports payment options through PayPal, Payoneer, Direct Deposit/ACH, Wire Transfer, and Local Funds Transfer (LFT). You can usually get paid 10 days after your client paid for your work.
However, Upwork takes service fees from your earning as follows:
20% for the first $500 billed with the client
10% for lifetime billings with the client between $500.01 and $10,000
5% for lifetime billings with the client that exceed $10,000
Upwork Pros
There's plenty of writing job opportunities to choose from every day
Pays regularly and offers multiple payment options
The Upwork Payment Protection feature help protect writers and ensure that you get paid for any work completed through the platform (in case of clients rejecting your article)
Upwork Cons
Upwork takes 5-20% of your earnings as service fees
Upwork doesn't cover payment processing fees e.g.; you get charged $30 per Wire Transfer
Starting writers will need to establish a good reputation yet so you might have to take very low paying jobs at the start
10. Fiverr
Fiverr is a little different from other freelance websites on this list because instead of searching for jobs on its platform, you "sell" your services and the clients will then decide if they will work with you.
You get a personal profile when you join Fiverr, and it shows the amount of work you've completed, your average rating, and the minimum amount you charge for your services.
Who can join – Anyone from all over the world can join Fiverr for free.
Average Income Rates – You are free to decide how much you are going to charge your clients. But since competition is tight in this platform, you might want to offer your services at a lower price.
Based on what I see on Fiverr, writers usually charge a minimum anywhere between $5 to $50.
Like Upwork, Fiverr keeps 20% of the amount you earn per transaction. Additional payment processing fees may also apply depending on the payment option you use to withdraw your income.
Payment Options – Fiverr pays via PayPal, Fiverr Revenue Card (via Payoneer), or bank transfers.
You will get your money between 7-14 days after your request.
Fiverr Pros
Thousands of clients who are looking for writers visit Fiverr on daily basis
Supports multiple payment options that include PayPal and bank transfers
Fiverr Cons
Competition among writers is very high
New writers might have trouble finding clients to work with; most clients will naturally pick writers who have high rates and plenty of experience already
Fiverr keeps 20% of your income
It takes 1-2 weeks before you can get paid
11. PeoplePerHour
This is one of the most popular freelancing websites that cater to writers and other online opportunity seekers. PeoplePerHour has a massive list of clientele, and it was featured on BBC, Forbes, and Business Insider.
PeoplePerHour works similarly to Fiverr, where you will be required to sign up and create a profile to offer your writing services. Clients will then decide if they want to work with you on their projects.
Furthermore, you can also choose to contact potential employers via their job listing and offer a proposal.
Clients will then rate your job upon completion, and the higher your rating is, the higher you can charge for your services.
Who can join – Anyone hoping to make money with writing can join PeoplePerHour. However, it takes around 7 days for your application to be reviewed.
You can your result Fast-Tracked within 24 hours by paying 11 Euros (~$12.50).
Average Income Rates – Your income will highly depend on your current rating on the platform. Writers in PPH charge anywhere between $10 to more than $50 an hour.
PeoplePerHour also keeps anywhere between 3.5% to 20% of your income (job fees) depending on the total amount you've earned in the platform.
Payment Options – The service fee (rate) and payment method will be agreed upon between you and your employer before you begin a project.
PeoplePerHour Pros
Free to join and accepts freelance writers from all over the world
You get access to plenty of writing jobs to choose from
PeoplePerHour implements a minimum bidding amount for job listings ensuring fair rates for everyone
Compared to Upwork and Fiverr, PPH charges much lower job fees
PeoplePerHour Cons
New writers might have a hard time getting a client unless you charge for the minimum rate
The application process takes at least a week
12. Guru
Guru is another popular freelance website for writers originally founded as eMoonlighter.com in 1998.
Over two decades has passed, Guru is still standing strong and continues to provide plenty of opportunities for writers and other online freelancers alike.
You can find about every writing gig in Guru from clients all over the world. So whether you're looking to write articles, blogs, product descriptions, eBooks, transcriptions, etc., this site is worth checking out.
Who can join – Anyone can join Guru for free. However, Guru claims that you can maximize your earning potential by becoming a paid member with any of the options below…
Average Income Rates – The downside of working as a freelance writer in Guru is that you have to bid for jobs. What happens is a client post job listings like you can see below and you among other writers bid on how much you are going to charge for the project.
But what happens is freelancers under-bidding each other has become a norm, and that many employers just end up hiring the most affordable freelancers.
Not to mention that Guru keeps 5-9% of your earnings as job fees.
Payment Options – PayPal, Payoneer, Wire Transfer, and U.S. Bank Account (Check). When you get paid depends on your agreement with your current employer.
Guru Pros
A trusted platform for all kind of freelancers
Any writer can join and bid on job listings
Plenty of writing gigs to choose from every day
Guru has a Safe Pay feature that guarantees clients funded the project before offering it to freelancers
Guru Cons
Too much competition that you might need to undercharge on a project just to land the gig
If you want to bid on more jobs and enjoy lesser job fees, you have no choice but to opt for paid memberships
13. FlexJobs
FlexJobs was started in 2007 by Sara Sutton, and it continues to offer opportunities for writers and other online freelancers.
One thing I like about FlexJobs is that all of the freelance job listings in its platform are well-vetted and screened. Therefore, it's very likely that you'll stumble and work with scammers who won't pay for your work.
Who can join – Any interested freelance writer can sign up and join FlexJobs. However, you will need to pay for a membership subscription to see employers, view full job details, or apply for a job.
The current subscription fees are…
$14.95 for one month
$29.95 for three months
$49.95 for a year
FlexJobs also issues a refund within 30 days of creating (or renewing) your subscription if you're not happy with the service.
Average Income Rates –  Your potential income varies from one employer to another. Employers also often don't post salary information on their job listings, to which FlexJobs says…
"…it is entirely up to each individual employer to decide if it is going to include that information in a job posting, you will only be able to see what employers want to share. It is typical for employers to discuss salary and pay scale during or after the first round of interviews."
Nevertheless, sources claim that it's rare to see low-paying writing gigs on FlexJobs.
Payment Options – You will have to discuss how you will get paid with your current employer.
FlexJobs Pros
Anyone can join as a freelance writer on the platform
All job listings are screened and properly vetted
When you convince another fellow writer to join FlexJobs using your affiliate link, you get 1 month worth of subscription fee for free
FlexJobs Cons
You need to pay to access the job listings and apply for a job in the site
Most job listings don't have information on salary
Tip – If you're interested in joining FlexJobs, but don't want to keep paying monthly fees, we suggest that you enter using the cheapest membership option ($14.95).
Once you're hired, or you find a long-term job, you can quit your subscription.
14. ProBlogger
This is a blog owned by Darren Rowse that features a "ProBlogger Job Board," where writers connect with various bloggers and companies in need of quality content.
But unlike free online job marketplaces like Upwork or Fiverr, ProBlogger is actually a paid job listing site. Clients pay to post job offers; therefore, the number of writing gigs you can find might be limited.
And because the clients paid money to post their job offers, many of them are looking for experienced and season writers to hire, which makes the hiring process tricky, especially for inexperienced freelance writers.
Nevertheless, many of the jobs you can find on this site pay very well.
Who can join – Anyone all over the world can find writing jobs in ProBlogger, but it suits the more experienced and season writers.
Average Income Rates – Rates vary from client to client and depending on what you will write about. But based on the latest job postings we found on the site, some clients pay $10-$15 per 1,000-word articles while others pay up to a few thousand dollars for an entire project.
Payment Options – You have to talk with your current employer for payment agreements.
ProBlogger Job Board Pros
One of the best sites to find excellent paying gigs for experienced writers
You can access and apply for jobs without having to sign in or create an account
ProBlogger Job Board Cons
Very few job listings
It hard to get hired if you don't have solid skills and knowledge in writing
Suitable for experienced and season writers
15. Freelance Writing Jobs
FWJ is another site that acts as a job board where you can find clients who will pay you for your writing skills. The job listing is updated Monday to Friday, and you can browse through to find clients you're willing to work with.
Some of the writing jobs to choose from in the site include content writing, copywriting, plan and proposal writing, and technical writing. You can even find some proofreading/editing gigs.
But what some people don't know is that FWJ also started as another writing blog (like ProBlogger) owned by Deborah Ng. Splashpress Media then purchased it for an undisclosed amount.
We know this might not be the reason you're here, but just in case, by any chance, it happens that you've been planning to start a blog too, click here to learn the basics.
Who can join – Any freelance writer can join and find work on this site.
Average Income Rates – The amount varies depending on the clients you want to work with.
We browsed through some of the listings and clients usually pay between $15 to $30 per hour for freelance content writing jobs, while technical writing jobs pay between $40 to $60 per hour.
Payment Options – You have to discuss directly with the client you're working with about payment agreements.
Freelance Writing Jobs Pros
A good site to find various writing gigs
You can get access to some training materials and resources for writing
Freelance Writing Jobs Cons
Clients are not vetted so there is a risk of working for someone who might not pay you
Available writing jobs are significantly lower in number compared to other entries on this list
The job listing is not updated daily (Monday to Friday only)
That's all, folks! What can you say about our list of the 15 best freelance websites for writers? We sure hope you found a few options to start making money as a writer.
If you want to get more options on how to make money with your writing skills, we recommend that you check out our list of the best side hustles for writers today.
And if you want to up your game to run a blog that makes money, you can check out this guide to get started.
Anyways, thank you for taking the time to read this article. Meanwhile, if you know of any other good freelance website for writers that we haven't included here, give us a heads up in the comment section below.
Until here and good luck out there!