How to Create Your First Affiliate Marketing Website? – 13 Simple And Effective Steps
When it comes to starting an affiliate marketing website, many people seem to think that it's complex or overwhelming.
But the truth is if you have the right guide and some helpful tips, it's actually relatively easy!
In this Affiliate Marketing for Bloggers step-by-step guide, we will walk you through everything you need to know to get your blog started on the right foot.
We'll cover web hosting, choosing a niche, finding affiliate programs to join, and more.
So whether you're a complete beginner or you've been thinking of adding affiliate revenue to your blog, this guide is for you!
Note: The minimum cost of starting a blog is the cost of a domain and web hosting. Typically, it'll cost a minimum of $33 per year. If you are looking to learn how to start affiliate marketing for free, this is not the correct method. Check this method out instead.
What is Affiliate Marketing and How It Works?
We have a detailed explanation of what affiliate marketing is, but in brief, when you make the effort of recommending products and services that you believe in, maybe through social media or a blog, such as the one you are creating, you stand to earn commissions when a sale is made.
The process of recommending other businesses' products and earning money from them is considered affiliate marketing.
Many people turn to affiliate marketing as a way to make money online because they do not want the hassle to:
Research and develop a product
Pay rent to set up a physical store
Build a brand
Manage inventory
Hire and manage employees
Handle sales and customer support
Manage logistics issues
Without the above overheads to start a business, affiliate marketing is one of the most lucrative ways to make money online.
All you need to do is learn how to start an affiliate marketing website and focus your efforts on writing helpful content to help businesses promote their products, and the business will take care of the rest.
You are a piece of the puzzle for a company's success, just like a salesperson or a brand ambassador, just that you are an official employee.
The best part is that you are not tied down to promoting one product. You have the freedom to promote any products that you believe in.
How to start affiliate marketing websites for beginners (Step-by-step)
Affiliate marketing is one of the most prominent revenue streams for bloggers. There are many other monetization methods, but we will start with the blog focusing on promoting affiliate products.
We will be covering other blog monetization methods in another article, but let's get with the steps for now.
Step 1: Choose a niche
A niche is simply a general market segment (or a specific area of interest). The three core general markets are the health, wealth, and relationship market.
For example, the relationship market does not only consist of the "boy/girl relationship" niche, there are other areas like parenting, family, pets, and many others.
Inching down from the market, that'll be a niche, but a general one. If you inch down another level, such as in the pets niche, there could be dogs, cats, parrots, etc.
Another level down, for example, the dog niche, could be different bread of dogs.
While it may seem like the further down the niche levels, the smaller the market will be, that's true.
But that's where affiliate marketing websites thrive because by targeting a specific niche, you can reach a group of people who are more likely to be interested in what you have to offer.
People buy from people who understand them. Do you get the idea?
So, choosing the right niche is very important because you will be spending most of your time building this affiliate marketing website from scratch. Here are the things to consider:
1. Do you have something unique to offer?
Make sure you have something unique to offer.
There's no point in starting a blog about something that's already been done to death.
Unless you can bring something new to the table, like your knowledge or expertise, you're likely to get lost in the shuffle.
2. Are you interested in sharing?
We are not talking about being passionate about a niche because passion can be found in many ways.
But, we need to be at least interested in talking about things happening in a particular niche.
For example, if you are a lawyer by trade, if somebody were to walk up to you and ask you a question, off the record, about how they could solve a legal predicament they are in.
Would you be interested in responding to them? If yes, that's a good niche for you. Apply the same question as you are brainstorming a niche.
3. Are there a lot of people interested in the niche?
Do your research. Before committing to a particular niche, make sure there's an audience for what you want to write about.
There's no point in starting a blog if no one will read it.
You might want to type in some key phrases that people in the niche are searching for in Ahref's keyword generator, and it will provide you with a list of keywords together with the monthly search volume of those keywords.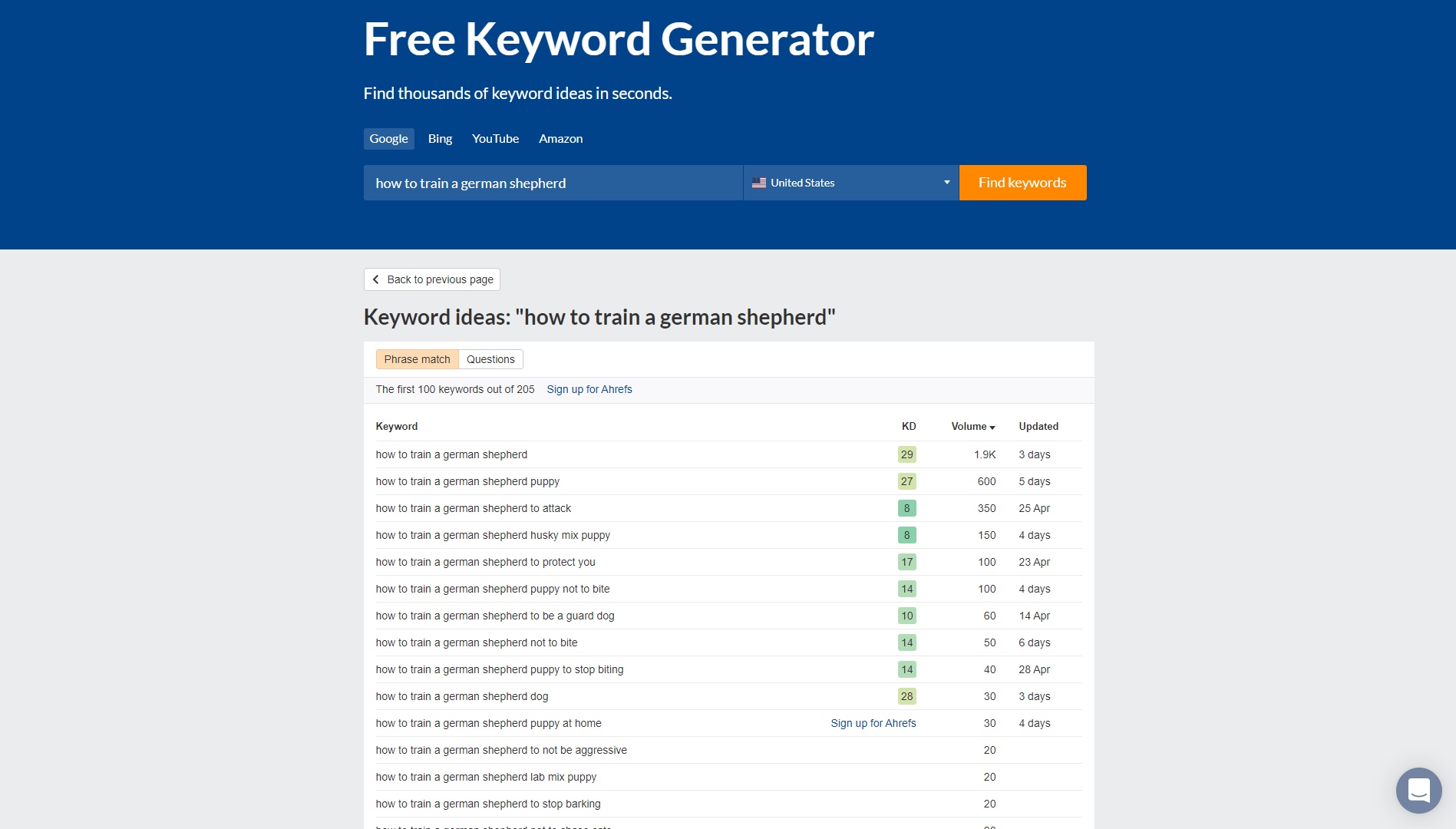 Analyze the numbers and make your decision.
4. Are there successful affiliate marketers in the niche?
If there are successful affiliates already operating in the niche, that's a good sign that the niche is profitable.
After all, why would someone invest their time and energy into promoting a product or service that wasn't going to make them any money?
5. Are there lots of profitable affiliate products to promote?
Once you have found some successful affiliate marketers in the niche, dig deeper into what products they are promoting.
You can also do a Google search on the term "your selected niche + affiliate programs", not literally, but do change the "your selected niche" to the niche you are researching and remove the "+".
If you can find many affiliate products to promote, it is another good sign that the niche is profitable.
Step 2: Buy a domain name
When choosing a domain name for your affiliate marketing website, there are several factors to consider.
Firstly, your domain name should not be too narrow or specific. A specific domain name restricts the content of your website and leaves no room for expansion.
For example, if your chosen niche is "Dog Food". Having a specific domain name like "Dogfood.com" restricts you to only writing about dog food.
Instead, it should give an impression of the niche your website covers and ideally be brand-able so that it is easily remembered. For example, "petculture.com".
Secondly, your domain name should ideally be no longer than 15 characters to make it easy to type and remember.
Finally, your domain name should not include dashes, underscores, or special characters; numbers are also best avoided. Preferably, your domain name should end in .com, but .net or .org are also acceptable.
With these tips in mind, choosing a domain name can be a relatively simple process.
To get started, research on potential domain names that might fit your website's niche and see which ones are available for purchase. We recommend checking up on the availability on Namecheap.
And if you have trouble coming up with cool domain names, try Namelix, an AI business name generator.
Buying a domain from Name Registrar vs. Hosting Provider
Name registrar is a place to buy domain names. An example is Namecheap.
There is no right or wrong answer to this but more of a practical issue.
We recommend keeping domains separate from web hosting because if there is a change of mind on the web host you are using, switching web hosts will not cause downtime.
Plus, if you own multiple domains, it is much easier to manage them on one domain registrar.
So, go ahead and buy your domain name from NameCheap, and we can move on to the next step.
Step 3: Buy Web Hosting
At this step, you need to consider if your affiliate marketing website or blog should use a content management system like Squarespace, Wix, or WordPress.
We recommend using WordPress because it is the most versatile. There'll probably be a plugin for any functions you wish to have on your website.
Plus, the most successful affiliates I know of use WordPress to run their affiliate marketing website.
Now, the question is, which web host should you choose? There are so many of them?
What to look out for in a web host?
These are the factors you should look out for:
Reliability (uptime of above 99.9%)
Speed
Security
Price
We've done extensive research on the best web hosting for affiliate marketing, and we recommend using a2 Hosting because it is the fastest, cheapest, and provides the most features.
Alternatively, you can use DreamHost because it is the second-best web host based on our extensive research.
On a2 Hosting's website, select the "Turbo Boost Plan" because that's the plan that allows you to host unlimited websites and gives you lots of useful tools to speed up your site.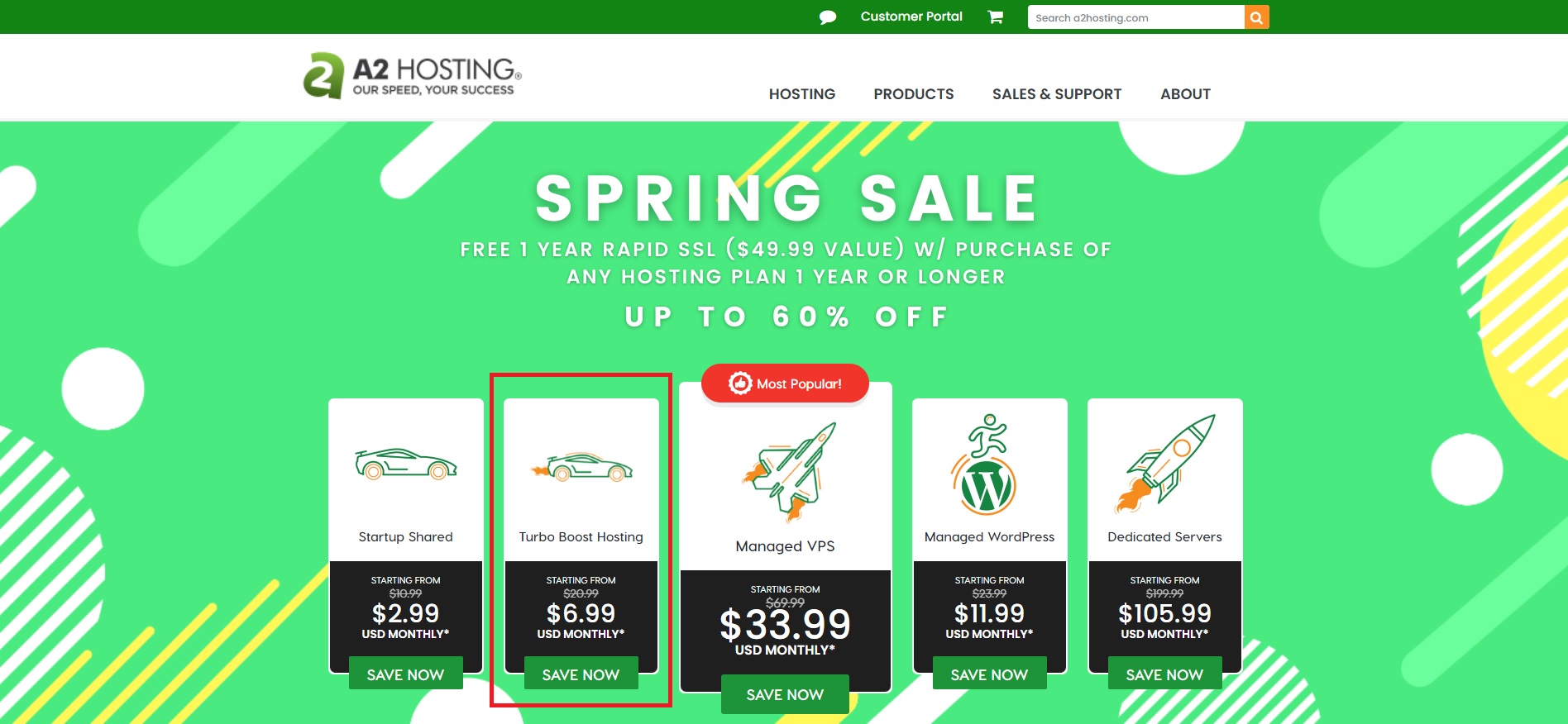 If you've bought your domain name in step 2, you can add your domain name and click on "Use this domain".
We recommend paying for the triennial plan because that gives you the most discount.
You don't need the other add-ons because they are unnecessary.
Now, you should choose the server location close to your audience. If your target audience primarily resides in the US, you'll want to select either of the US servers and if your target audience is in Asia, you'll want to select "Singapore".
The closer your web host is to your target audience, the faster your site will load for them. Click on "Continue".

Don't worry about the renewal price. You can always grab the yearly Black Friday deal to extend your web hosting plan at a much lower price.
Once you have bought your web hosting, it is time to point your domain name server (DNS) to a2 Hosting.
Step 4: Point DNS to Web Hosting
On the dashboard of a2 Hosting, you will see a list of Domain Name Servers.
All you have to do to make your website work is to copy the DNS and paste it over to Namecheap.
On your NameCheap dashboard, select the domain you've bought. And at the "Name Servers" section, choose "Custom DNS". You'll want to add those name servers from A2 Hosting to NameCheap.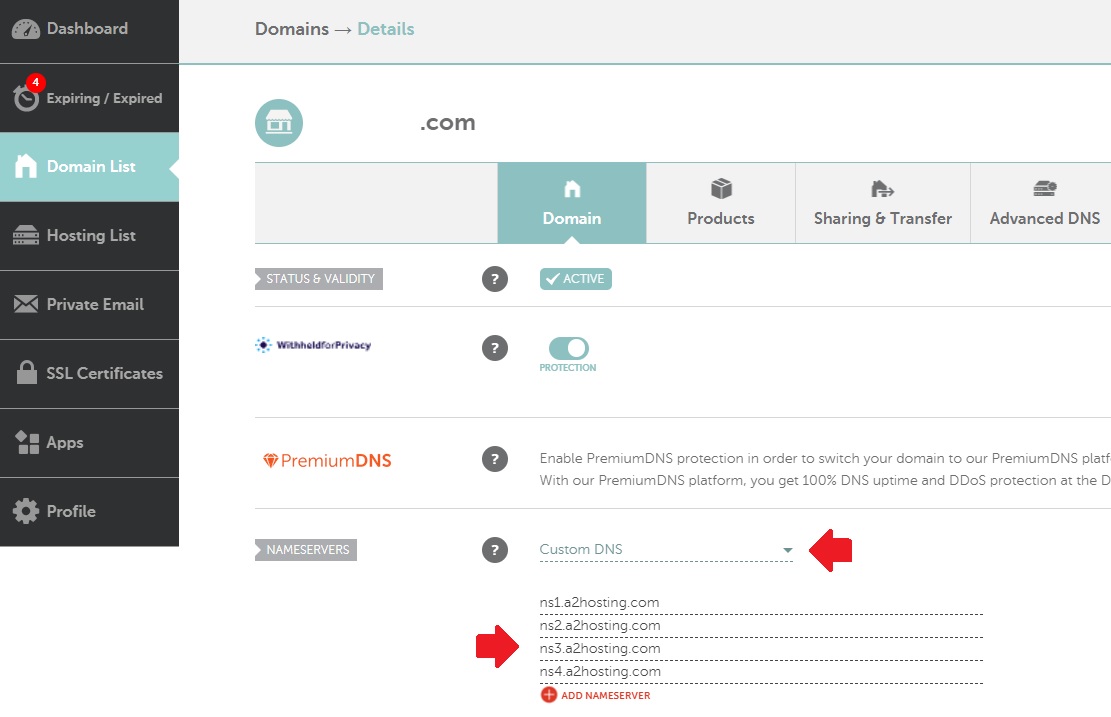 Most of the time, it will only take a couple of minutes to see that your domain is hosted on the server; sometimes, it takes hours. The longest you have to wait is 48 hours.
While the DNS is propagating (connecting), you can head back to A2 Hosting to install WordPress.
Step 5: Install WordPress
Back to A2 Hosting, you need to log in to the cPanel.
At the "Software" section, right at the bottom, click on "Softaculous Apps Installer".
You'll want to install "WordPress – A2 Optimized".
Enter all the necessary information, and hit "Install".
That's it! Your affiliate marketing website or blog will be up and running in no time. Give it a while for everything to connect.
And while you are waiting, it's time to do some keyword (topic) research.
Step 6: Do proper keyword research
Keyword research is an essential aspect of Search Engine Optimization.
It depicts how your content (articles) can be found on Google searches that will drive traffic to your affiliate marketing website.
What you are typically looking for are keywords or topics that have a high monthly search volume, and that is not too competitive.
There are several methods you can use to conduct keyword research:
1. Google's People Also Asked
This function allows you to see what questions people typically ask when looking for a specific term or keyword.
Knowing that, you can create a comprehensive piece of article that answers those search queries.
You won't have to worry about the search traffic of those queries because Google is telling you that there are.
2. Google's Alphabet Soup Method
The Google "Alphabet Soup" technique is a great way to find keywords for your affiliate marketing website or blog.
Basically, you take a word or phrase that describes what you do and plug it into the search bar on Google, followed by all the alphabet letters.
So, if you're a plumber, you might plug in "plumbers" followed by the letters "a," "b," "c," to "z".
This will give you a list of keywords or search phrases that people are looking for on Google.
The key here is to be creative with the keyword combination followed by the letters.
3. Google Trends
Another valuable tool for keyword verification is Google Trends.
Add those keywords you've found on Google's People Also Asked to Google Trends, and you will find some valuable data. This is an unofficial method to verify the search volume of a keyword, but I'll share it anyway.
Tip: Do not only search for the exact search term. Search for other keywords that mean the same thing. Like "how to do keyword research" means the same as "keyword research guide".
Here's the search volume gauge:
Graph on Result: At least 500 searches per month
No Graph, only data: At least 100 searches per month
Graph and data: At least 1,000 searches per month
I hope you find this helpful. Personally, this data is more accurate than the data you see on Ahrefs, SEMRush or UberSuggest.
4. Competitors' XML Sitemap
Well, without brainstorming, looking at what people are searching for, or doing the Alphabet Soup method, looking at what your competitors have on their site, you can find amazing keywords or topic ideas.
All you need to do is add "sitemap.xml" right behind your competitors' domain name, and you will have a list of articles.
Analyzing the slug of those URLs, you will generate many topic ideas.
The upside to this method is that your competitors have probably done the keyword research before writing the content.
The downside to this method is that not all sites will allow you to view their sitemap. If you encounter such an issue, try the following method.
5. Google's site colon method
On Google, type in "site:" and add your competitor's domain name without the protocols, such as the "https://".
An example would be "site:stashvine.com".
Once you've searched that, you will see all the articles indexed on Google, and you will also see the keywords your competitors are targeting for each article.
A neat trick, right?
6. Use paid tools
Finally, suppose you want to take a more comprehensive approach to keyword research. In that case, there are several paid tools available that can help you identify the most valuable keywords for your affiliate marketing website.
Some of the most popular options include SEMrush, ahrefs, Ubersuggest, and Moz.
Whichever method you choose, it's important to remember that keyword research is an ongoing process – as your affiliate marketing website or blog grows and evolves, so should your keyword strategy.
By regularly conducting keyword research, you can ensure that your website is continuously being found by the people who are most likely to buy products you recommend.​
Quick Tip: ahrefs has a free version keyword generator you can use.
The "KD" means keyword difficulty. It is measured by how many backlinks it is required for your article to be ranked at the top.
Step 7: Plan your site hierarchy
Having a good site architecture will allow search engines to discover and understand what your site is all about.
Often, it will help improve your search rankings which will lead to more traffic and affiliate sales.
You need to group your keywords or topic ideas into categories and sub-categories, starting with the homepage.
Step 8: Join Affiliate Programs
There are many different types of affiliate programs, so it can take a lot of time and research to figure out which one will work best for you.
However, by thinking about what you hope to achieve with your affiliate marketing website and how much time you want to dedicate to promoting affiliate products, you can narrow down your options and choose the right affiliate program for your needs.
There are three main types of affiliate programs:
Pay-per-sale
Pay-per-click
Pay-per-lead
Pay-per-sale programs are the most common type of affiliate program. With this type of program, you earn a commission each time someone purchases on the website through an affiliate link.
If a website visitor purchases products from an online store in your niche or signs up for an email newsletter, you get paid when they complete these actions through an affiliate link.
Pay-per-click programs offer commissions each time someone clicks through an affiliate link and signs up for a product or service, but these programs are not common in many niches. So, if you find such a program in your niche, awesome!
In a pay-per-click program, the website owner does not need to sell anything; all they have to do is get people to click on their links.
Finally, pay-per-lead programs are similar to pay-per-click programs, but instead of getting paid per click, you get paid for each lead generated through your affiliate link.
They are most common in services such as insurance, accounting, human resource, and learning platforms.
So, if someone signs up for a free trial or gives their email address to get more information about a product or service, you would earn a commission.
These types of affiliate programs are less common than pay-per-sale and pay-per-click programs, but they can still be effective if you have a website that generates many leads.
Now that you know the three main types of affiliate programs, you can narrow down your options to find the best one for your website.
Consider how much time and effort you want to put in to promote the products and which programs pay higher commissions so that you can maximize your earnings potential.
Also, think about whether or not a particular affiliate program will fit with the content of your website.
Here are several affiliate networks to find affiliate programs in your niche:
Note: Some of the most lucrative affiliate programs are privately managed, which means they are not managed through affiliate networks. Also, digital products typically pay more than physical products.
Step 9: Install a lightweight WordPress theme
By now, your WordPress website should be up and running. The theme installed is usually the default WordPress theme.
There are no problems with using the default theme, but you may not find the customization options you want.
With a WordPress website, you can customize the look and feel of your affiliate marketing website according to your preference.
There are no limits, and choosing a suitable WordPress theme will make your web designing job much more accessible without compromising the speed performance.
Yes, WordPress themes do affect your site's speed performance, and you know that if a site does not load within 3 seconds, people will leave.
So it is of utmost importance that you install a lightweight theme that allows for maximum customization.
To change your WordPress Theme, you'll need to login into your WordPress dashboard, and on the "Appearance" tab, you'll want to select "Themes".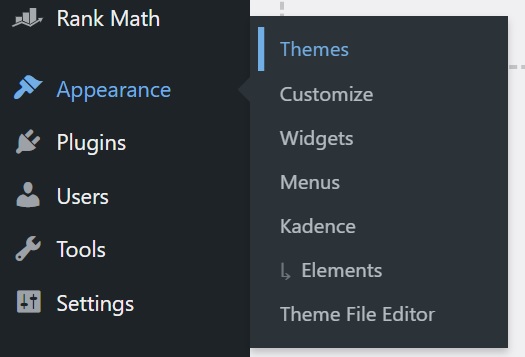 And right at the top, click on "Add New". Following that, you can search for a theme in the search bar.

We have tested a lot of themes extensively, and this is the list of our recommended WordPress Themes:
Anyone of these WordPress themes is highly customizable, and we have verified that they will not cause your site to slow down.
Step 10: Install necessary WordPress plugins
To be honest, there are over 55,000 WordPress plugins to choose from, and it could be tough to sift through its repository to figure out which are the most suitable plugins for your site.
So, if you don't mind, I'll share my list of plugins I use on all of my sites:
Rank Math (Free and Pro)- The best WordPress SEO plugin (as compared to the popular ones like Yoast SEO, All-in-One SEO, and SEOPress) because it provides the most features, it does not slow down your site, and it takes care of all the SEO aspects of your site. It is a company SEO solution.
Using it, you can reduce the number of active plugins that provide single-use functions like Redirections, 404 Monitor, Schema, Analytics and tracking, Local SEO, etc.
Kadence Blocks (Free and Pro) – With these plugins, you will never need to rely on page builders to create affiliate elements such as a summary box, pros and cons, table of contents, and building a landing or a lead capture page.
LS Cache – As your site is hosted on A2 Hosting, which is on a Litespeed server, having this free plugin will ultimately boost your page speed to pass core web vitals.
It is a complete solution to page speed optimization. It provides you with features such as CSS and Javascript optimization, image optimization, serving Webp image formats, caching, and even CDN.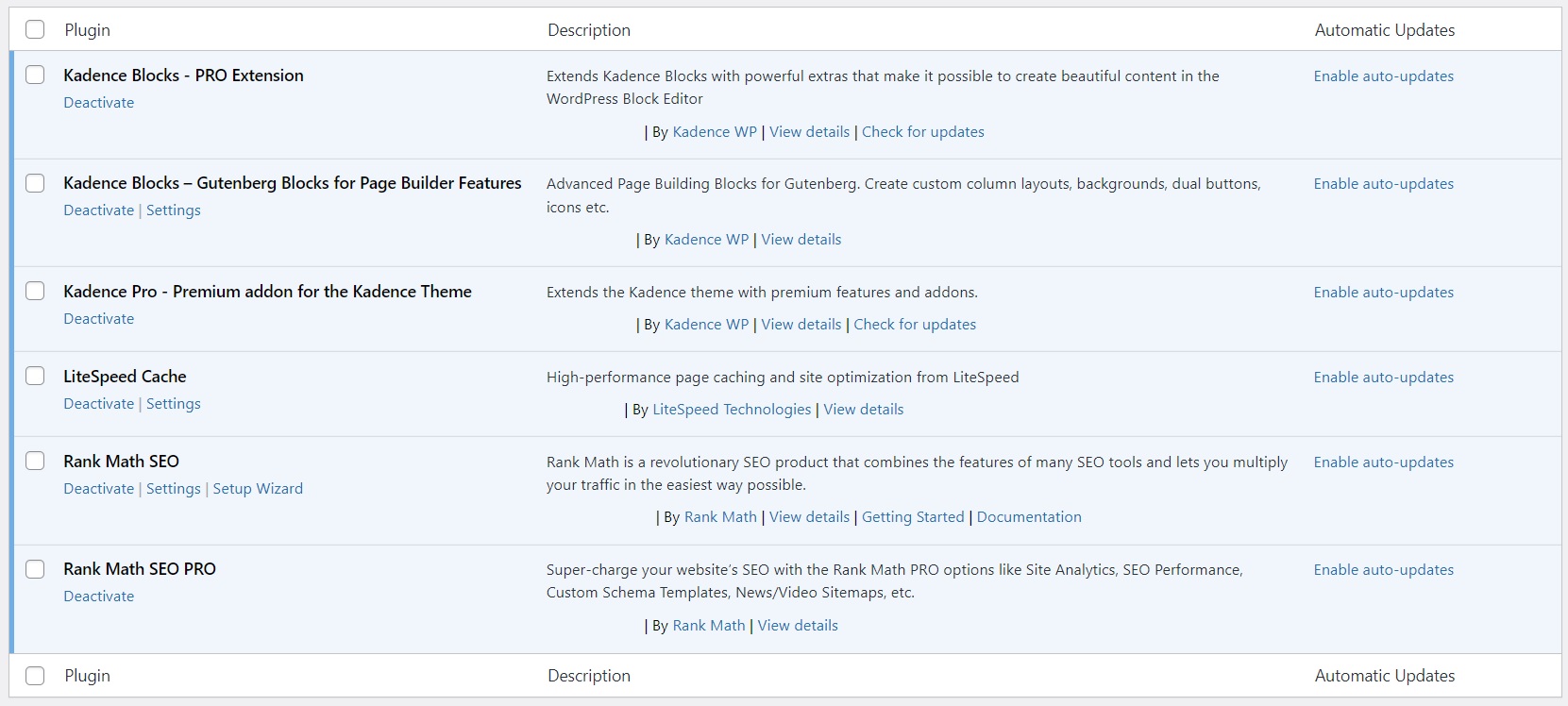 That's basically it! There is nothing fancy, as you can see. I like to go for being as lean as possible when it comes to plugins because the more plugins you have, the slower your site gets.
All these plugins I recommend provide you with almost every feature you need as an affiliate blogger.
I am confident that this combination of plugin works because, over the years, I have reduced from over 20 installed and activated plugins to the five I've mentioned above.
If you are an affiliate blogger yourself, feel free to share your list of plugins in the comments section.
Step 11: Manage your affiliate links
Managing affiliate links is something that you have to do right from the start; otherwise, when your affiliate marketing website matures and changes are made to the affiliate links, you are going to have a tough time changing those links.
What I mean is, when you get an affiliate link from the merchant, let's say that it looks like this:
companyA.com/?aid=12345
This is the main product you promote throughout your website, so you add the link above to almost every page of your site.
Now, what if, after a couple of years, that product is outdated and is not on sale anymore, or the merchant decides to change their affiliate link structure?
On your part, you would have to visit every page of your website to replace the outdated affiliate link, right? It will probably take a week or more if you have hundreds or thousands of pages.
So, to save the hassle, you have to manage your affiliate links from the start. I recommend using Rank Math's feature, which is the "Redirections Module".
All you need to do is to create a "Placeholder Link" with the "Source URL", and you add the "Affiliate Link" on the "Destination URL", select either 302 or 307 as the "Redirection Type", and that's it!
The Placeholder link is the link you will insert on every post and page of your affiliate marketing website, and if there is a change in the affiliate link, all you have to do is change the "Destination URL". Simple and easy!
This "Redirections" feature from Rank Math is free. That's why we highly recommend using it.
The PRO version provides you with the ability to manage your redirections with categories which is really helpful when the number of placeholder links grows Consider checking out Rank Math Pro here.
Step 12: Write Amazing Content
Now, how do we define "Amazing content"? It is simply writing content that matches the search intent.
The best way to explain this is through a negative example.
Let's say that you have done your keyword or topic research and you have decided to write an article titled, "Do I need Talent to play guitar".
Now, based on your knowledge, you thought that people searching for this keyword want to know how to play guitar.
So, you wrote a sentence, "No, you don't need talent to play guitar", and you continue to write about how beginners can learn guitar.
Do you see the disparity between the Title of the article and the body content?
People searching for the key phrase, "Do I need talent to play guitar" are typically beginners who find it hard to play guitar and are doubting themselves.
They are expecting credible information that will convince them that you don't need talent to play guitar.
You should talk about some of the doubts people have when playing guitar, like am I smart enough to play guitar, or should I play guitar if I have short hands and fingers, and basically the mindset a beginner should have to overcome all obstacles. 
The searcher is not expecting a tutorial on how to play a guitar step by step.
So, understanding the intent of the focus keyword you are targeting is the key to amazing content. Once you are off-topic, you won't rank.
So, before you write content, determine who you are writing for.
You may want to read some articles ranking at the top for your targeted search phrase and understand who they are writing for.
Once you nail it on the intent of the search term, and you craft content answering the search term specifically, that's what we call amazing content.
Step 13: Keep older articles updated
As an affiliate blogger, one of the most important things you can do to ensure long-term success is to keep your articles up-to-date.
Google and other search engines love updated content, and updating your articles regularly is a great way to keep them ranked high on the Search Engine Results Page (SERP).
Of course, updating your articles isn't always easy. You have to find new information to add, and if needed, you need to rewrite your article in a way that is both informative and engaging.
It takes a lot of time, and it seems counter-productive. You could have written more new content and ranked for more keywords, right?
But consider that search engines favor updated content over outdated content, so you'll actually gain more traffic by climbing the ranks on key phrases you are already ranking for.
That's how large websites with little to no new content grow on search traffic.
So, if you want to ensure continual growth for your affiliate marketing website, make sure to keep your articles up-to-date.
Enjoy the process!
So there you have it! The important steps to creating your very first affiliate marketing website.
Just remember to keep it simple at first, and don't try to do too much too soon.
Take your time and enjoy the process of learning and growing your affiliate blog. And don't forget to have fun!
After all, with affiliate blogging, you are writing and talking about what you are interested in or passionate about. Thanks for reading, and good luck!