Best Web Hosting For Affiliate Marketing
Are you looking for the best Web Hosting for Affiliate Marketing Blogs or Landing Pages, or maybe you are looking for the Web Hosting Companies that pays the highest affiliate commission rate?
You are in the right place because this article will cover both topics. Feel free to skip ahead using the table of contents:
Best Web Hosting for Affiliate Marketing Blogs or Landing Pages
To understand the meaning "Best" when it comes to web hosting, we've got to assess the following factors: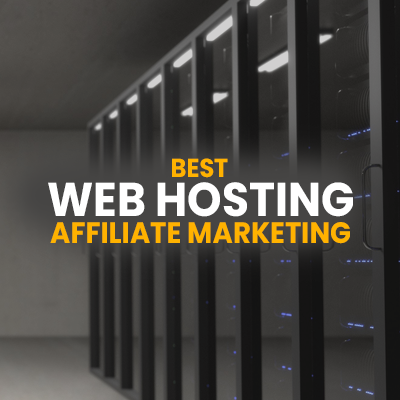 Page Speed
Stability and Security
Ease of Use
Price
Page Speed is one of the most important aspects of web hosting for affiliate marketing because if a page loads more than 3 seconds, you lose potential customers. They will just leave your site.
Stability and security are also essential because you don't want hackers to access your site quickly and crash it or change your affiliate links to benefit them.
Ease of Use. We want to get our website up and running as quickly and efficiently as possible, and we do not wish to have a hard time managing our site's backend.
Price. We do not want to pay exorbitant fees to run our websites. We want to spend the least and get the best.
With those factors in mind, I've spent over a month conducting this exhaustive test for your benefit as well as mine, because my current hosting plan was due for renewal, so I wanted to get the best bang for the buck hosting plan.
Result
Fastest & the Cheapest Shared Hosting
A2 Hosting
Best Web Hosting for Affiliate Marketing
Best Page Speed Insights Score
Best Score on Core Web Vitals
Provides the most features
Cheapest when paid triennially
$2.99/Month for 1 Website
$6.99/Month for Unlimited Websites
Top 10 Fastest WordPress Hosting Ranked
Let me start by sharing with you a list of top 10 Fastest WordPress Hosting.
Note that every information in the table are backed by hundreds of data points, and all the testing conditions are exactly the same.
The tests done are openly shared and documented here.
1: Google Pagespeed Insights Score
2: First Input Delay
3: Largest Contentful Paint
4: Cumulative Layout Shift
Fastest Shared Hosting
You may be wondering where are the popular hosts such as BlueHost, Hostinger, or SiteGround.
So, I thought I should break the results down even further.
So, as you can see, the popular hosts are not exactly the fastest, but they are heavily marketed.
Fastest VPS Hosting
Rank
Web Host
PSI
Score1
FID2
(ms)
LCP3
(ms)
CLS4
(ms)
Visit
1
UltaHost
95.27
94.00
2,474.50
0
visit
2
Contabo
94.74
125.00
2,330.50
0
visit
3
DigitalOcean
94.52
128.00
2,564.50
0
visit
4
Linode
94.22
133.00
2,588.00
0
visit
5
VPSDime
94.16
139.00
2,567.50
0
visit
6
Vultr
94.01
150.00
2,686.50
0
visit
7
Kamatera
93.60
193.00
2,658.00
0
visit
8
SkySilk
89.04
194.00
3,076.00
0
visit
9
InterServer
86.93
221.00
3,328.00
0
visit
Shared Hosting vs VPS Hosting
Choosing between Shared Hosting and VPS hosting, it depends on your technical abilities.
If you are a total beginner, then the best web hosting for affiliate marketing will be shared hosting because you can get your Affiliate Blog or landing page up and running within hours with ease. No technical knowledge required.
But, if you are a technical person, and you would like to save on the costs, then a VPS hosting is the right choice for you.
Choosing the best web hosting for affiliate marketing
Since speed is one of the top priorities, we are going to compare the top 5 fastest WordPress hosting.
Features
Features
A2 Hosting
DreamHost
Kualo
UltaHost
Contabo
Unlimited Websites
(50GB or Above)
Yes
Yes
Yes
Yes
Yes
Unlimited Bandwidth or Traffic
Yes
Yes
No
Yes
Yes
NVME Storage
Yes
No
No
Yes
Yes
Free Automatic Backup
Yes
Yes
Yes
Yes
Yes
Free SSL Certificates
Yes
Yes
Yes
Yes
Yes
Free Site Migration Assistance
Yes
Yes
Yes
Yes
No
Security Features
Yes
Yes
Yes
Yes
Yes
Uptime – 99.9% and Above
Yes
Yes
Yes
Yes
No
Verdict
Now, let's finally discover what is the best web hosting for affiliate marketing.
Considering site speed, features, and price, we have identified A2 Hosting as the best web hosting for affiliate marketing in terms of shared hosting and overall, and UltaHost for VPS Hosting.
How Did We Test?
Final Results
Video Transcript
Best Shared Hosting Compared
Best VPS Hosting Compared
Top 10 Highest Paying Web Hosting Affiliate Programs
Since you already know what are the best web hosting for affiliate marketing, now let's figure out which are the highest paying.
If you are in the web hosting niche, you'll probably know that it is one of the most lucrative affiliate marketing niches. You could earn up to $7,000 per sale, depending on your target audience.
Personally, I wouldn't choose the highest paying web hosts as the best web hosting for affiliate marketing because they are super expensive.
Yet, they don't exactly perform better than those that I've verified earlier.
I guess the target audiences for the highest paying web hosting, such as Liquid Web, Kinsta, and WP Engine, are businesses that requires some form of customization and security.
So, if you are promoting the highest paying ones, make sure you choose the right target audience.
Liquid Web Affiliate Program
Liquidweb is a premium hosting provider which offers Managed WooCommerce and WordPress Hosting.
Their managed WooCommerce and WordPress hosting plans are suitable for larger ecommerce sites, publication sites, and agencies, that requires a more reliable and safer platform as their network uptime is one of the best in the industry.
Their managed hosting plans come bundled with plugins from Beaver Builder, all Iconic WP plugins, along with analytics plugins like Jilt's Abandoned Cart Recovery, Glew Analytics and Affiliate WP for referral tracking.
LiquidWeb does not charge any overages for Traffic, Domains, or SSL Certs, which makes it highly suitable for Agencies.
So, be sure to target the Agencies if you were to promote LiquidWeb.
As you already know, LiquidWeb is the highest paying web hosting affiliate program, but here's the break down:
Managed WordPress: $150 – $2,000 per Qualified Referral
Managed WooCommerce: $150 – $3,000 per Qualified Referral
VPS Hosting: $150 – $300 per Qualified Referral
Dedicated Hosting: $150 – $7,000 per Qualified Referral
Cloud Hosting: $150 – $5,000 per Qualified Referral
Kinsta Affiliate Program
Kinsta is a managed WordPress hosting provider built on Google Cloud Platform. It provides their customers with fast sites and ample services, including built-in SSL certificates, the lastest PHP versions, staging areas, and 24/7 support, and more.
You can earn up to $500 and a 10% monthly recurring lifetime commissions, which is a huge deal.
Any affiliate programs that offer recurring commissions are simply the best because you will continuously earn money as long as the customer stays as a customer.
So, even when your website is down in the future, and you are "out of business", you'll still earn commissions. That's how wealth is made.
Here's the breakdown of the commissions (all commissions comes with a 10% recurring commissions):
Starter Plan: $50 per Qualified Referral
Pro Plan: $100 per Qualified Referral
Business Plans: $150 per Qualified Referral
Enterprise Plans: $500 per Qualified Referral
The churn rate of Kinsta is 5% which means customers rarely leave the platform, so you can be sure that there will be a steady flow of recurring commissions.
It is highly rewarding to be a Kinsta Affiliate, but you just have to know who your target audiences are to reap the most reward.
WP Engine Affiliate Program
WP Engine is one of the highest paying affiliate programs in the web hosting industry. As an affiliate, you can earn up to $200 per sale, and get paid every 20th of the month.
Their affiliate program is hosted on ShareASale though, so you have to become an affiliate with ShareASale to apply.
Take note of the stringent affiliate approval process from ShareASale, and if you are not active for some time, you may be kicked out of the website, and you lose access to the WP Engine's affiliate program entirely.
But, don't worry, as long as you login once every 6 months, you are safe.
Anyway, to be successful with promoting WP Engine, it's important to know who the company's target audience is.
At the basic level, you'll want to market to small business owners or bloggers who have a high budget for web hosting services.
These types of users are typically looking for reliable hosting at an affordable price point, and they are less likely to cut corners when it comes to website performance and security (not saying they are the fastest and most secure – do your own research!).
But, by focusing your marketing efforts on those key points I've mentioned, you can help to attract more high-value customers who are likely to sign up with WP Engine.
Here's a breakdown of the commission structure, together with the bonus they offer (this table can be found at WP Engine's Affiliate Program page):
| # Monthly Sales | Commissions | Bonus | Total |
| --- | --- | --- | --- |
| 5 | $1,000 | $100 | $1,100 |
| 10 | $2,100 | $250 | $2,350 |
| 25 | $5,350 | $625 | $5,975 |
| 40 | $8,975 | $1,000 | $9,975 |
| 60 | $13,975 | $1,500 | $15,475 |
The more referrals (sales) you have in a single month, the more bonus you will get on top of the $200 per sale commission you make.
The other awesome perks of becoming an affiliate with WP Engine includes:
180 days cookie period (Most affiliate programs offers 30 days) – Which means, as long as somebody clicks on your affiliate link, any sales made from that person within that 180 days time frame belongs to you.
Two-tiered Affiliate Program – You can earn commissions from sub-affiliates you refer. That means if you refer other affiliates to join WP Engine (sub-affiliates), you make $50 every time your sub-affiliate makes a sale.
There are many benefits for joining this affiliate program, but honestly, you've got to believe strongly in a service before you can effectively promote it. If you think WP Engine is the right choice for you…
Cloudways Affiliate Program
Cloudways offer two unique ways to pay its affiliates. When you sign up as an affiliate with Cloudways, you can choose either the:
Slab method; or
Hybrid method
Slab method pays you based on a per sale basis. Every paying customer you bring to Cloudways, you earn up to $125 per sale. This is the tier:
| SLAB | No. of Customers | Affiliate Commission Per Sale |
| --- | --- | --- |
| SLAB 1 | 1 – 5 Customers | $50 |
| SLAB 2 | 6 – 20 Customers | $75 |
| SLAB 3 | 21 – 45 Customers | $100 |
| SLAB 4 | 46 – 80 Customers | $125 |
| CUSTOM | 80+ Customers | $200 |
Hybrid method pays you a fixed $30 per sale and it adds a 7% lifetime commission. So every customer you brings to Cloudways, your passive income increases for as long as the customers stays as customers.
This is a lucrative way to generate an incremental passive income.
Here are a few reasons why becoming an affiliate with Cloudways is great:
Dedicated affiliate manager: You will be assigned a dedicated affiliate manager to cater to your needs. You can ask questions (or even advice), on how to best promote Cloudways, and how did other affiliates do so.
Long affiliate cookie: As long as someone clicks on your affiliate link and signs up to Cloudways within 90 days, you will make that commission.
Affiliate training resource: If you are new to affiliate marketing, or you are not sure how to promote Cloudways, you will find these resources helpful. It includes onboarding emails, guides, newsletters, blogs and more.
Cloudways is truly one of the best web hosting for affiliate marketing as it provides you with stable hosting as well as a lucrative affiliate program.
A2 Hosting Affiliate Program
Another unique web hosting affiliate program as it offers second tier commissions.
Let's first talk about the first-tier commissions:
| No. of Sales Per Month | Commission per Sale |
| --- | --- |
| 1 – 10 Sales | $55 |
| 11 – 15 Sales | $75 |
| 16 – 20 Sales | $100 |
| 21+ Sales | $125 |
And if you are an influencer, especially if you run a semi-successful YouTube channel, you can contact their affiliate manager, and they can offer you an immediate upgrade to $85 per sale.
Second-tier commissions:
If you recommend others to join A2 Hosting as an affiliate, like I do if you click on this link to sign up as an affiliate, for every sale you make, I will make $5.
The same goes if you recommend others to sign up as an affiliate through your affiliate link, when your referrals make a sale, you earn an additional $5 without doing any work.
That's the beauty of 2nd tier commissions.
You get:
A long 90 affiliate cookie
Dedicated affiliate manager
Custom welcome email and landing page (for top affiliates)
Deep linking
Real-time affiliate stats
Being the fastest WordPress hosting based on scientific research, it is easy to promote A2 Hosting as the best web hosting for affiliate marketing, in fact, there is no doubt that it is the best WordPress hosting!
DreamHost Affiliate Program
Like Cloudways, you have the potential to earn up to $200 per referral.
But, instead of following the model of paying more for recommending more customers, DreamHost adopted the paying more for higher-tier products.
| Plans | Monthly Plan | Yearly Plan |
| --- | --- | --- |
| Shared Starter | $15 | $50 |
| Shared Unlimited | $30 | $100 |
| VPS (Virtual Private Server) | $30 | $100 |
| Dedicated Server | $200 | $200 |
| DreamPress (WordPress Hosting) | $150 | $150 |
As you can see, you are rewarded more if your referred customer pays yearly for a higher-tier product such as VPS.
To sum it up
The best web hosting for affiliate marketing blogs and websites, due to its speed, security, features, and price, goes to the following:
A2 Hosting
DreamHost
Kualo
UltaHost
Contabo
You can see the details here.
And, in case you are here to find out which is the most highest paying and lucrative web hosting affiliate programs:
Liquid Web
Kinsta
WP Engine
Cloudways
A2 Hosting
DreamHost
You can see more details here.
What do you think? Have we covered everything? Let us know in the comments.
Wish you all the best!