15 Creative Side Hustles For Architects To Make Extra Income Online
If you are looking for some creative side hustles for architects to generate an extra income, we hope this can help you out.
In this article, you won't see any low-paying gigs like online surveys because we know how valuable your time is.
So, here are 15 legitimate ways you can earn a handsome amount of money using your architectural skills and knowledge.
Let's take a look…
1. Create online architecture courses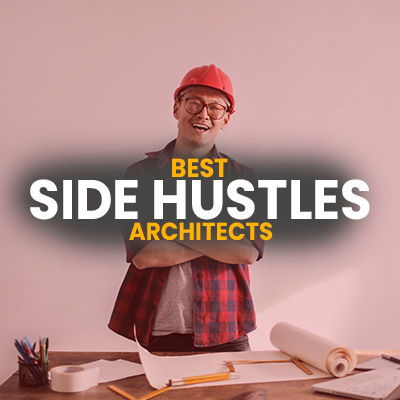 There are so many course topics in architecture; from Basic CAD drawing techniques, new design and planning trends, calculations, analysis and a whole lot more.
If you have a particular area of expertise in architecture, you can create online courses that focus on the discussion of those architecture topics.
You can then sell your architecture courses online through various educational platforms like Lynda, Udemy, Coursera, Brightstorm, Udacity, and Skillshare.
During these times, when it is unclear if regular classes where students will attend schools will resume, education is likely to be conducted through online classes. 
Your online courses could be a big hit for anyone who is planning to learn architecture.
2. Self-publish eBooks
Aside from creating online courses, another way to impart your knowledge and expertise about architecture is by self-publishing eBooks.
With sites like Kindle Direct Publishing, Lulu, Smashwords, and Barnes & Noble, publishing an eBook these days has never been easier.
Good examples of self-published eBook about architecture are Dictionary of Architecture and Interior Design by Mary Gilliatt and 101 Things I Learned in Architecture School by Matthew Frederick. I'm pretty sure you know them, right?
Now, while it may take months to compile the information you include in your eBook, it can potentially become a source of recurring passive income for years to come.
But before you consider this side hustle, make sure that you have architecture expertise that many people will find useful; something they won't mind paying to learn.
Some of the most popular topics for an architecture eBook includes basic architecture practices, how to work with a CAD program, reviews on different exams, the latest architectural design trends, etc. 
You can also get more ideas from architecture books that are already sold on sites like Amazon and find out what other topics people find lacking in those books.
3. Start a YouTube channel
While it may sound daunting and a lot of work, starting a YouTube channel is much easier than you think.
YouTubers are among the few people that are still making money despite the pandemic simply because people don't stop watching videos on the Internet.
Two of the most famous architecture YouTube channels are Architectural Digest and Sam-E STUDIO where they share educational videos about various architecture topics such as different house designs, best tools to use, how to pass your exams, etc.
As a YouTuber, you can make money primarily from Google AdSense. You can also make money from with affiliate marketing, sponsorships and by selling your own products.
To get started, you need to create a YouTube channel using a valid email account. Then you will have to invest in a good camera and lavalier microphone to record your videos.
And in case you want to start a YouTube channel that has nothing to do with architecture, here's a list of the most profitable niches on YouTube.
4. Private Online tutoring
I don't know about you, but more and more professionals are offering part-time private tutorial services as a means to make extra money.
And guess what, your prospective clients aren't limited to college students and adults who want to learn about architecture stuff.
You can also tutor kids and students on different school subjects like Math, Calculus and Physics.
Although personal tutorial sessions might not be advisable during these times, you can use Skype or Zoom to conduct online tutorial classes.
To get started, you can check out sites Craigslist, ZipRecruiter, and TaskRabbit to find tutees near you.
You can also use your social media accounts to advertise your services or ask referrals from your social circle.
Furthermore, you can also apply to online tutorial platforms like Wyzant, Clarity, WizIQ, TutorMe, Coach.me, and Teachagora to find clients.
5. Start an architecture blog
If there are people that are still making money despite the ongoing pandemic, I'd say two of them are bloggers and YouTubers.
Blogging is a good side hustle for architects who have a passion for writing and can dedicate at least 2 to 3 hours per day.
Some of the most successful architecture blogs are Life of an Architect, ArchDaily, and Visualizing Architecture.
There are many ways to monetize a blog, like selling your online course, promoting your expertise and services, earning advertising revenue, affiliate marketing, and etc.
And in case starting a blog about architecture is not something you want to do, then why not start a blog based on your other passion and interest? Here are some cool blog niches to spark an idea.
If you have any questions on how to start either of those mentioned above, feel free to ask me anything in the comments section below.
6. Be an Architecture Consultant
Have you been practicing your craft for a while now, and you're confident that the skills and experience you acquired can be useful to businesses and your fellow architects?
In that case, you can make money through architecture consultation services.
You can offer your services on a part-time or full-time basis, depending on the amount of time you have.
To get started, you can find clients who need your services on freelance websites like Upwork and Fiverr.
You can also offer your services to the people in your area by finding local clients on sites like ZipRecruiter, Craigslist and TaskRabbit.
And the best way to attract quality clients who already love what you do, is through YouTube. By sharing great Architecture ideas and knowledge on YouTube, you inherently became an expert that others can trust.
So, clients will usually come to you rather than the other way around.
7. Sell your designs and plans
I bet you have tons of extra building layouts, design, plans and ideas that you weren't able to build in the past.
May it be for minor projects like a kitchen, garage, study room to something monumental like museums, bridges and warehouses.
If you're still keeping them in your computer, there's another way for you to get something from the time you've invested creating them.
You can try to pitch and sell them on sites like plantribes, Houseplans, and eplans.
Moreover, you can Google "sell house plans online" or "sell architectural designs online" to get more options.
9. Create and sell architecture software or apps
For architects who also know basic programming, now might be the perfect time to use and hone that skill.
As an architect yourself, you of all people know what the typical issues and challenges you encounter in your line of work are. 
Or perhaps there are some processes and computations that can be automated.
You can develop an app that will help other people, especially your fellow architects, complete various tasks at a quicker pace and charge a one-time or a monthly subscription fee for it.
The good thing about this gig is that you don't need to have millions of users for your app to earn a decent amount.
Say you develop an app and make it available to other people for $25/month, you get 20 people, and that's already $500 in passive income every month!
You can sell your apps and software on sites like PayLoadz, Avangate, ClickBank, Sellfy, GitHub, Google Play, and Fiverr.
And in case programming is something you have great knowledge about, here are more side hustles for programmers you might be interested about.
10. Find Architecture freelancer
Many businesses today are looking to hire professional architects and are willing to pay hundreds and even thousands of dollars if you can complete remote tasks for them.
Since cities are locked down, and people are told to stay at home, this is an excellent gig to consider for any architects who want to work from home.
You can accept architecture-related online freelance jobs such as designing plans, complete projects involving CAD, BIMx, Adobe, etc., or provide any assistance online that suit your skills and abilities.
To get started, you can search the Internet for "architecture jobs online", and you'll find plenty of clients (like the image above) in freelance websites like Upwork, Fiverr, FlexJobs, and PeoplePerHour.
11. Work as a graphic designer
Speaking of accepting tasks that require skills in CAD, Adobe, and other image editing apps…
How would you like to work as a freelance graphic designer?
Since architects are skilled in using different kinds of image editing apps when designing plans for buildings, bridges, and other structures, you would love to hear that many clients are willing to pay top dollars for your services.
Graphic designing is one of the top-paying freelance jobs today, and as a graphic designer, your tasks may include designing logos, images, banners, etc.
There are plenty of graphic designing jobs you can find in freelance sites like Toptal, Upwork, Fiverr, and PeoplePerHour.
For more options, search for "graphic designing jobs online".
12. Accept minor projects within your community
This is similar to #1 only this time, you will only offer your services within your community and areas near you.
For instance, you can offer to provide a design for your neighbours' garage or a study room.
You can also ask some of your friends and relatives if they might need your skills with home projects.
Furthermore, you can also check out sites like Craigslist, TaskRabbit, and ZipRecruiter to find clients near you.
And if you're active on social media, you can advertise your service using Facebook, Twitter or Instagram.
13. Freelance content writing
If writing is one of your passions, another popular side hustle for architects that you can consider is freelance writing.
As a freelance writer, you can choose to write for any topic you want and publish your work on content mills, freelance websites specifically for writers of all skill levels.
You can also choose to work for various clients you can find on freelance websites like Upwork, Fiverr, PeoplePerHour, FlexJobs, TopTal, and SimplyHired.
However, if you write for other people, you won't have the freedom to choose your topic. 
You will also have to meet up specific requirements, like minimum word count and amount of articles to complete per week.
On the bright side, there are also many good employers that will pay writers on a per article basis. 
So you can write at your own pace, especially if you're unfamiliar with the topic, you're busy with other things, or you're living in places where frequent brownouts or Internet interruption is a common thing.
Content writing is also one of the highest-paid freelance jobs today.
14. Rent or sell your extra tools
Do you have extra architect's scales, cutters, triangles, laser measuring devices, and other tools you are not using?
You can either sell or rent them out to other people and make money for yourself.
The most trusted places to buy or rent your items online include Craigslist, OfferUp, Loanables, and Fat Llama. You can also try sites like Etsy or eBay.
And to get more options, Google "sell or rent used items online".
15. Start An Affiliate Marketing Business
And finally, if all the side hustles above doesn't intrigue you, then let me introduce you to affiliate marketing.
You have heard me mentioned affiliate marketing a couple of times above, but this is a broad topic that can be incorporated into many different ways to make money online.
And honestly, affiliate marketing is one of the most lucrative methods to earn big bucks.
It doesn't require any prior knowledge or skills, any one can learn how to do it, and the best place to start is here.
Summing Up the Side Hustles for Architects
As you've read above, there are plenty of legitimate side hustles for architects to make money online, from home, or wherever you are in the world.
Now, before we end, we would highly recommend that you pick a side hustle that you are passionate about.
Making money online is not easy. It could be simple, but it won't be easy.
But as proven time and time again by many people, you won't get tired of doing something that you truly enjoy.
So, if you are wondering which of the income opportunities above is right for you, consider the ones that you are most passionate about, and you don't have to spend much, or any money at all, to get started.
And if you are interested to explore new ways to make money, feel free to check this out.
Anyways, thank you for reading this article, and we hope you find the answers that you are looking for.