How Can You Get Paid To Draw Online: 10 Ideas You Can Start Today
There are many good ways you can get paid to draw online.
For starters, you can sell your art on various online platforms or you can get traditional drawing jobs from freelance sites.
Another great option would be to start your own online drawing business.
So without further ado, below are the 10 best ways you can start making money online with your drawing skills.
Let's take a look at your options.
1. DeviantArt
DeviantArt is a popular website where you can upload your drawings and earn money online.
It was founded way back in 2000 and has become one of the largest online platforms where both emerging and established artists can exhibit, promote, and share their creative work.
You can think of it as an online marketplace or creative market for people with great artistic skills.
How does it work?
After joining DeviantArt and becoming a "deviant", you can start uploading and selling your drawings on their platform.
You can sell actual physical drawing, paintings, digital art, pixel art, anime, art prints, and more.
When someone purchases your work, you will get paid.
How to get started?
It's totally free to create a DeviantArt account and upload your drawings. But they also offer core membership plans where you can access more features of the platform.
2. Sell Vector Art
If you love drawing vector artworks and you are knowledgeable in using various drawing tools like CorelDraw and Adobe Illustrator, then this is for you.
You can draw vectorized images and sell them online!
Some of the sites where you can make money selling photos online will accept vector artworks for sale. These include:
For every vector artwork sold on these platforms, you will earn a royalty.
How to get started?
Start by creating unique vector graphics like logos, pictures, and print designs.
Then, visit any of the sites we mentioned above and upload your vector artworks for sale.
3. Etsy
Besides selling DIY crafts, personalized gifts, or home decors, you can also make money with your drawing skills on Etsy.
Once you have set up your Etsy shop which is pretty straightforward to do, you can immediately start selling your original drawings, paintings, sketches, reprints, and more.
You are free to set your own price on your craft and your listing will last up to four months or until the item is sold. 
How to get started?
Joining and starting an online shop on Etsy is free. 
However, there are three basic selling fees that you must cover: a listing fee, a transaction fee, and a payment processing fee. 
Click here to learn more about how you can make money selling your drawings on Etsy.
4. Fiverr
Fiverr is a popular freelance website where you can find online jobs based on your skills and expertise, in this case, drawing.
If this is your first time learning about this website, Fiverr takes its name from the $5 base asking price to all tasks offered on the platform.
However, you can always charge more for your services.
How it works is you become a "Seller" on Fiverr and offer your services to other people.
Once you have your own seller account, you can start charging money and get paid to draw cartoons, hand drawn illustrations, and even vector doodles.
You can also get paid to draw portraits on Fiverr.
The good thing about Fiverr is they have a diverse clientele, so you can potentially get paid by completing various drawing requests as a freelance artist for different clients in the United States and all over the world.
Fiverr is also one of the best places to find various online side hustles.
How to get started?
Visit Fiverr and create a Fiverr Seller account for free.
5. Upwork
Upwork is another very popular website for freelancers. They cater to all kinds of clients, business owners, and companies looking for remote employees.
With Upwork, you can find online drawing jobs and get paid to draw sketches, illustrations, and more.
How to get started?
Visit the Upwork website and create an create an account. Then find an online job that best fits your art skills, drawing style, expertise, and talent.
Note: Besides Upwork and Fiverr, you can also find online jobs and get paid to draw on other popular freelance sites like 99 Designs, Toptal, Freelancer, SimplyHired, and FlexJobs.
6. Card Gnome
Do you have a knack for designing cute and adorable greeting cards?
Card Gnome is a greeting card company that allows independent artists to sell original greeting card designs.
Some of the many things we love about this website is that you keep the copyright to your work.
Card Gnome doesn't require exclusivity on your designs and you can easily add or remove content from their site.
Card Gnome also claims that they have an artist-friendly license agreement.
And guess what?
Card Gnome will handle all the transaction, printing, and shipment of cards.
All you have to do is upload your designs on the site and earn 10% of the price for every card purchased with your design on it.
Note: To be able to sell card designs on Card Gnome, you must have an existing online presence such as a website, a blog, or a Facebook page.
How to get started?
Visit Card Gnome and create an account to get started with your shop application.
7. Create My Tattoo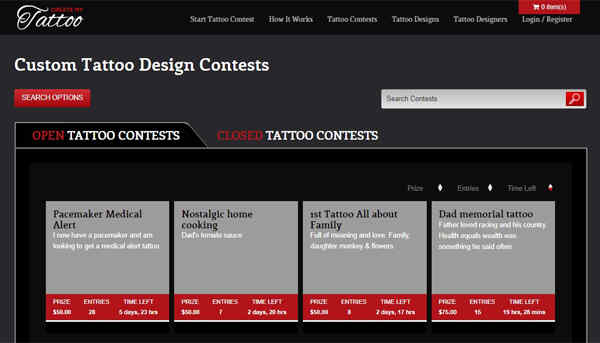 As a tattoo artist, there is a way for you to make extra money on top of your actual tattoo sessions.
Create My Tattoo is a website where you can get paid to draw tattoo designs online.
How it works is people all over the world can host online tattoo contests via Create My Tattoo where the minimum prize amount is $20 (USD).
The tattoo design contest runs for 10 to 16 days at which point the client will choose the entry they like. If you win, you get paid.
How to get started?
Visit Create My Tattoo website, and create an account for free.
Then, you can visit the "Tattoo Contests" tab and pick the contest you want to join. Make sure to read the tattoo design submission guidelines to make sure you don't get disqualified.
You can also create a profile and display some of your best tattoo designs on the platform and wait for potential clients.
8. Start a Drawing Blog
Blogging is not only one of the most profitable side hustles today, but it is also one of the best ways you can get paid to draw.
With a blog, you can create different blog posts related to drawing.
They can be drawing guides, best drawing tools for beginners, how to start your own drawing business, and more.
Some of the most successful drawing blogs include Lines and Colors and Citizen Sketcher.
But you might be thinking:
"I am not a blogger but someone who loves drawing. How can I make money with a drawing blog?"
Well, guess what? It is totally possible to make money with a blog even as a complete beginner!
And the good news is, there are many ways to make money (monetize) with a blog. 
Some of the most common ways people are making money with a blog include:
Joining advertisement networks (like Ezoic)
Promoting affiliate products
Selling online courses and digital products
Providing coaching services
Get paid for sponsored posts
Selling your own crafts, photos, and merch
How to get started?
To help you out, we prepared a complete step-by-step guide on how to start your own blog.
9. Start a Drawing YouTube Channel
And finally, one of the most profitable ways to get paid by drawing online is by starting a YouTube channel.
You can create and upload any video related to drawing – from drawing guides for beginners to more advanced drawing techniques.
Many people are already making money and getting paid to draw on YouTube.
Some of the most successful drawing YouTube channels include:
So, how can you get paid on YouTube?
Well, as a "Youtuber", you will make money with ads, by selling online courses or merch, promoting products with affiliate links, and getting sponsorships.
How to get started?
While it sounds like a daunting task, starting a YouTube channel is actually very easy. It is also free!
Just create an account on YouTube, sign in, and click the "Create a channel."
Follow the instructions, and before you know it, you can start uploading videos and make money with your passion for drawing.
10. Sell Drawings on Facebook and Instagram
Who doesn't know Instagram or Facebook these days? 
But other than posting "My Days" and amazing pictures of your life, you can also use these social media platforms to promote and make money with your drawing skills.
For starters, you can use the "Post" feature of Facebook and Instagram to showcase your drawing skills and artwork. 
Then you share your contact information so potential buyers could contact you for purchase of your art.
Furthermore, you can also visit groups and Facebook marketplaces where you can sell your drawings.
And finally, you can use Facebook, Instagram, and other social media platforms to promote your own website, blog, online store, or YouTube channel.
The Bottom Line
There you have it ladies and gentlemen.
There are many ways talented artists and graphic designers can turn your passion for drawing into a viable income source.
Some of the best perks of making money drawing online is you can do it from the comfort of your home. You also have the freedom to do it on a part-time or full-time basis!
Start with the above-given sites as they are some of the most reliable places and best platforms where you can get paid to draw online.
Frequently Asked Questions
Can I get paid for drawing?
Yes, you can make money by drawing. You can get an online job that requires drawing, sell your artwork online, or start your own drawing online business. Read on the learn the 10 best ways you can get paid drawing.
Can I sell my drawings to tattoo shops?
There are tattoo shops and online platforms that will pay you for drawing original tattoo designs, one of which is Create My Tattoo which we discussed on this article.