11 Lucrative Online Jobs For Bilinguals to Work From Home
Speak more than one language and want to make money from home? You've got read this.
I've compiled a list of 11 high paying online jobs for bilinguals and multilingual, and I hope this will point you to the right direction.
But before we dive in, I want to point out that while the online job ideas below are awesome, they can't make you a life-changing income.
And if you have an open mind, I would like to share with you a way that you can earn a life-changing income from home.
Either way, this article will give you all the best online jobs for bilinguals.
1. Freelance Online Translator
This is obvious, if you are well-versed in more than one language, you can be a freelance online translator.
Best places to find Online Translator jobs:
According to indeed, the average salary for an online translator is about $26.06 per hour.
Online translators help various international clients, businesses, publishers, and book authors translate files from one language into another from the comfort of their homes.
Another perk of this online job is that in most cases, there are no education or certification requirements to get started.
Nonetheless, getting a certification for language translation can increase your hourly rates and your chance of getting hired immediately.
A certification from sites like American Translators Association gives you more credibility as a translator in different languages.
2. Online Transcription & Captions
While this is closely related to translation, transcriptionists are specifically tasked to listen to audio files and convert them into written words.
You might also be asked to add subtitles on videos and clips.
Best places to find transcription jobs:
The average pay of a transcriptionists is about $7.50 per hour.
If you have decent keyboard skills and you can quickly identify the words just by hearing them, this might be perfect for you.
You can work on a full-time, part-time, or hourly basis based on the flexibility of your schedule.
3. Online Customer Service Representative
International companies and businesses would hire people who can speak multiple languages for sales and technical support tasks.
Best places to find International Customer Service jobs:
Tip: On the sites above, search for "outside sales rep – bilingual"
According to glassdoor, the average salary of a multilingual customer service representative is about $27,834 per year.
But, if you have sales experience and have the relevant certification to prove your language fluency, you can make a lot more.
As you can see from the image below, a bilingual inside sales representative can make between $55,000 to $70,000 a year.
Tip: For your research on this job opportunity, search for "bilingual customer service representative jobs online".
4. Online Interviewer/Recruiter for BPO Companies
Businesses that would like to outsource their jobs, such as call centers, telemarketing, customer support, data recording, accounting, etc, will look for BPO companies, which simply stands for Business Process Outsourcing companies.
With BPOs, tasks that are otherwise completed inside the office are now often outsourced to freelancers from different countries all over the world.
And, that's where you will come in as an interviewer or a recruitment agent to find the right freelancer for the BPO company.
Best places to find Online Interviewer jobs:
Tip: Search for "Bilingual Interviewer".
There is a huge demand for bilingual interviewers today. A typical bilingual interviewer can make around $10 up to $20 per hour.
5. Translate Articles for Bilingual Blogs
Some of the most popular bilingual blogs today include Bilingual Monkeys, Mommy Maestra, and Mammaprada.
Most of these bilingual blogs are about parenting and provide resources that help parents teach their kids to speak English and one other language, often Spanish, French and German.
Method 1: Search for Bilingual Blogs
You can search for "bilingual blogs" and contact the blog owners and apply to translate content for them.
Method 2: Join General Freelance Sites
You can also find people who are looking to hire content writers for their bilingual blogs in freelance sites such as:
Tip: Search for "Website Translation"
Method 3: Join Professional Translator Sites
Sites will typically pay $1,200 for a 10,000 words website, but if you can find a blogger who regularly needs to translate their blogs, you can make around $240 per 2,000 word blog post.
So, how do you like this list of online jobs for bilinguals so far?
Well, I do hope you have found some that pique your interest. If not, don't worry, we still have more to go through.
6. Freelance Bilingual Writer
If you have a passion for writing, you can check out this article as we shared a lot more side hustles for you.
But, using your bilingual language skill, you can make a lot more writing for bilingual websites or blogs.
You might be asked to write web contents, blogs, or articles about various topics, or rewrite an existing one into a different language.
Best places to find Bilingual Content Writing jobs:
Tip: Search for "Bilingual Content Writer".
A typical freelance bilingual content writer can make around $40,000 per year.
Content writers who are adept in more than one major language typically get higher rates as your ability to write in different languages is something not many writers can do.
One good thing about freelance writing is, it doesn't have a strict requirement when it comes to experience or educational attainment. 
As long as you can produce the kind of content your employer wants, they will be happy to pay you good money for your time.
7. Online Proofreading and Editing
Proofreaders read and check written files and manuscripts to see if there are grammatical errors, typos, formatting issues, misspelled words, etc.
You might not think about this often but, other than English files, written content in different languages need checking and proofreading too. And, there is a high demand for this.
This is why there are many bilingual freelancers online who are making good money working as proofreaders and editors for content in different languages.
You don't believe me? Just type "bilingual proofreading jobs online" and you'll see tons of clients looking for someone with your skills.
As you can see above, a typical bilingual online proofreader will make around $35 per hour.
Best places to find Bilingual Proofreading jobs:
8. Teach English & Other Languages Online
Teaching English as a secondary language online is perhaps one of the most popular and top-paying online jobs for people working from home today.
Best places to find Online Teaching Jobs:
As an online educator teaching language, you will help students read, speak, and write a new language.
You don't need to be a professional teacher to teach English and any other language online. 
A typical Online language teacher can earn anywhere between $5 up to $30 an hour (or more) depending on which part of the world your student is from.
Getting a TEFL, TESL, TESOL or similar certification (which you can get online) can also help bump up your hourly rates.
You can also teach other languages like German, Spanish, Italian, French, Russian, Cantonese, and others.
9. Online Bilingual Tutor (For Subjects Other Than English)
If you have profound knowledge about various school subjects like Math and Science, you can become an online tutor to kids from countries where you speak the language.
Method 1: Find Online Jobs on Freelance Sites
Method 2: Create and Sell Online Courses on Online Educational sites
A typical online bilingual tutor can make between $16 to $50 an hour.
Aside from school subjects, you can also teach skills like web design and development, programming, graphic design, cooking, dancing, singing, playing musical instruments, and others.
10. Social Media Manager
In this day and age, when all kinds of businesses are trying to establish an online presence to stay relevant, the demand for social media managers have never been higher.
This is especially true for those who can plan, implement, and manage social media marketing campaigns on TikTok, Instagram, Facebook, Twitter, and so forth.
Not just for English speaking market, but for other major languages as well.
Here are some of the best places to find online bilingual social media manager jobs:
Tip: Search "bilingual social media manager"
A typical bilingual social media manager can earn anywhere between $30,000 to $50,000 per year.
You can also Google the key phrase, "bilingual social manager jobs" and you can find plenty of online job postings that look like this…
11. General Virtual Assistant
Some businesses are looking for a virtual assistant that can perform not just one particular task but a variety of things.
As a general virtual assistant who is adept in multiple languages, you might be asked by your employer to:
translate files, 
send emails in various languages,  
manage your social media pages, 
or even write web contents targeting different demographics.
While it may sound like a tall order, ZipRecruiter claims that bilingual virtual assistants earn an average of $42,112/year during the publication of this article.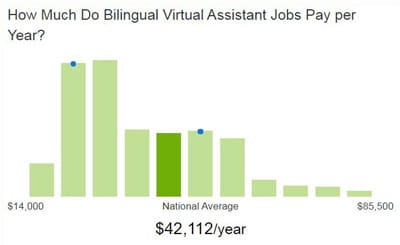 Here are some of the best places to find online bilingual virtual assistant jobs:
Tip: Search for "bilingual virtual assistant"
Final Thoughts
So, which one of the online jobs above you have your sights on? Do you know of other good paying online jobs for bilinguals that we might have left off this list?
Feel free to leave a comment, question, or suggestion below.
Now, as you've just read, there are several good paying online jobs for bilinguals that you can get started immediately.
But as I've mentioned at the start of this article, these online jobs can't make you a lot of money, and you won't attain financial freedom.
They're there for you to earn some money in exchange for your time and effort.
If you're looking for something that has the potential to make you money even when you sleep, then I recommend that you learn more about Affiliate Marketing.
There are many courses on Affiliate Marketing out there, but this training is stood the test of time and has taught thousands of ordinary people to start a profitable and sustainable online business.
Thank you, and I wish you all the best.