11 Incredible Sites That Will Pay You To Test Websites And Apps
Making income online has never been easier these days. You can do so in many ways, such as by making videos on YouTube, offering your services on Fiverr, and many more.
You can also get paid to test websites and apps as well. But then, where do you go to do that?
Websites such as Enrollapp, Intellizoom, Usercrowd, Latest, Ferpection, and many more are looking for website and app testers. By registering an account there, you can start testing out websites and apps and get paid at the same time. The key is to test and see which platform is comfortable for you.
This article reviews ten websites you can go to test websites, and apps in your free time, and make money doing just that. But before that…
Is Testing Websites And Apps A Good Way To Make Money?
Testing websites and apps to make money online is a good idea, as you do not need much experience to start. Perhaps a laptop and internet connection is all you need. Aside from that, you can do it from home without risking being on the road, such as when working on food delivery.
Low Entry Cost
Testing websites and apps do not require you to invest a large amount of money in starting. You do not need to pay for courses to get certified, nor do you need a vehicle, for example. An Internet connection and a computer are probably all that you need.
Little experience Needed
Companies specifically look for people with no experience in testing websites and apps. Some do not want experienced or professional testers. The idea is that they want the common people to use it and see if there are issues. This means your inexperience can be an asset.
Do It From Home
Testing websites and apps can be a great way to make money online from home. You can stay at home, and not leave your house to see clients or risk your safety by doing delivery jobs such as DoorDash or UberEats. 
Time Control
You may better control your time with website and app testing. You can work at a time that suits you and your family. Website and app testing also does not involve a lot of idle time, such as waiting between food or grocery orders.
Best Websites To Get Paid Testing Websites And Apps
The best websites you can do to get paid testing websites and apps include:
EnrollApp
Intellizoom
UserBrain
Usertesting
Userlytics
TestingTime
Usercrowd
Latest
Mturk
Ferpection
TestBirds
| | | | |
| --- | --- | --- | --- |
| Site | Products | Pay Rate | Pays Via |
| EnrollApp | Websites | 10 cents to $1.50 per quick test | Paypal |
| Intellizoom | Websites, Apps, Physical Products | $2 to $10, depending on the complexity | Paypal, Payoneer |
| UserBrain | Websites | $5 per test | Paypal |
| Usertesting | Websites | $5 to $120, depending on the complexity  | Paypal |
| Userlytics | Websites, Apps | $10 per test | Paypal |
| TestingTime | Websites, Apps, Physical Products | $50 per recorded 30 to 90 minutes test | Paypal |
| Usercrowd | Websites | 10 cents per quick test | Paypal |
| Utest | Softwares | $5 to $50 per bug | Paypal |
| Mturk | Websites, Apps, Online-Based Jobs | $4 to $8 per hour | Deposit, Amazon Gift Card |
| Ferpection | Websites, Apps | $10 to $25 per test | Paypal, Amazon gift cards |
| TestBirds | Websites, Apps | €10 to €50 per test | Deposit, Paypal |
EnrollApp
EnrollApp is part of Zurb, an internet company based in Los Gatos, California. Zurb is a company focusing on using user data to improve websites, meaning EnrollApp is probably one of the ways for them to test their work. 
Once you register, you can start taking the simple tests. It can be as simple as comparing two web pages or clicking on somewhere on a page. To start, you only need an internet connection and a mobile device.
The tests also do not require you to have a microphone or a website to record your work. This makes EnrollApp one of the easiest testing sites here. 
However, the pay may also be less exciting when it is easy. You get around 10 cents to $1.50 per test, which may be minuscule to some other sites here. However, you spend less time and can do this whenever you take a short break. 
EnrollApp may be worth it if you are busy and want to work on testing sites in your spare time. It could also function as your job-in-a-job, which you can work on during small downtime for gas or beer money.
Get Paid to Test Apps and Websites with EnrollApp Now!
Intellizoom
Intellizoom is an online rewards site that pays you for your honest opinions and feedback on products, websites, or apps.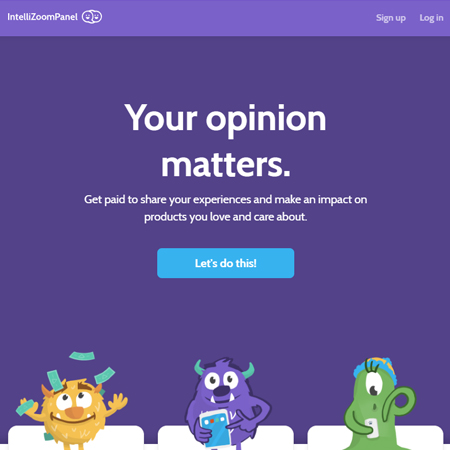 To participate, you need to be a US, UK, Spain, or German resident. You also need to have great fluency in English or Spanish language and be at least 18 years old. In the US, the minimum age is 21. 
After you sign up, you can complete your profile. Depending on your profile details, Intellizoom will assign you available jobs. If you are detailed enough, you may get more jobs. 
To start, prepare at least a digital device with internet connectivity. However, to take on higher-paying jobs, you will need a computer, a website, and a microphone to record yourself.
A typical 10 to 20-minute test pays between $2 to $10. Higher-paying tests usually require you to make a video, which may take more work. Payment is via Paypal, and you may see your payment after 21 business days.
Assuming you can take a single $5 job daily, that is around $150 a month. That should cover your gas money at least, which may make Intellizoom worth it.
If you are instead looking for something more rewarding, you'd be surprised that there are quite a number of high-paying side hustles out there.
Create an Intellizoom account here.
Userbrain
Userbrain is essentially a platform to bring website testers and developers together. Developers can create tests for their website, software, or app, while testers can come in and conduct usability tests to make money.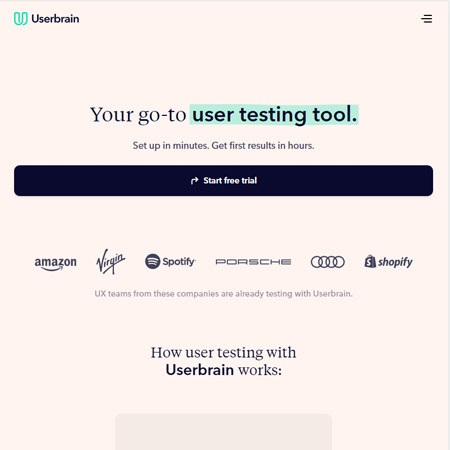 To start, you need a digital device with internet connectivity, such as a computer, tablet, or mobile phone. Once you create an account, you will be asked to take a short qualification test, which may take around 10 minutes. Once approved, you can start taking paid tests. 
Each test pays around $5, which may be lower than average, but the tests are also shorter. Once you make $10, you can have the money sent to your PayPal account. 
UserBrain may not be worth it on its own, as it pays less, and the number of tests available is not a lot. You may expect a few tests a month, meaning the money you make may get you a few beers. 
However, UserBrain may be a good option if you have multiple testing sites to check for work daily, as they pay rather decently for a short test.
Create a Userbrain account here
Usertesting
As its name suggests, you can become a user tester for this platform. You could be a beta tester before a new product is out on the market, perform usability testing for website owners or app developers, or be part of focus groups in the ideation phase before new apps or products go into development.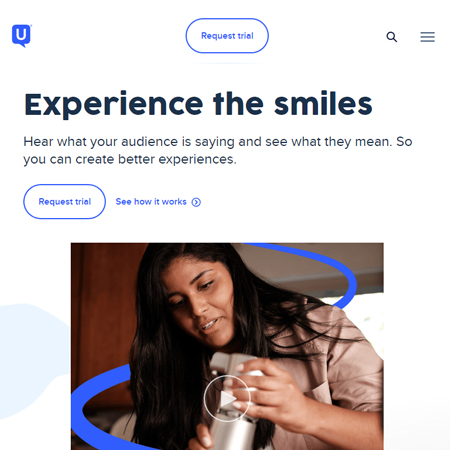 There are numerous ways to earn extra cash with Usertesting.
You will need to prepare a camera and microphone, as you may need to sit through a live interview.
To register for Usertesting, you need to be fluent in English, German, or French. There is no geographical limitation on where you are to register. After you register, you will have to sit through a practice test (or sample test) before you can access actual ones.
The sample test is to access your ability to communicate your thoughts as you are scrolling through the test subjects, it is not a test of your technical skills, so you can rest easy.
There are two types of testing available here. The first is called the Live Conversation, where you go on a live interview with the surveyor and answer questions about products and so on. The other is a recorded, self-guided test similar to many other websites. 
Usertesting is one of the highest-paying user testing websites.
The pay can be quite generous if you take the Live Conversation, a typical test can make you between $30 to $120 per session. For the other test, you could make between $4 for a 5-minute test and $10 for a 20-minute one. Payment is through Paypal.
Usertesting pays rather well, meaning it should be in your stable test sites. If you are not camera-shy, you should definitely sign up for Live Conversation tests, as it pays the best.
Start Testing with UserTesting now!
Userlytics
Userlytics may have you test more than just websites. You could be testing mobile apps, prototypes, concepts, and more. You will need a webcam to do testing work on this site, as you need to record your work progress.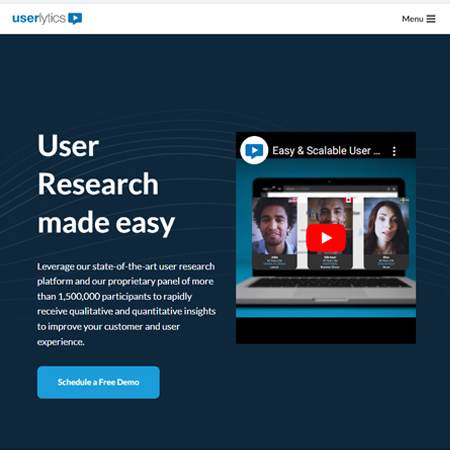 You also will need a microphone, as many tests will require you to record your thoughts out loud. This also means you will need a good grasp of spoken and written English to do well in Userlytics.
Once you register, you will be asked some pre-screening questions. Once Userlytics approves you, you will receive emails when testing opportunities are open. Consider taking up any offers quickly, as they can fill up quickly. 
Tests generally pay around $5 to $90, depending on the project's time, difficulty, and scope. Payment is via Paypal, and you should receive your funds within seven working days.
Create a Userlytics Account Here
TestingTime
Fancy earning Euro? Give TestingTime a try. The company is based in Switzerland but accepts new testers from all around the world. With TestingTime, you can be paid to test not just websites but physical products and services.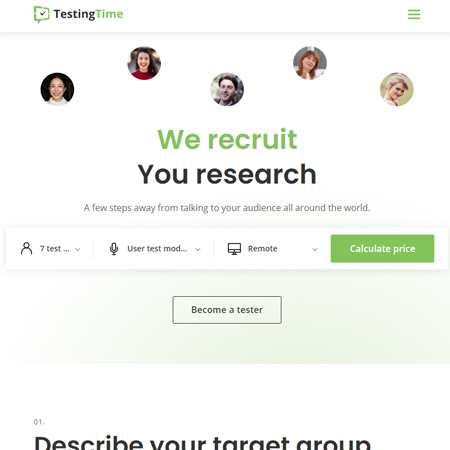 The tests are usually conducted live via Skype. Instead of working through a checklist, a live moderator will instruct you on what to do. You will also be conversing with the moderator, who will be asking you questions about the product or website you are testing. 
This means a camera and microphone are required if you intend to work with TestingTime. You should also be able to speak English reasonably well, and it does not seem that only native speakers are accepted.
Each test will be paid for, and the amount may depend on the time needed. In general, expect around EUR50 (USD50 approx.) for a completed test between 30 to 90 minutes. 
TestingTime pays via Paypal, and you should receive your stipend within ten days after completing the tests.
Start Testing with TestingTime here!
Usercrowd
Usercrowd allows you to make extra money testing websites and mobile applications, focusing on user experience rather than the technical stuff. You could take a short survey using your mobile devices or computers.
The tests can be done very quickly, as fast as a minute. Notifications for tests may come to you via email. You will not need a camera or a microphone to test with UserCrowd, and you probably do not need to speak. 
However, with such simple tests, it does not pay too well. The test pays around 20 – 40 cents per test. When you complete tests, you earn credits, and a credit is worth 20 cents. When you reach 100 credits, you can request payment. 
Payment is through Paypal, and you should receive your money within several working days after requesting it.
Create a Usercrowd Account now!
UTest
UTest claims to have the largest community of freelance digital software testers in the world, which could mean you may have many jobs since many companies will use their service.
UTest also claims to have worked with Google, Amazon, Starbucks, Netflix, and more, which means you could be testing for your favorite brands.
After registering, you will be given an audition test to showcase your tech skills.
Don't worry if you do not have the skills yet because they have an academy that teaches you what to look out for. Who knows, maybe you will learn a new skill?
The whole onboarding process should not take more than 15-20 minutes. You can then start signing up for live tests and get paid.
The average pay for test cases varies. Some test sessions are paid per hour, while others pay you based on your "bug-finding" abilities, about $5 to $50 per bug depending on the severity of the bug.
UTest claims to have paid millions to their testers worldwide. They also publish the jobs they have online, and you can see them even if you are not a member.
The key takeaway is that it takes time and effort for more complicated tasks, but the best part is, the more complicated the task, the more it pays.
You can perform the test work on mobile phones or computers. The Latest pays via Paypal, and you should receive your stipend after several days.
Start beta testing with UTest Now!
MTurk
MTurk is also known as Amazon Mechanical Turk. It is a website listing a wide range of micro-tasks for you to do.
The idea for MTurk comes from Jeff Bezos realizing that AI is still not smart enough to handle many micro-tasks, which means human minds are still needed.
Within it, you may find many jobs such as data entry, fixing minor tech issues, and, yes, website and app testing work. 
The pays are different, depending on the level of complexity you are working on. These gig jobs may pay as low as 25 cents but could be completed as quickly as 2-3 minutes, meaning you are earning $7.5 per hour. 
Amazon pays through direct bank transfers, or you can earn Amazon gift cards. If you live in the US or India, MTurk can pay directly to your bank account. For others, you get paid via Amazon vouchers. 
MTurk can work well if you prefer a steady stream of work and want to earn some extra income. However, it probably will not pay you a full-time income unless you work on it.
Ferpection
Ferpection allows you to make money testing apps and websites via mobile phone, tablet, or desktop computer.
They called it 'Missions,' and the good thing about these Missions is you are not recorded. That means you do not need cameras or microphones to test with Ferpection.
You are requested to take screenshots and provide honest feedback via text-based questions as you test. English proficiency is, of course, needed here. 
Ferpection's questions tend to focus more on ensuring the website displays well and works fine for users, which is something you can test easily without any technical knowledge needed.
Tests with Ferpection may pay you around $10-$25, depending on the time spent and the complexity of the test. Payment is made once a month through Paypal or as an Amazon gift card.
Start Testing with Ferpection now.
TestBirds
Test Birds is a crowdtesting platform for businesses to gain knowledge of the usability of their websites and mobile apps through real-world applications.
Once you have signed up for an account with TestBirds, you will need to add the devices you own, such as android devices or IOS, and you will be given your first test that pays €5.
But do note that the minimum payout threshold is €6, so for those of you who wish to cash out that €5, you've got to do another test.
The more accurate information you provide to Testbirds, the more opportunities you get. However, sometimes you may not get any test invitations as you did not meet the requirements of their client, who they called "Birdmasters". What those requirements are, they will never share.
Anyway, depending on the complexity of the test, you could make between €10 to €50, and sometimes even more. They will pay you through direct bank transfer or through PayPal.
To Sum it all up
Are you still looking for sites that pay you to test websites and apps? We certainly hope not, as we believe the app and website testing gigs above pay the most today.
How much money you can make from these testing companies will depend on how active you are, and a stroke of luck that your profile meets the demand of those who are paying for the tests.
If you are working a full-time job, and you have some spare time, take out your phone and start a task.
We recommend joining different sites to get more exposure and opportunities.
Some of these testing jobs are simple tasks that can be done without spending much time. This makes a perfect side hustle for busy people.
Anyway, we hope this article has been helpful. If there is any testing company we have missed, or you'd like to share your experience with any of them, do let us know in the comments.
All the best!